Things to Do in Asheville This Weekend -- November 10-12, 2017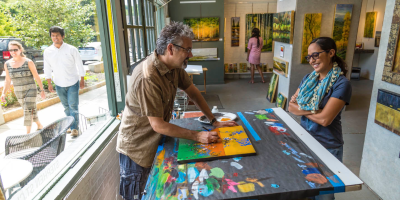 The fall leaf season enters its final stretch with great festivals to round out the season. Celebrations of art, food, beer and music are all lined up for the coming days.
After this weekend, the holidays begin in earnest in Asheville. On November 17, The North Carolina Arboretum lights up with 500,000 lights for the two-month Winter Lights celebration. The Asheville Holiday Parade makes its way through downtown on November 18 at 11 a.m. And, Winter Lights in Downtown Asheville begin with a lighting ceremony at 6 p.m. on November 18.
Don't miss your chance to enjoy the best of both seasons in the next week with fall leaves, fall festivals and the beginning of the holiday celebrations! Check availability and rates for area accommodations as you plan your visit!
Saturday and Sunday (Nov. 11-12), 10 a.m. to 5 p.m.
River Arts District, Asheville
See nearly 200 artists at work in their studios during the highly anticipated River Arts District Studio Stroll. The River Arts District represents the heart of Asheville's creative community. This mile-long stretch of working studios, galleries and eateries is housed in the former industrial section of Asheville near the banks of the French Broad River. For two days, you'll have the opportunity to stroll this historic neighborhood, meet the aritsts, see how they create their piece and purchase one-of-kind works of art to take home. The Studio Stroll features a food drive in support of MANNA FoodBank by collecting non-perishable food items. It is free to attend the Studio Stroll.
Saturday (Nov. 11), 5 p.m.
Cotton Mill Studios (122 Riverside Drive), Asheville
After the Studio Stroll on Saturday night, it's time to celebrate! Cotton Mill Studios hosts a free after-party beginning at 5 p.m. Local circus performers, live music, and DJs will provide the entertainment. There will also be snacks by Bun Intended food truck, and there will be a silent auction. The party celebrates the unveiling of Cotton Mill Studios under new ownership. The mill, originally opened 130 years ago, is considered among Asheville's oldest industrial buildings. It is now home to 10 Asheville artists.
Saturday (Nov. 11), 12-5 p.m.
Asheville Outlets
North Carolina's most popular food trucks dish out everything from flavorful BBQ to authentic tacos during the first-ever Asheville Food Truck & Craft Beer Festival! Among the delicious meals will be waffle sandwiches and tasty mac and cheese. Craft breweries will serve up refreshments as you enjoy live music, lawn games and an artisan market showcasing the work of local artists. Skip the lines and enjoy special perks when you purchase a VIP ticket for the VIP Hour from 11 a.m. to noon. The festival takes place next to the Field & Stream store at the Asheville Outlets.   
Saturday (Nov. 11), 2-5 p.m. (VIP 12:30 p.m.)
U.S. Cellular Center, Asheville
Sample more than 100 releases from more than 50 of America's best craft breweries when the Asheville On Tap Festival returns to the U.S. Cellular Center this weekend. This year's event will feature brews from Green Man, Boojum Brewing Co., Lazy Hiker Brewing Co., Wicked Weed and many others. As you sip, enjoy the live music, local vendors and great food! Please note you must be at least 21 years of age to attend this festival.
Saturday (Nov. 11), Noon to Midnight
Salvage Station, Asheville
Hear great local performers as the community comes together for a massive fundraising effort to support those affected by recent hurricanes. More than a dozen local bands, dance performers and artists will join together Saturday for the relief effort. All proceeds from the door will benefit Americares, a leading non-profit working on the ground in Puerto Rico, Dominica, the Virgin Islands, Texas and Florida. Sirius B, voted Asheville's #1 Favorite Band for five years in a row, will kick off the festivities. Salvage Station, which donated the space/stage for the event, will be open its normal hours with meals from food trucks and cold beverages for purchase throughout the evening. Festival-goers will also have a chance to win prizes and there will be arts & crafts for children. Doors open at noon with a suggested donation of $20.
Grammy Award winning singer/songwriter Ray LaMontagne makes a stop in Asheville as part of his "Just Passing Through" acoustic tour. Joining him on the tour will be John Stirrattt from Wilco on acoustic bass. LaMontagne has released six studio albums, five of which reached Top 10 on Billboard's Top Rock Albums chart. The show is Sunday at 7 p.m. at the U.S. Cellular Center.
On Friday night, celebrate a night of dance music from around the globe. The evening features the Juan Benavides Group, a band that blends traditional (and new) Flamenco and Middle Easter styles with a modern soul/rock edge. Also performing are Les Amis and dancer Ania Bartelmus. See the performance Friday at 9 p.m. at Isis Restaurant and Music Hall.
World dance also graces the stage at the Diana Wortham Theatre this weekend with a performance by choreographer Ronald Brown's dance company, EVIDENCE. This dance company meshes African and modern dance in works that are aimed at lifting the spirit. There are shows Friday and Saturday at 8 p.m.
And, laugh with comedian Michael Palascak this weekend at The Grey Eagle. Palascak was a top 5 finalist on Last Comic Standing. He's also made appearances on Letterman, Conan and the Tonight Show. He'll perform an early show Friday at 7 p.m. and a late show at 9:30 p.m. 
A portion of Chimney Rock State Park reopens Friday after a temporary closure due to recent rain damage. Beginning Friday, the lower portion of the park will be accessible, allowing you to reach part of the Hickory Nut Falls Trail, the Great Woodland Adventure Trail and the Animal Discovery Den. Admission has been reduced to $6 for adults and $3 for children ages 5-15. At 11 a.m. each day, a park naturalist will lead a 2.2-mile round trip hike to the base of the 404-foot Hickory Nut Falls. Meet at the Animal Discovery Den for the hike, which will last one hour and 30 minutes. Please note that the upper part of the Park, including the Chimney itself, remains closed as repairs are made to the parking area. 
Top photo by Jared Kay. Artist photo by Art Meripol. Sirius B photo provided by Two Birds Marketing. Chimney Rock photo by Jared Kay.