Things to Do in Asheville This Weekend — November 1-3, 2019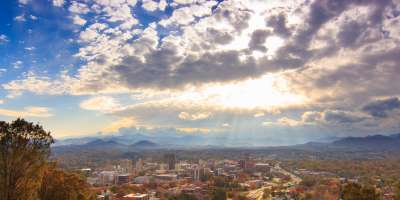 This weekend marks the beginning of Asheville's longest-standing holiday tradition, Christmas at Biltmore. It's the first holiday celebration of many that will soon begin in Asheville. See our guide to the holiday season in 2019.
As fall color continues in Asheville and along the Blue Ridge Parkway, check out our 5 things to know about fall in Asheville and our guide to the top 10 ways to experience fall in Asheville. Stay up to date on the fall color progression with our weekly fall color report (updated every Thursday).
Planning a trip to Asheville is easy. Utilize our easy-to-use search to check room availability and rates at Asheville area accommodations, and be sure to check out the special deals and packages. And, you can check events for any date by using our events calendar search.
Don't miss these great events happening this weekend!
Christmas at Biltmore
November 3, 2019 – January 5, 2020 10:00 a.m. – 5:00 p.m.
Biltmore
It's a holiday tradition that dates back more than 120 years. During the two-month-long Christmas at Biltmore celebration, the estate transforms with elegant and stunning decorations that include more than 100 hand-decorated Christmas trees. Among the most beautiful trees is the 35-foot Fraser Fir laden with ornaments and wrapped packages that serves as the centerpiece in the grand Banquet Hall. The Conservatory in the Walled Garden is filled with fresh poinsettias. And, 7,000 globe-shaped ornaments hang from the ceiling of Biltmore Winery, America's most visited winery. A daytime visit to Christmas at Biltmore is included in your admission.
In the evenings, Biltmore glows during Candlelight Christmas Evenings with thousands of twinkling lights and dozens of roaring fireplaces. Step back in time and experience the estate much like the Vanderbilts did during their first Christmas Eve spent at Biltmore in 1895. As you stroll into the estate past luminaries that line the walkway, stop to see the 55-foot Norway spruce sparkling on the front lawn. Candlelight Christmas Evenings do require a reservation and separate admission.
For more information on the daytime and evening celebrations, see our guide to Christmas at Biltmore.  
Saturday – Sunday, November 2 – 3, 10:00 a.m. – 5:00 p.m.
Weaverville
The Weaverville Art Safari is one of the original studio tours in the area. The town of Weaverville is just 15 minutes North from downtown Asheville. This self-guided, free event offers a unique look at the artists' work in their working environment! The artists' specialties include handmade pottery, glass, photography, sculpture, jewelry, furniture, painting, drawing, fiber art and wood art. Get a sneak peek of all the artists' work together during the Preview Party on Friday, Nov. 1, from 6:00 p.m. – 8:00 p.m. The party features a silent auction and raffle with the artists' work as prizes. Also enjoy beer, wine and snacks.
3rd Annual Sausage Festival
Saturday – November 2, 5:00 p.m. – 9:00 p.m.
Hickory Nut Gap Farm
Join the folks at Hickory Nut Gap Farm for a day of live music, local brew, Oktoberfest games, and non-stop sausage samples. Special sausage-making demos, and specialty recipes will be shared. For this kids there will be unlimited rides including a bouncy house. There will also be a chance to win some prizes.
First Friday Downtown Asheville Art Walk
Friday, November 1, 5:00 p.m. – 8:00 p.m.
Downtown Asheville
Visit more than 20 galleries within a half-mile radius of Asheville's city center. Discover the art scene that contributes to Asheville's reputation as "The Paris of the South." Among those galleries, you'll find unparalleled diversity including fine studio crafts, glass, photography, folk, contemporary painting, metalwork, textiles and jewelry.
The Asheville Gallery of Art hosts the opening of its November exhibition; "Reflection and Interpretation," which showcases the work of Michael Robinson with landscape paintings and drawings.
3rd Annual Food Truck and Craft Beer Festival
Saturday – November 2, 12:00 p.m. – 5:00 p.m.
Asheville Outlets
Treat yourself to delicious food and craft beer at this annual food truck festival. Featuring some of the areas most popular food trucks, along with dozens of regional and national craft breweries, this will be the ultimate food truck experience. Entertainment and games for the entire family will be a part of the fun.
LIVE ENTERTAINMENT
Thievery Corporation
Sunday, November 3, 8:00 p.m. – 11:59 p.m.
The Orange Peel
How many highly successful musical artists do you know that have thrived for 20 years without a radio hit, a big budget video, or major label backing? Thievery Corporation has collaborated with David Byrne, Perry Farrell, The Flaming Lips, Anushka Shankar, Femi Kuti, Seu Jorge, Bebel Gilberto, and been featured on major film soundtracks such as Garden State. They've headlined top music festivals, such as Coachella and Lollapalooza, and have influenced a whole generation of electronic producers and DJs.
Russ Wilson's Annual Swingin' Birthday Bash!
Sunday, November 3, 7:30 p.m.
Isis Restaurant and Music Hall
Local big band leader Russ Wilson is gathering His Famous Orchestra to put on a birthday bash in grand style. This popular event always sells out so get tickets early. Along with Russ will be Hank Bones Rich Willey, Nathan Hefner, and Whitney Moore. Cake will be served.
The Final Campaign: Slayer, Primus, Ministry, Philip H Anselmo and the Illegals
Saturday, November 2, 5:00 p.m.
US Cellular Center
Slayer's Final World Tour comes to Asheville and with them they've brought an incredible lineup of bands. "The sheer physicality of their show was something to behold and was yet another indication that while the band may be calling it a career, they are going out on top, playing at their absolute best," wrote Andy Lindquist for the SF Sonic.
Russian Ballet Theatre presents "Swan Lake"
Saturday, November 2, 7:30 p.m. – 10:30 p.m.
US Cellular Center
Swan Lake, which has mesmerized audiences for over a century, is based on a German fairy tale. Tchaikovsky's score tells the tragic love story of Prince Siegfried and Swan Princess, Odette, who is cursed to be a swan by day but a young woman at night. The Russian Ballet Theatre's new production will captivate audiences with time-honored Russian traditions while adding new choreography, hand painted sets, radiant hand sewn costumes, artistic hair designs and special effects makeup.
LaZoom Comedy: Rena Calm
Sunday, November 2, 9:00 p.m. – 11:00 p.m.
LaZoom Room
Reena Calm is an East Coast Jew turned Chicago favorite, and one of the most respected and requested comedians in the Midwest. Pulling from a lifetime of questionable choices, Reena's material is autobiographical, silly, and charmingly inappropriate. She travels the country on her signature #CalmedyTours, and has performed in some of the best rooms in America. Reena has opened for Arsenio Hall, has been on Doug Loves Movies, and was named Comic of The Week on The Jackie & Laurie Show