Things to Do in Asheville This Weekend -- May 31-June 2, 2019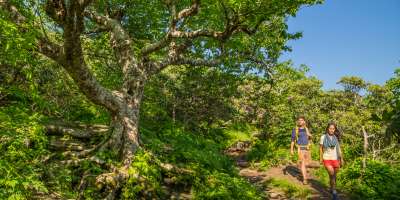 A gorgeous weekend is in store for Asheville making this a perfect time to get outside and explore the Blue Ridge Mountains. Whether you're a first time visitor or a seasoned traveler to our vibrant mountain town, you're sure to find something new and unexpected at one of the many festivals and events happening all around the area.
Plan your weekend trip to Asheville by utilizing our easy-to-use search feature to check room availability and rates at Asheville area accommodations. And, check events for any date by using our events calendar search. 
Ready to make your weekend plans? Here's a list of some of the best events happening around town including free theater, art festivals, live music, and the final days of the Asheville Beer Week celebration.
Beer City Festival
Saturday, June 1, 12:00 p.m. – 5:00 p.m.
Pack Square Park
Sample the region's best craft beer during the 10th anniversary of the Beer City Festival. Expect light, refreshing summer seasonals to complement this unofficial kick-off to summer party in downtown Asheville. This festival is the capstone of Asheville Beer Week, a nine day celebration of craft beer that includes special events at local breweries across town.
White Zombie 5K Run
Saturday, June 1, 9:00 a.m. – 12:30 p.m.
Catawba Brewing Company – South Slope
The zombie apocalypse is coming! This weekend walk, run and dodge zombies through several "Outbreak Zones" during a road race through Asheville's South Slope neighborhood. People are encouraged to dress up as a white zombie or another one of Catawba's many beer-themed characters. This Asheville Beer Week event will be fun for spectators as well as participants.
Twilight in the Treetops – Night Climbs
Saturday, June 1, 7:30 p.m. – 9:30 p.m.
Adventure Center of Asheville
Kayak through the trees at Asheville's popular tree climbing and obstacle adventure park. As dusk sets in on Saturday the course transforms with over 15,000 colored lights and lasers sparkling on thousands of leaves, cables, rope, and platforms. This family friendly adventure promises to be a mystical tree climbing experience unlike any other.
Music, Art, and Wellness Fests
Take part in a myriad of festivals and dance parties all weekend long.
2nd Annual Poelico Arts Music & Festival
Saturday, June 1, 2:00 p.m. – 2:00 a.m.
The Bywater
Bring your friends, good vibes, and even your dog to this local music and arts festival. Vendors, food trucks, and a full bar will be available at this outdoor venue by the French Broad River. $10 cover.
3rd Annual Prama Day
Saturday, June 1, 8:30 a.m. – 6:30 p.m.
Prama Institute and Wellness Center
Discover why Asheville is the health, wellness, and spiritual hub of the Blue Ridge Mountains at an all day festival filled with free yoga, dance, music, workshops, playshops, sound healing, and nature walks. Local vendors, information booths, a children's tent, and a delicious and nutritious lunch are planned.
Art by the Tracks
Saturday, June 1, 10:00 a.m. – 6:00 p.m.
Downtown Black Mountain
Peruse the works of over fifty incredible artists. This juried art and craft fair takes place on the streets of downtown Black Mountain by the old train depot. Here you'll find painting, pottery, jewelry, soap, woodwork, photography, fiber art, and mixed media.
Toots & The Maytals
Sunday, June 2, 7:00 p.m. – 10:00 p.m.
Salvage Station
Get ready to dance to the tunes of the legendary Toots and the Maytals, performing live at Asheville's largest riverside concert venue. Toots is one of the true architects of reggae - so much so that "Do the Reggae," a 1968 single by Toots and his group, the Maytals, is credited with giving the genre its name. His career spans four decades and has provided inspiration to several generations of rappers and rockers.
Live Theatre
Discover an enriching and unconventional performance at one of the multiple shows around Asheville this weekend.
The Ballad of Romeo and Juliet
Friday, May 31, 6:30 p.m. & Saturday, June 1, 2:00 p.m. & 6:30 p.m.
Multiple Locations
Forget everything you know about Romeo and Juliet. This adaptation of Shakespeare's classic tale is set it in a mythical land inspired by Reconstruction Era Appalachia. Here wounds from the Civil War linger pitting neighbor against neighbor. This performance is free to attend.
Henry IV, Part 1
Friday, May 31 – Sunday June 2, 7:30 p.m.
Hazel Robins Amphitheatre, Montford Neighborhood
Bring a picnic and your favorite libation and settle in for one of Shakespeare's greatest works. This gem is a great introduction to The Bard's history plays. Montford Park Players' shows are free to the public!
Bright Star: Bluegrass Musical
Friday, May 31 – Sunday June 2, Various Times
Southern Appalachian Repertory Theatre, Mars Hill
Listen to the sweet sounds of the Blue Ridge Mountains in this musical, which was nominated for five Tony Awards. Inspired by real events, Bright Star tells a sweeping tale of love and redemption set against the rich backdrop of the Blue Ridge Mountains in the 1920s and '40s. This Broadway play was created by Steve Martin and Edie Brickell.
Around the Mountains
Take part in one of these cool family-friendly events. These day trips are a short drive away from Asheville.
Hot Air Balloon Glow & Paramour Book Release
Friday, May 31, 5:00 p.m.
Bold Rock Hard Cider, Mills River
Experience the drama of 6+ hot-air balloons inflated and glowing in the field in front of the beautiful sunset at Bold Rock Mills River (weather permitting), and celebrate the release of Paramour, a novel by local author, pilot, and relationship coach. Raffle prizes will be available including the chance to win a hot air balloon ride for two!
16th Annual Carolina Gold Festival
Saturday, June 1, 10:00 a.m. – 5:00 p.m.
Mountain Gateway Museum, Old Fort
Strike it rich in the foothills of the Blue Ridge Mountains. This festival celebrates North Carolina's history as America's original mecca for gold mining. Live music, panning for gold, and street vendors will be on hand during this annual street festival.