Things to Do in Asheville This Weekend -- May 3-5, 2019
The longer days and milder weather of spring provide more time for outdoor fun and exploration in Asheville. Whether you visit for the breathtaking mountain views, our delicious Appalachian culinary scene, or love of live music, you're sure to discover something unexpected while in Asheville. This weekend sample the region's best craft spirits, explore an urban garden bursting with spring color, and attend one of the many festivals happening around the area. With so much going on, you're sure to find an experience everyone will enjoy.
Plan your spring trip to Asheville by utilizing our easy-to-use search feature to check room availability and rates at Asheville area accommodations. And, you can check events for any date by using our events calendar search.
Here's a look at what you can enjoy in Asheville.
Celebrate Asheville's Spirited Side
Asheville is well-known for its thriving craft beer scene, boasting a wide array of breweries and beer festivals, but there are many other craft beverages on the rise in Asheville. This includes distilled spirits, mead, cider, kombucha, sake, wines - the list goes on. This weekend is your chance to sample some of the region's finest craft drinks at one of these spirited events.
All Week Long - Multiple Venues and Times
Attend one of many events paying homage to the cocktail. Participate in workshops, meet regional distillers, attend a pairing dinner, and watch as master mixologists square off during ELIXER, a craft cocktail competition.
Highland Brewing Company's 25th Anniversary Party
Friday, May 3, 12:00 p.m. – 10:00 p.m.
Highland Brewing Company
25 years ago, Highland Brewing Company began brewing beer in the basement of Barley's Taproom and Pizzeria in downtown Asheville. Now, they're the largest native NC brewer. Visit their brewery this weekend to celebrate their quarter century milestone, and enjoy limited small-batch releases and the launch of a new year-round beer called Slow Crush. Food and live entertainment are planned.
Addison Farm Barrel Tasting
Saturday May 4, 11:00 a.m. – 2:00 p.m.
Addison Farms Vineyard
Join master winemakers at Addison Farm for a private tour of the vineyard and winery.  At this exclusive barrel tasting you will be the first to sample their newest wines and some of their current releases. Lunch is provided for this ticketed event.
Go to a Garden Party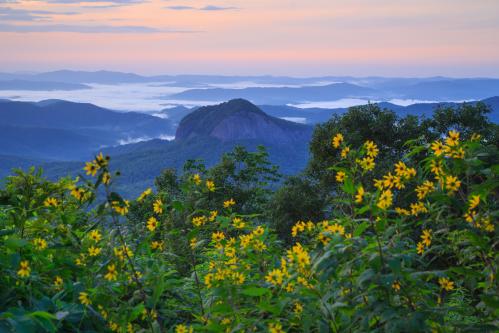 Asheville's natural landscape and favorable climate serves as a mecca for blooming wildflowers, native botanicals, and incredibly lush gardens. During the month of May you will find some of the showiest plans on display around the mountains including Flame Azalea, Mountain Magnolia and Mountain Laurel. Check out our wildflower bloom schedule to learn more.
Asheville Spring Herb Festival 2019
Friday, May 3 – Sunday, May 5, 8:30 a.m. – 5:00 p.m.
Western North Carolina Farmer's Market
Asheville's largest celebration of herbs is celebrating its 30th anniversary this weekend. Over 60 vendors will be selling plants, soaps, medicinal botanicals, heirloom seeds, tea, tinctures, and a lot more. Attend a free workshop to learn the essentials of organic gardening, how to create a container garden, and the basics of edible landscaping.
Days in the Garden (DIG!) Spring Plant Sale
Friday, May 3 – Saturday, May 4, 12:00 p.m. – 6:00 p.m.
Botanical Gardens of Asheville
Located two miles from downtown Asheville is a 10-acre urban botanical garden filled with native plants of the Southern Appalachians. More than 70 species considered endangered or uncommon are on display along a beautiful half-mile loop trail. Take the beauty of our native plants home, as vendors will be on site with a wide variety of tree, shrubs, and flowers for sale.
Attend a Themed Event
There are a lot of celebrations packed into this one weekend. From the Kentucky Derby, to Cinco de Mayo, and National Star Wars Day, here are some of your best bets to join in the fun.
Fantasy Festival
Saturday, May 4, 4:00 p.m. – 10:00 p.m
Hickory Nut Gap Farm
May the fourth be with you! Attend this ticketed event to watch as fantasy comes to life. An incredible lineup of dancers, performers, storytellers, fire spinners, and puppet shows are planned.
Kentucky Derby Dinner
Saturday, May 4, 5:00 p.m. –8:00 p.m
Red Rocker Inn Dining – Black Mountain
Enjoy "The Greatest Two Minutes in Sports" with a Kentucky Derby prix fixe dinner. Wear your finest derby hat or bow tie to be eligible for prizes. Reservations are recommended.
Taco – Every now and then I fall apart
Saturday, May 4, 4:00 p.m. – 7:00 p.m.
Asheville Mountain Kitchen
Celebrate the spirit of Cinco de Mayo by making homemade tortillas and tacos at an Asheville Mountain Kitchen workshop. Enjoy the simplicity of tacos and learn how to get creative with a variety of styles.
Catch a Live Performance
Live performances from the area's top acts will light up Asheville stages this weekend. Here are some best bets to check out.
Asheville Butoh Festival
Friday, May 3, - Sunday, May 5, various times
Bebe Theater
This festival, now celebrating its 13th year in Asheville, is a revolutionary dance form originating out of post WWII Japan. Exploring themes of sacrifice, struggle, death juxtaposed with themes of light and life, butoh slips between the cracks of definition in order to reveal the fervent beauty of the unique human spirit.
Also check out: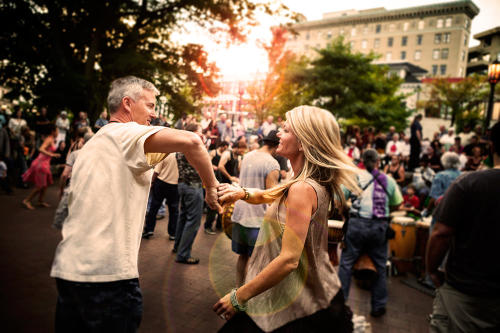 Mayfest - Saturday May 4, 10:00 a.m. – 5:00 p.m. – Downtown Rutherfordton – One of the longest running festivals in N.C., this family-friendly street party will have live entertainment, arts and crafts, a Kids Playland, and street food.
Blue Ridge Orchestra presents May Masters: Works by Cipland and Bach  - Saturday, May 4 & Sunday, May 5, 3:00 p.m. – UNC Asheville, Lipinski Auditorium – A 65-person orchestra dedicated to engaging Western North Carolina's extraordinary music community with beautiful symphonic sounds.
The Music of Bob Marley for Kids - Sunday, May 5, 12:30 p.m – The Grey Eagle Music Hall and Pub – Part of the Rock and Roll Playhouse concert series designed to introduce children to iconic musicians in rock history.