Things to Do in Asheville This Weekend -- May 24-27, 2019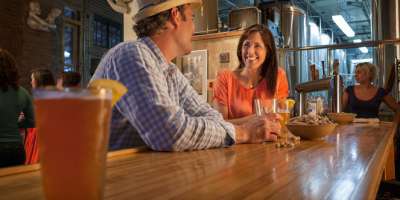 This Memorial Day, enjoy your extra long weekend of remembrance with a number of lively festivals and events taking place all around Asheville. Celebrate with music concerts, comedy shows, art festivals, a beer expo, multiple burlesque events, and popular street parties.
This unofficial start to the summer season coincides with a heat wave for the southeast making this the perfect weekend to escape to the mountains. Avoid scorching temperatures by exploring the higher elevations of Asheville where temperatures will be 5-10 degrees cooler than the low country. Our cool mountain breezes, wild water adventures – including a 60-foot all natural waterslide - and secret swimming holes are surefire ways to beat the heat. Are you interested in trying something new? Check out our list of 9 out of the ordinary outdoor adventures in Asheville.
Plan your Memorial Day weekend trip to Asheville by utilizing our easy-to-use search feature to check  room availability and rates at Asheville area accommodations. And, check events for any date by using our events calendar search.
Here's a look at what you can enjoy in Asheville this weekend.
Asheville Beer Week
Hop-heads, stout lovers and sour beer enthusiasts alike are about to enjoy the ultimate beercation in Asheville. On Friday, Asheville Beer Week kicks off, bringing together industry, innovation, education, and culture into an inspired series of beer, food, music, and outdoor events. This nine-day celebration of craft beer features a number of beer-centered events planned at local breweries around town including special releases, concerts, movies, a three day expo, beer pong competitions, tap takeovers, and trivia nights. Check the full AVL Beer Week calendar of events for more details.
Fermentation Fest
Sunday, May 26, 2:00 p.m. – 7:00 p.m.
White Labs Kitchen and Tap
As part of Asheville Beer Week, White Labs Kitchen and Tap is going to rock the nation with fermentation! Enjoy hands-on demonstrations, product samples, and kids activities, and live music by Unihorn featuring members of Empire Strikes Brass. Special collaboration beers and ciders will be on tap as well as a special food menu.
ABSFest: American Burlesque and Sideshow Festival
In the spirit of Vaudeville entertainment, Asheville's ABSfest is a series of events that promises fashion, contortion, trapeze, and tease! Now in its 13th year, this event has attracted renowned circus and burlesque artists from across the USA, as well as Scotland, Germany, and Japan. Attend a workshop, or one of the many shows planned around town.
Friday FanDom Burlesque Show and Book Signing - Friday, May 24, 8:00 p.m. – The Grey Eagle Music Hall and Pub – A burlesque extravaganza hosted by that tremendously hot Texan, Tifa Tittlywinks, and more. VIPs enjoy a book signing and talk by living treasure James Taylor of Shocked & Amazed.
Saturday Spectacular (The Main Event) - Saturday, May 25, 8:30 p.m. – Orange Peel Social Aid and Pleasure Club – The biggest Burlesque Show of the year will include Boston's award-winning whip artist Jack Ze Whipper, 'the Cocoa Barbie' May Hemmer, and more. Dress up & enjoy the Bizarre Bazaar.
Sunday Brunch Burlesque Roulette - Sunday, May 26, 12:30 p.m. – The Grey Eagle Music Hall and Pub – The closing show is a brunch hosted by Sadie Hawkins.
LaZoom Comedy Weekend!
Celebrate Memorial Day the LaZoom way – will total silliness and comedy shows ever night of the weekend. Here are the shows planned at the LaZoom Room in downtown Asheville each night.
Paul Ollinger - Friday, May 24, 9:00 p.m. – 11:00 p.m. – Paul Ollinger is a nationally touring comedian, podcaster and corporate refugee. He has opened for legends like Norm Macdonald, Dave Attell, Daniel Tosh and Roseanne Barr.
Tim Northern - Saturday, May 25, 9:30 p.m. – 12:00 p.m. – Tim Northern is 6'3", 200 pounds of manly man with what is often described as an obscure sense of humor. He's a regular performer on the national comedy club circuit.
Comedy from our Nation's Capital - Sunday, May 26, 8:30 p.m. – 11:00 p.m. – Enjoy stand up comedy from some of the best comics of Washington DC! Featuring Blaire Postman, Bridget Geiran, Elizabeth Danger Norman and Chelsea Shorte! 
Regional Mountain Festivals
There are some really great events planned throughout the Blue Ridge Mountains this weekend. Here are some of the top picks.
Mountain Acoustics Luthier Festival
Friday, May 24 – Sunday, May 26
Burnsville Town Center
Celebrates the skill and art of lutherie at the 1st Annual Mountain Acoustics Luthier Invitational. This three-day event will showcase the art of hand building fine, stringed instruments and gathers some of the most talented luthiers in the southeast. Enjoy concerts, exhibits, and workshops all weekend long.
Garden Jubilee
Saturday, May 25, 9:00 a.m. – 5:00 p.m.
Main Street, Hendersonville, NC
It's the largest gardening festival in the region. Vendors will be selling thousands of plants, arts & crafts, lawn/garden accessories & food, plus experts will be on-hand to answer your questions.
Carl Sandburg Folk Music Festival 2019
Monday, May 27, 11:00 a.m. – 4:00 p.m.
Carl Sandburg Home National Historic Site
Folk musicians from across the region will share a day of toe-tapping fun and music. Bring lawn chairs and a blanket and enjoy music at the outdoor amphitheater.
Friday, May 24 – Sunday, May 26
Downtown Brevard, NC
A Memorial Day tradition, this street festival includes arts and crafts vendors, live music, street food, and a special parade to honor our nation's fallen soldiers.
Free Events Around Asheville
Celebrate Memorial Day with live music, beautiful flowers, and beautiful art at these free events around town.
The Downtown Asheville Memorial Day Weekend Festival of the Arts
Saturday, May 25 – Sunday, May 26, 10:00 a.m. – 5:00 p.m.
Pack Square Park, Downtown Asheville
The street fest will feature a collection of local and national artists specializing in hand-made works of art. Visitors will have the opportunity to discover original works of art across every medium including paintings, pottery, jewelry, and glass. The show takes place at North Pack Square and South Pack Square around the Vance Memorial.
Kenilworth Artists Association Tour
Saturday, May 25 – Sunday, May 26, 10:00 a.m. – 5:00 p.m.
The Kenilworth Neighborhood, Asheville
More than 40 artists call Kenilworth, one of Asheville's historic neighborhoods, home. Artists will open their studios this weekend for a free, self-guided tour that is fun for both the serious art buyer and the casual browser.
Asheville-Blue Ridge Rose Society Exhibition
Saturday, May 25 – Sunday, May 26, 9:00 a.m. – 5:00 p.m.
North Carolina Arboretum
This annual parade of flowers features award-winning roses of every color and size. Experts will be on hand to answer questions and provide information about the selection, care, and history of roses. Educational programs will be offered throughout the weekend. Participation is free, however, the Arboretum does have a $14 parking fee for non-members.
Memorial Day Concert
Sunday, May 26, 3:30 p.m. – 4:30 p.m.
Folk Art Center
Join the Asheville Community Band for a free concert to honor our veterans' service and sacrifice. Seating is available inside and outside on the amphitheater lawn. This tribute to our military is a great event for the whole family.
Monday, May 27, 2:30 p.m.
Pack Square Park, Downtown Asheville
A special ceremony to remember our nation's fallen soldiers and honor our veterans will take place at the Bascom Lamar Lunsford Stage in Pack Square Park. The ceremony will feature short readings by Brothers Like These veterans - recounting their real-life experiences in service, and a keynote address titled "The Meaning of Memorial Day." A commemoration wreath will be presented to honor members of the Armed Forces, Asheville and Buncombe County emergency responders, and those who have sacrificed their lives in service to this country.
The public is also encouraged to attend a 10 a.m. May 27 Memorial Day wreath-laying Ceremony at the Western Carolina State Veterans Cemetery, 962 Old US Highway 70, Black Mountain.