Things to Do in Asheville This Weekend -- May 17-20, 2018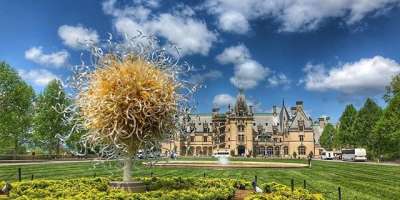 Chihuly at Biltmore is set to begin! Excitement has been building for months since Biltmore made the announcement late last year. Earlier this week, a team of people began installing Chihuly's larger-than-life glass sculptures both inside Biltmore House and throughout the estate. As the exhibition kicks off this Thursday, so too does the Summer of Glass, a six-month celebration of glass art in the Asheville area.
You don't want to miss this exhibition!
There are many other great events happening this weekend to help you experience the culture of Asheville. Plan your trip to Asheville by utilizing our easy-to-use search to check room availability and rates at Asheville area accommodations. And, you can check events for any date by using our events calendar search.
Here's a look at what you can enjoy this weekend in Asheville:
May 17-October 7, 2018
Biltmore, Asheville
The much-anticipated opening of Chihuly at Biltmore is finally here! For the first time in North Carolina, the monumental glass sculptures of Dale Chihuly will be on large-scale exhibition. Beginning this Thursday (May 17), the glass sculptures will be set throughout areas of Biltmore House, gardens and grounds. As part of the exhibition, Biltmore will host a first-ever evening experience, Chihuly Nights, in the gardens that will offer views of the sculptures after dark.
In conjunction with the Chihuly at Biltmore exhibition, Asheville will celebrate with a Summer of Glass! During the next six months, dozens of local glass artists, studios and galleries are creating events and exhibits across the Asheville area. Among other activities, you'll have the chance to watch demonstrations of glass blowing, glass jewelry making, stained glass, enameling and working with glass beads.
Friday (May 18), 5-9 p.m.
North Lexington Avenue, Downtown Asheville
You know summer is just around the corner when Downtown After Five begins! Downtown After Five is a free live outdoor concert series that happens every third Friday (May through September) in the heart of downtown Asheville. This year marks the 30th year of the event. While you listen to the music, enjoy local beers and food. Please note that admission to the event is free but you must purchase a wristband for $2 in order to purchase an alcoholic beverage. This first concert of the 2018 season features Asheville All-Stars, a group of Asheville's best musicians.
Saturday (May 19), 10 a.m. to 7 p.m.
Montford Avenue at Soco, Asheville
For more music, head to the historic Montford District on Saturday for the city's longest running free street fair. The 15th annual Montford Music and Arts Festival features continuous music performances from 10 a.m. to 7 p.m. on a centrally-located stage. In addition to great music, you'll find art and craft booths, the work of juried artists and a nice variety local food trucks. This festival is a great event for the whole family to enjoy!
Saturday and Sunday (May 19-20), 10 a.m. to 5 p.m.
WNC Ag Center, Fletcher
See and purchase the work of top-notch quality artists from around the globe! This juried fine art and fine craft show features something for everyone – with works available for all price ranges. As part of the event's commitment to bring art education to young people, students will be exhibitioning their original art at the Youth Art Competition. Local entertainment and local food add to the excitement. Parking is easy and free. Admission is $8 for a one-day pass or $10 for a two-day pass. Kids 13 and under get in free.  
Saturday (May 19), 10 a.m. to 3 p.m.
The Junction, Black Mountain
Just a short 20-minute drive east of downtown Asheville you'll find the beautiful town of Black of Mountain. On the third Saturday of every month (May through November), explore the Black Mountain Creatives Market. The market showcases paintings, pottery, jewelry and handcrafted items. This is a great family-friendly event with art, live music and a whole lot of creativity!
Saturday (May 19), 1:30-4:00 p.m. (tour), 4-7 p.m. (party)
Mars Hill
Less than a half hour north of Asheville, experience the 5th annual Barn Tour Day in the community of Mars Hill. Barn historian Taylor Barnhill will lead the bus tour and share historical information and stories about the barns in the area. At the conclusion of the tour, there will be a party in Steen's Barn in the town of Mars Hill featuring the award-winning Baily Mountain Cloggers and food from Chupacabra Latin Café of Weaverville. Enjoy this great Appalachian heritage experience while supporting an organization that works to preserve the barns of that heritage! Advance purchase of tickets is required.
Feel the excitement and the energy at an Asheville City Soccer Club game at Memorial Stadium in downtown Asheville! Asheville City SC is a semi-professional soccer program with a men's and women's team. The teams compete in the National Premier Soccer League. This weekend, the Asheville City SC women's team takes on the Carolina Lady Dynamo on Thursday night at 7 p.m. On Saturday night, the men's team plays the Atlanta Silverbacks FC.
Thursday (May 17), 6-9 p.m. (public night), 9-11 p.m. (tournament)
The VR Arena (821 Riverside Drive), Asheville
Step into a different world … literally! Experience the power of virtual reality at the Better Than Unicorns VR Arena and Immersive Studio. Play virtual dodgeball and Tron in VR! For just $15 admission you'll get into the public night, a chance to experience the VR games, and into the competitive tournament. Can't make it this week? This is a weekly event that happens every Thursday!
Here are some of the highlights of the performances you can see this weekend in Asheville. For a full list of performances, please see our live music events calendar.
Friday
Jerry Salley – His more than 450 songs have sold more than 15 million records. He performs hit songs and tells the stories behind them. Isis Restaurant and Music Hall, 7 p.m.
David Myles – Award-winning Canadian singer/songwriter. Diana Wortham Theatre, 8 p.m.
KICK The INXS Experience – Talented group of musicians with a passion for the music of INXS. The Orange Peel, 9 p.m.
Saturday
Bobby Miller and The Virginia Dare Devils – Band from Asheville blending Old Time, Bluegrass, Jazz and Rock & Roll. Highland Brewing Company, 7 p.m.
Mark Mandeville & Raianna Richards with Hoot & Holler – Members of the Massachusetts Walking Tour, a non-profit that supports arts and culture in small towns. Band members are now based in Asheville. Isis Restaurant and Music Hall, 7 p.m.  
Girl Power! A Dive Dance Party – DJ Honey will play girl power jams all night as part of this fundraiser. LaZoom Room, 8 p.m.
Sunday
Chuck McDermott – Singer/songwriter/guitarist. Isis Restaurant and Music Hall, 5:30 p.m.
Zoe and Cloyd and Friends – Husband and wife, award-winning bluegrass duo. The Grey Eagle, 7 p.m.
Chicago – American rock band that has recorded 36 albums and sold more than 100 million records. Thomas Wolfe Auditorium, 7:30 p.m.
Jamie McLean Band – Band playing New Orleans soul, Delta blues and middle America roots. Isis Restaurant and Music Hall, 7: 30 p.m.
Top photo of Chihuly at Biltmore by Bryan Yerman.