Things to Do in Asheville This Weekend -- May 11-13, 2018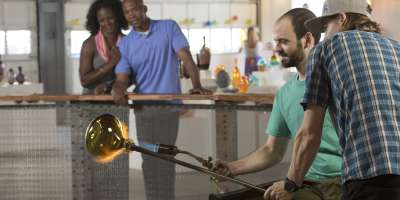 We look forward to celebrating Mother's Day Weekend with you here in Asheville! From special events to special brunch meals, there are a lot of options for a special celebration with mom.
The beginning of May also marks the beginning of the Summer of Glass in Asheville. In conjunction with a major exhibition at Biltmore showcasing the glass sculptures of Dale Chihuly, Asheville will host special events, workshops and exhibitions now through October. Read more below on Asheville's Summer of Glass.
And, music and art fans will be in nearby Black Mountain this for the spring version of the much-anticipated LEAF Festival. The spring festival this weekend is sold out but it's a good time to plan ahead and gear up for the fall event which will take place October 18-21.
There are many other great events happening this weekend to help you experience the culture of Asheville. Plan your trip to Asheville by utilizing our easy-to-use search to check room availability and rates at Asheville area accommodations. And, you can check events for any date by using our events calendar search.
Here's a look at what you can enjoy this weekend in Asheville:
Friday (May 11), 10 a.m. to 2 p.m.
I-26 West North Carolina Welcome Center
The I-26 W North Carolina Welcome Center hosts a celebration in honor of National Tourism Day. The celebration will include award-winning fiddler Roger Howell, as well as 23-time National Clogging Champions The Baily Mountain Cloggers of Mars Hill University. Meet representatives from the Blue Ridge Parkway Association, Chimney Rock State Park, Monarch Watch and others. Or, try your hand at a corn hole challenge and win a prize. The I-26 West North Carolina Welcome Center is located at mile marker 6 near the Tennessee state line.
This is the final weekend to enjoy Biltmore's exhibition showcasing fashion from the movie Titanic. The costumes, including iconic costumes worn by Leonardo DiCaprio and Kate Winslet, have been on exhibition since early February. You will have the chance to see more than 50 costumes placed throughout the house. And, you will learn about the real-life connection Biltmore's George and Edith Vanderbilt had to the Titanic.
May through October
Various locations in Asheville
May marks the beginning of the Summer of Glass in Asheville (May 17-October 7). The Summer of Glass coincides with a new exhibition at Biltmore showcasing the monumental glass sculptures of artist Dale Chihuly. During the six-month Summer of Glass celebration, there will be special demonstrations, workshops, exhibitions and tours. For example, Blue Spiral 1 Gallery in downtown Asheville just opened their Summer of Glass "takeover," with the work of more than 25 glass artists on display in the upper level gallery. On Saturday at the North Carolina Glass Center, there will be a featured artist opening reception for Brad Smith, who began blowing glass at the age of 13.
Saturday (May 12)
Various locations in the Asheville River Arts District
Asheville's colorful River Arts District, which features more than 200 artists, hosts special events the second Saturday of every month. Among the many great events, three Asheville artists join together at Philip DeAngelo Studio from 3-6 p.m. for a collaborative show called "Convergence." The artists are Philip DeAngelo, Tanya Franklin and Ray Charnell. The show is a fundraiser that coincides with National Stamp Out Hunger Day. During the event this Saturday, 15 percent of all sales will be donated to Manna Food Bank.  
The Village Potters will host a Spring Open House from 11 a.m. to 4 p.m. to showcase the newly completed 5,000-square foot expansion. There will be demonstrations and a chance for hands-on experience. There were also be hourly giveaways. Take a look at the full list of events to see even more happenings at the Open House!
Saturday (May 12), 10 a.m. to 4 p.m.
Sunday (May 13), 1-3 p.m.
Folk Art Center, Blue Ridge Parkway, Asheville
More than two dozen artists from the Southern Highland Craft Guild will be at the Blue Ridge Parkway Folk Art Center to celebrate fiber art. Fiber Weekend will feature demonstrations by felters, quilters, weavers, knitters, tatters, spinners and other experts in fiber skills. Among the highlights will be the Fiber Wearables Fashion Shows with Liz Spear on Sunday at 1 p.m. and 3 p.m. New this year will be the Farmhouse Barbecue wagon, which will serve locally-made food throughout the day Saturday. The events are free to attend.  
Spring pop up shops
Buy something special for your loved ones (or yourself) during great spring pop up shops that feature works of local makers.
The Well-Crafted Gift Shop is in the parish hall at All Souls Cathedral in historic Biltmore Village. The show is open Friday, 10 a.m. to 6 p.m., and Saturday, 9 a.m. to 6 p.m.
There is also an 11-day pop up shop featuring some of the area's best in handmade and vintage. That shop will be at Asheville Social Hall. Shop organizers have curated goods from 75 independent vendors. The shop is open daily May 10-20 from 10 a.m. to 9 p.m.
Mother's Day
There are many special events and meals planned for Mother's Day in Asheville. Highlights include a four-course Mother's Day brunch at the Princess Anne Hotel. The new house chef will prepare meals for two seatings: one at 11 a.m. and one at 1 p.m. Please call the hotel for reservations.
Roux will host a Mother's Day Brunch (May 13, 11 a.m. to 2 p.m.) and White Labs Kitchen & Tap will host a Mother's Day Brunch and Silent Auction (May 13, 10:30 a.m. to 3 p.m.).
Add some relaxation to your day with yoga at Addison Farms Vineyard, surrounded by peaceful mountain views in the Leicester community.  
Enjoy an afternoon tea and tasting at Ivory Road Café and Kitchen (May 13, 1 p.m. or 4 p.m.). The tea tasting will feature live classical guitar music. Reservations are required.
Or, start the celebration early with a special pre-Mother's Day Appalachian Spring Tea with Harriet at Whitemont Lodge on Saturday (May 12, 2 p.m. or 5 p.m.). Host Harriet Styles is one of the Swannanoa Valley's most-honored women. 
Saturday and Sunday (May 12-13)
Well Played Board Game Café
For more than 24 hours, Well Played will host a gaming session and giveaways in an effort to raise money for Helpmate, an organization that works to stop domestic violence. They will start playing Saturday at noon and continue into Sunday at 10 p.m.
Friday (May 11)
Moonlight Street Folk – Concert on the lawn with a dynamic 5-piece band based in the Asheville area. Isis Restaurant and Music Hall, 6:30 p.m.
Underhill Rose with special guest Woody Wood – Guitar and clawhammer banjo duo from Asheville. White Horse Black Mountain, 8 p.m.
Guided By Voices – Indie rock band whose album Bee Thousand has been named No. 1 on the Amazon list of 100 Greatest Indie Rock Albums of All Time. The Grey Eagle, 9 p.m.
Saturday (May 12)
Eli Cook – A young blues man whose husky voice and slick slide guitar helped him to open for greats like B.B. King. Isis Restaurant and Music Hall, 7 p.m.
Asheville Symphony Orchestra – Hyken Reimagines Vivaldi featuring Jennifer Frautschi on violin. Thomas Wolfe Auditorium, 8 p.m.
Sunday (May 13)
Mother's Day Show -- Four of Asheville's most recognizable female lead singers take the stage. Amanda Platt, Anya Hinkle, Aubrey Eisenman and Mary Lucey will song some of their favorite songs. Isis Restaurant and Music Hall, 6 p.m.
Brandi Carlile – American folk rock and Americana singer-songwriter. Carlile recently released her sixth studio album, reaching number 5 on the Billboard 200. Thomas Wolfe Auditorium, 7:30 p.m.
Tank and the Bangas – Band that originated in New Orleans combining the sounds of rock, gospel, funk and folk. The Grey Eagle, 8 p.m.