Things to Do in Asheville This Weekend -- May 10-12, 2019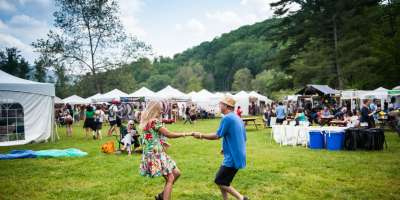 A special Mother's Day weekend is in store for you here in Asheville. Celebrate with mom at one of the many art exhibits, music festivals, and outdoor adventures planned throughout the area. With so many cultural events planned, you're sure to find a memorable experience she'll love sharing with you.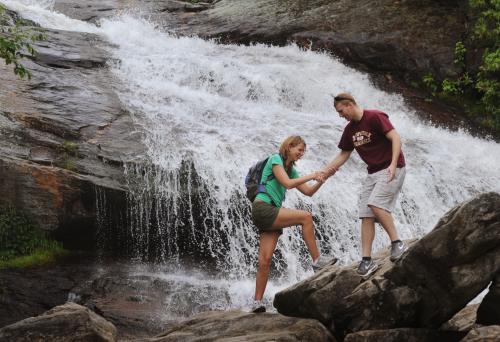 In Asheville, there's no shortage of ways discover scenic beauty, and May is a particularly perfect time to explore the mountains. This week, a parade of gorgeous spring blooms continues to popup around town. Take your mom to visit one of Asheville's impressive gardens, or drive to the highest peaks east of the Mississippi along the Blue Ridge Parkway where you'll find numerous native wildflowers in bloom. Thanks to the recent spring rainfall, the waterfalls will be particularly impressive this week. Plan a trip to see one of these natural wonders, some of which are located next to the road for easy viewing from the car.
Plan your spring trip to Asheville with our easy-to-use search feature to check room availability and rates at Asheville area accommodations. And, you can check events for any date by using our events calendar search. 
Here's a look at what you can enjoy in Asheville this weekend.
Immerse Yourself in Asheville's Cultural Cool
Asheville's bohemian spirit is springing to life this weekend. Take part in a lively art and music festival, attend a free play in the park, or celebrate the classics at one of these top live entertainment picks for the weekend.
Spring LEAF Festival
Thursday, May 9 – Sunday, May 12
Lake Eden – Black Mountain
Day passes are still available for this popular festival that combines the best of music and interactive art into one awesome weekend of family-friendly entertainment. Listen to incredible musicians from around the globe, and can take part in activities such as ziplining, swimming, canoeing, in addition to numerous creative workshops.
Free Theatre! "Shakespeare in Love"
Friday, May 10 – Sunday, May 12, 7:30 p.m.
Hazel Robinson Amphitheatre – Montford Neighborhood
Enjoy a free live performance in a beautiful outdoor setting as the Montford Park Players open their season with Shakespeare in Love, a play full of excitement, humor, romance, and wit. Bring along chair, blanket, and picnic.
Masterworks 7: Márques, Saint-Saëns, Stravinsky
Friday, May 11, 8:00 p.m.
Thomas Wolfe Auditorium
Listen to Stravinsky's The Rite of Spring, one of the most powerful pieces of orchestral music ever written, along with other colorful works performed by the Asheville Symphony Orchestra.
Also check out..
Friday Night Barn Dance - Friday, May 10, 6:00 p.m. – 10:00 p.m. - Hickory Nut Gap Farm: Grab your dancing shoes and get ready for an authentic barn dance. Sparrow and her Wingmen will be performing hot jazz, swing, and vintage dance music during the first night of this summer music series.
Concerts in the Park - Saturday, May 11, 7:00 p.m. – 9:00 p.m. - Biltmore Park Town Square: South Asheville's best neighborhood for shopping, dining and entertainment is hosting the first of their free summer concerts with Tuxedo Junction, a premier dance band.
Tyler Ramsey (Album Release Show) - Saturday, May 11, 8:00 p.m. - Asheville Masonic Temple: Discover new music from Tyler Ramsey, the former lead guitarist of the Grammy-nominated group Band of Horses.
Find Handmade Treasures & Southern Crafts
An arts hub in the southeast, Asheville is home to More than 200 artists that work in paint, pencil, pottery, metal, fiber, glass, wax, paper and more. Get an inside look into their craft at multiple celebrations around the region this weekend.
2nd Saturday in the River Arts District
Saturday, May 11
Various Locations & Studios
The River Arts District is home to a vast array of artists and working studios in 22 former industrial and historical buildings spread out along a one-mile stretch of the French Broad River. This weekend artists open their doors to host meet and greets and special events. Watch live glassblowing exhibitions, get hands on with one of the many immersive programs available, and peruse numerous galleries to find that perfectly handcrafted piece of art for your collection.
Fiber Day
Saturday, May 11 – Sunday, May 12, 10:00 a.m. – 4:00 p.m.
Folk Art Center
Visit the Folk Art Center to enjoy the Southern Highland Craft Guild's Fiber Weekend. For more than two decades, felters, quilters, weavers, knitters, tatters, spinners, and many more fiber makers convene at Milepost 382 to share handmade skills with visitors to the Blue Ridge Parkway. Watch live demonstrations, get a close-up look at how fiber products are made, and learn the stories of these makers. This event is free to attend.
Annual WNC Yarn Crawl
Thursday, May 9 – Sunday, May 12, 10:00 a.m. - 6:00 p.m.
Multiple Locations
Take a self-guided tour of multiple yarn shops, fiber mills, and fiber arts learning centers across the Asheville area this weekend. At each location you can learn more about the yarn craft, shop special offers, and receive a chance to win prizes.
Take a Walk on the Wild Side
Get outdoors and explore the thousands of acres of scenic beauty surrounding Asheville. Here are some of the top choices for guided hikes and special nature exhibits to enjoy this weekend.
Wild Walks: A Behind the Scenes Experience
Saturday, May 11, 1:20 p.m. – 3:00 p.m.
WNC Nature Center
Take a behind the scenes tour with the Nature Center staff to get an up close and personal introduction to the predators that call the Center home. Learn about their daily care and feeding routines.
Naturalist Niche: Spring Wildflowers
Saturday, May 11, 9:30 a.m. – 12:30 p.m.
Chimney Rock at Chimney Rock State Park
Hickory Nut Gorge is known for its beautiful wildflower display each spring and fall. This special hike will take participants into areas of the Park with the most species in bloom and discuss what makes this area an exceptional place for them to grow.
World Bonsai Weekend
Saturday, May 11 – Sunday, May 12, 9:00 a.m. – 5:00 p.m.
North Carolina Arboretum
Take part in an internationally celebrated event dedicated to furthering bonsai awareness and appreciation worldwide. Enjoy a special two-day pop-up bonsai show inside the Arboretum's Baker Exhibit Center, and a free bonsai demonstration on inside the Arboretum's Bonsai Exhibition Garden. This event coincides with the reopening of the Arboretum's outdoor bonsai display