Things to Do in Asheville This Weekend -- March 8-10, 2019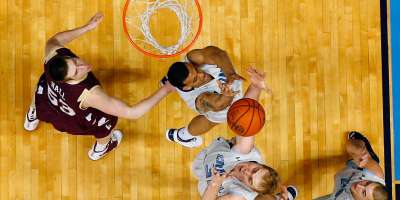 March Madness begins this weekend in Asheville as the Ingles Southern Conference Basketball Championship heats up at the US Cellular Center from March 7 – 11. Cheer on your favorite college basketball team as they battle for a spot in the NCAA basketball tournament. The road to the Final Four begins here!
This weekend, take advantage of the warmer temperatures (for this season!) by exploring some of Asheville's best outdoor adventures. Get an unobstructed birds-eye view of the mountains on a thrilling zipline tour, go on a birding expedition to find spot migratory species that are passing through the Blue Ridge, or go on a night time trip with local astronomy experts for some excellent star gazing opportunities. Need more ideas? Check out our list of Asheville's best natural recreation explorations.
If you're planning a trip, then be sure to check out our easy-to-use search feature to find out room availability and rates at Asheville area accommodations, and check events for any date by using our online events calendar search.
Here's a look at what you can enjoy this weekend in and around Asheville.
Top Events This Weekend in Asheville, NC
Kiyoshi Sake Release
Friday, March 8, 7:00 p.m. – 10:00 p.m.
Ben's Tune Up
This Friday, Ben's American Sake will release a new premium sake called Kiyoshi. This traditional sake uses only four ingredients and contains yeast provided by Asheville's White Labs Kitchen & Tap. This style is a first for Ben's and only two batches were brewed, making it a very limited release. The release event will include live music, food pairing and sake tasting.
Piano Recital: Lang, Schubert, Brahms
Friday, March 8, 8:00 p.m
Central United Methodist Church
World-famous pianists Orion Weiss and Shai Wosner come together for a special recital of works for four hands and two pianos. The program blends the new with the classic, presenting David Lang's Gravity (2005) and After Gravity (2007) alongside works by Schubert and Brahms.
Action Movie: The Play
Friday & Saturday, March 8 - 9, 7:30 p.m. & Sunday, March 10, 3:00 p.m.
The Magnetic Theatre
A diabolical villain threatens the world in this riotous send up of action movies. Filled with stage combat, stunts, and the mother-of-all-car-chases (live on stage) the critically acclaimed, award-winning, over-the-top, not to be missed, blockbuster theater event makes its Asheville debut.
The Marvelous Wonderettes
Friday, March 8, 7:30 p.m. – 9:45 p.m.
Southern Appalachian Repertory Theatre (SART)
Be transported to the 1958 Springfield High School prom where we meet the Wonderettes, four girls with hopes and dreams as big as their crinoline skirts and voices to match! As we learn about their lives and loves, we are treated to the girls performing over 30 classic '50s and '60s hit songs.
Ready, Set, Throw! One-Night Pottery Class
Friday, March 8, 7:00 p.m. – 9:00 p.m.
Odyssey Center for Ceramic Arts
Try your hand at a pottery wheel! Even if you've never touched clay before, the highly skilled staff at Odyssey will guide you through the entire process. It's the perfect opportunity to get creative and have fun! All ages and skill levels are welcome.
An Evening with Mike Gordon
Saturday, March 9, 9:00 p.m.
Orange Peel Social Aid and Pleasure Club
Phish fans won't want to miss this intimate evening with Mike Gordon. This bassist and co-founder of Phish, will be performing songs from his latest studio album OGOGO, which is also his fifth solo album.
Ginger's Revenge Two-Year Anniversary
Saturday, March 9, 2:00 p.m. – 10:00 p.m.
Ginger's Revenge
Celebrate the two-year anniversary of Asheville's original ginger beer brewery. Special beer releases, live music, and merchandise will be available. The Root Down food truck will be on site.
LaZoom Comedy Night: Jenny Zigrino
Saturday, March 9, 9:00 p.m. – 11:00 p.m.
LaZOOM Room Bar & Gorilla
Jenny Zigrino is a comedian that packs a punch of truly original humor. She's charmed audiences across the country with her wit, keen observations, embarrassing anecdotes, and brilliant honesty for a compelling performance you can't ignore.
Second Saturday Art Event
Saturday, March 9, 10:00 a.m. – 5:00 p.m.
Asheville River Arts District
This Saturday, visit the working studios of multiple Asheville artists. This monthly exhibition gives visitors a chance to explore Asheville's thriving arts scene, enjoy live demonstrations, find special works of art for purchase, and get to know the artists behind the work. Curve Studios, 362 Depot, and NorthLight Studios are all participating in this weekend's showcase.
NC Small Batch Festival
Saturday, March 9, 12:00 p.m. – 5:00 p.m.
Hi-Wire Brewing Big Top Production Facility & Taproom
This popular beer festival is celebrating its third year in Asheville. A perfect event for the craft beer enthusiast, it will include 20 North Carolina breweries that have brewed a small, one-off-batch that cannot be found anywhere else. No styles are off-limits, as long as it is a one-off product. Food from Foothills Local Meats, live music, and delicious beer are all planned.
Updated March 4, 2019