Things to Do in Asheville This Weekend — March 7 - 8, 2020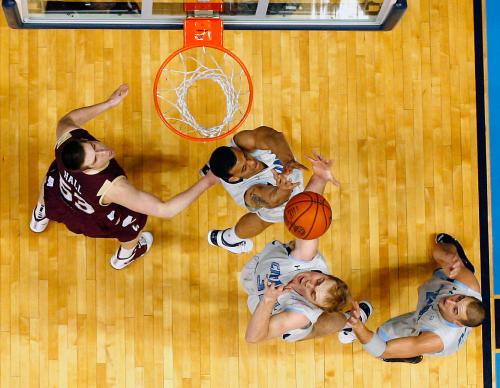 The road to the NCAA Final Four begins this weekend in Asheville. Catch all the action during the Ingles Southern Conference Men's and Women's Basketball Championship taking place in downtown Asheville. For full tournament details start here.
Planning a trip to Asheville is easy. Utilize our easy-to-use search to check room availability and rates at Asheville area accommodations, and be sure to check out the special deals and packages. And, you can check events for any date by using our events calendar search.
Here's what is happening this weekend.
Sunday, March 8, 12:30 p.m. – 4:00 p.m.
Crowne Plaza Hotel and Resort Asheville
Now in its 9th year, the Asheville Wing War has become one of the area's most notable and exciting food events. Up to fifteen restaurants will prepare spicy traditional wings or specialty wings of a variety of flavors and serve them up piping hot with a side of live music and ice cold beer.
Saturday, March 7, 12:00 p.m. – 5:00 p.m.
Hi-Wire Brewing at the Big Top
Taste specialty beer from over 20 North Carolina and South Carolina craft breweries that have brewed a small, one-off-batch, that cannot be found in the market. No styles are off-limits as long as it is a one-off product.
LaZoom Comedy: Yedoye Travis
Friday - Saturday, March 6 - 7, 8:00 p.m. – 10:00 p.m.
LaZoom Room
Yedoye Travis is a stand-up comedian, actor, and writer from Atlanta, GA. He is the creator and host of the Dark Tank podcast, which AV Club called "one of the most deliciously daring shows of the moment." He was named a New Face at the Montreal Just For Laughs festival in 2017 and has since headlined festivals around the country and appeared on Comedy Central, TBS, CBS, and Netflix and written for MTV, IFC, Viceland, Crunchyroll, and Frederator. He has two shows this weekend on both Friday and Saturday night.
First Friday Dance Party
Friday, March 6, 8:00 p.m. – 11:00 p.m.
Highland Brewing Company
Grab your dancing shows and kick-off the new month at Highland with their First Friday Dance Party! A throwback DJ set will hit you with classic tracks from the '90s and '00s as well as some deep cuts that will keep the party going.
Friday - Sunday, March 6 - 8, 2:00 p.m. – 4:30 p.m.
Downtown Asheville
Get insider tips and local secrets about the best way to do Asheville on a budget, and learn about local history. This is the only walking tour provided that allows you to choose how much you think a walking tour is worth and pay whatever you like. You will follow the urban trail, stop along the way for some free honey tastings and finish the tour with some special beer tastings at one of the best local breweries in South Slope!
Open Hearth Cooking at Vance Birthplace
Saturday, March 7, 10:00 a.m. – 2:00 p.m.
Zebulon Vance Birthplace State Historic Site
Explore African American foodways as a local food historian prepares a meal in the original 1790s fireplace in the Vance house--the same fireplace where Leah, an enslaved woman, cooked food for the Vances. Learn about the realities of cooking over an open hearth, as well as the cultural roots of popular southern cuisine.
Che Appalachia
Saturday, March 7, 8:30 p.m.
Isis Restaurant and Music Hall
Evoking images from Appalachia to the Andes, GRAMMY nominated Che Apalache is a testament to a powerful cultural & musical exchange formed in the urban neighborhoods of Buenos Aires.
Downton Abbey: The Exhibition
Now through April 7, 9:00 a.m. – 5:00 p.m.
Biltmore
Fans of the popular the global hit television series will love the new exhibit at Biltmore, which offers never-before seen interactive elements that connect you to your favorite characters, as well as the fashions, locations, and historic events of the time period. Showcased in two estate locations, Downton Abbey: The Exhibition pairs seamlessly with the real-life story of the Vanderbilt family. The Exhibition is included with daytime admission, Candlelight Christmas Evenings admission, or an overnight stay that includes daytime admission.
Donna the Buffalo
Saturday, March 7, 8:00 p.m.
The Orange Peel
Donna The Buffalo is well known for their lyrics about human potential and community. In their latest album, Throughout Dance in the Street, Jeb Puryear and Tara Nevins, the band's co-founders, share songs of social commentary and self-empowerment.
Comedy at Fleetwood's: Andrew Rudick
Sunday, March 8, 8:00 p.m. – 10:00 p.m.
Fleetwood's – West Asheville
Andrew Rudick performs regularly at Go Bananas Comedy Club as well as clubs and venues all across the country. He was the runner up in The Funniest Person in Cincinnati Contest in 2017 and 2018 and was a featured performer at the Cincy Brew Ha Ha Festival, Whiskey Bear Comedy Festival, Crossroads Comedy Festival, North Carolina Comedy Festival and Devil's Cup Comedy Festival.