Things to Do in Asheville This Weekend -- March 1-3, 2019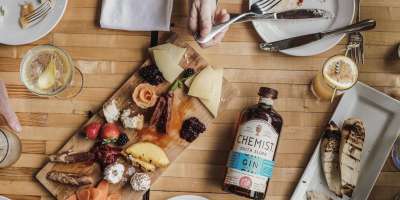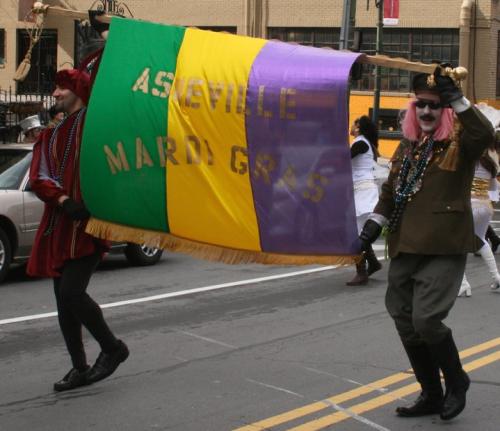 Let the good times roll this weekend with Asheville's 12th annual Mardi Gras celebration. On Sunday, March 3, at 3:05 p.m., Krewes will parade through the streets of downtown in festive attire set to the theme of Wild Wild Asheville. Parade organizers emphasize that Asheville is not Bourbon Street so this is an alcohol-free, family friendly event. Everyone is welcome to march in the parade or cheer on the parade. Afterwards the Queens Ball will be held at the Century Room at Pack's Tavern from 5:00 p.m. - 10:00 p.m. Performances will include music by Pleasure Chest and Ryan Rnb Barber as well as Wicked Geisha Entertainment. The event is free to the public with a cash bar.
Try something new: Explore one of the distilleries fueling Asheville's recent craft-spirit boom. The Chemist is a South Slope gin distillery with a tasting room outfitted as a Prohibition-era apothecary. Check out the distillery's bierbrand collaboration with Burial Beer Co., a relatively new concept in the United States, with German origins. The spirit-beer is unique in that the beer used is fully finished, it's made with corn in the mash bill and aged in former bourbon barrels. An adjoining cocktail bar, Antidote, offers pre-Prohibition cocktails, new drink classics and a small-plate menu.
Choose Your Own Adventure: Asheville is experiencing a mild winter this year, and temperatures have remained above average. For outdoor adventure seekers this has provided access to hundreds of acres of mountain exploration with unobstructed views along many of the hiking trails. Before setting off on your own hike, be sure to read our Asheville hiking guide, which will help you determine a hike suited for your taste in trails.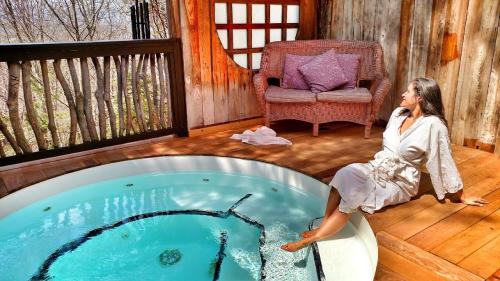 Find Your Moment of Zen: Asheville has been a health and wellness mecca for over a century. Treat yourself to a blissful foot spa, relax in one of Asheville's salt caves, or book yourself a private hot tub with a view. For more ideas check out this list of spa experiences with an Asheville twist. 
As you plan your trip, check out our easy-to-use search feature to look up room availability and rates at Asheville area accommodations. You can also check events for any date by using our online events calendar search.
Here's a look at what you can enjoy this weekend in and around Asheville.
Top Events This Weekend in Asheville, NC
First Friday Art Walk
Friday, March 1, 5:00 p.m. - 8:00 p.m
Downtown Asheville/South Slope District
On the first Friday of every month, you have the opportunity to take a self-guided walking tour of the more than 25 art studios, galleries and museums within a half mile radius of the city center. A great area to explore is the Asheville Area Arts Council Refinery Creator Space. There you'll find five studios, which offer classes in addition to three exhibit galleries. Meet the artists and try a new creative media. This Friday night, Majik Studios is celebrating one year in business. The teaching studio welcomes you to enjoy snacks and drinks while you explore a gallery show featuring the work of five professional artists.
Empire Strikes Brass: Mardi Gras 2019
Friday, March 1, 9:00 p.m.
Isis Restaurant and Music Hall
Empire Strikes Brass, a high-energy Brass-Funk Band from Asheville, rocks the house New Orleans style with a show packed full of fan favorites as well as spicy originals. Get ready to dance at this show at Isis Music Hall!
Biere de Femme Festival 
Saturday, March 2, 1:00 p.m. – 6:00 p.m.
Highland Brewing Company
Female beer professionals take center stage at this celebration! Three years running, this annual event offers more than 35 incredible one-off beers made specifically for this festival by women beer professionals from each brewery. Discover the intricate blends of flavors these women have crafted. Many of the brewers will be in attendance.
LaZoom Comedy Night: Blaire Postmam
Saturday, March 2, 9:00 p.m. – 11:00 p.m.
LaZOOM Tours
Blaire Postman is a high energy stand-up comedian. Her unexpected material includes tales of living with recovering alcoholics and the history of Super Bowl half time shows.
Footloose
Friday, Feb. 8 – Saturday Feb. 9, 7:30 p.m. & Sunday Feb. 10, 2:30 p.m.
Asheville Community Theatre
The musical version of the 1984 hits the ACT stage beginning this weekend and running through March 3. When teenager Ren McCormack moves from Chicago to a small town, he isn't prepared for the stifling local laws, including a ban on dancing and rock music instituted by the local preacher. As he struggles to fit in, he encourages his classmates to defy the local pastor and call for a rock'n'roll prom. With an energetic Top 40 score amplified with dynamic new songs, Footloose celebrates the wisdom of opening minds and listening to the voices of young people.
Saturday, March 2, 4:00 p.m. – 7:00 p.m.
Asheville Mountain Kitchen
The Mediterranean diet has become synonymous with health, but what does it mean? This class offers the opportunity to learn some of those principles, which you can apply to your daily cooking. Learn some of the basic food groups that are considered part of the Mediterranean diet as well as ways to season in a healthy way.
Swannanoa Creek and Tunnel Hike
Saturday, March 2, 9:00 a.m. – 2:30 p.m.
Swannanoa Valley Museum and History Center
The Swannanoa Valley Museum in nearby Black Mountain will host a strenuous hike down a historic path used by wagons and stagecoaches that brought travelers up the mountain from the community of Old Fort before the railroad was built. Though passenger train service ceased in the mid-1900s, the trains still run up and down the mountain several times a day transporting coal east and wood chips west. Hikers often view trains on the nearby tracks, and during the hike there is a good view of the eastern end of the Swannanoa Tunnel, the longest of the seven tunnels constructed up the Old Fort railroad grade. Along the way, hikers will also see the gravestones of two Civil War soldiers. The hike is four miles long.
TEDxUNCAsheville 2019: Unexcused Absence
Saturday, March 2, 1:00 p.m. – 5:00 p.m.
University of North Carolina Asheville
Explore what "they" never taught you, what you never learned in school, the gaps in our life's curriculum that prevent us from connecting with the world around us. Spend the day diving into topics outcast by the school system, a disservice reprimanded by ideas worth spreading in 18 minutes or less.
Arts & Crafts Workshop: Curve-Stitched Mandala
Sunday, March 3, 1:00 p.m. – 4:00 p.m.
Purple Crayon
Even if you hate math, you'll love creating these beautiful geometric mandalas using curve-stitching, a form of string art invented by Mary Everest Boole in the mid-1800's. In this fascinating workshop, paper crafter, Barbara Mueller, will show you how to turn a seemingly complicated process into a fun, easy, and highly-satisfying activity.
Hari Kondabolu
Sunday, March 3, 8:00 p.m.
Orange Peel Social Aid and Pleasure Club
Hari Kondabolu is a comedian, writer & podcaster based in Brooklyn, NY. He has been described by The NY Times as "one of the most exciting political comics in stand-up today." In 2018, his Netflix special "Warn Your Relatives" was released and he was named one of Variety's Top 10 Comics To Watch.
Updated May 9, 2019