Things to Do in Asheville This Weekend -- June 9-11, 2017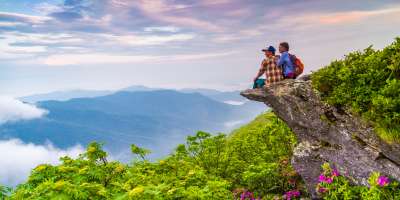 The warm weather of late spring/early summer just begs for you to head outside and soak in the sun. That sun makes outdoor activities even more appealing than usual and helps people find their groove when it comes to living a healthier lifestyle. Personal health and wellness, and community health, are a theme of many of the exciting events slated for this weekend in Asheville.
Saturday (9:30 a.m. to 9:30 p.m.) and Sunday (9 a.m. to 5 p.m.)
Masonic Temple, Pack Square Park and other locations, Asheville
Asheville has been named one of the top vegan-friendly cities in the country. Asheville VeganFest celebrates the benefits of plant-based eating and vegan living. On Saturday at the Asheville Masonic Temple, hear from speakers from around the country as they tackle the latest vegan hot topics. On Sunday in Pack Square Park, enjoy an outdoor festival (11 a.m. to 5 p.m.) showcasing vegan food, beer, and lifestyle products. The festival is hosted by Brother Wolf Animal Rescue, the largest no-kill animal rescue organization in North Carolina. All of the events are free and open to the public.   
Saturday, 1 p.m. - Midnight
Pisgah Brewing Company, Black Mountain
Stay focused on your healthy lifestyle with this music, food and beer benefit in nearby Black Mountain. Ticket sales help support Bounty & Soul, a grassroots, volunteer-run, non-profit dedicated to creating a health and wellness movement in under-served communities. Take a free yoga class, jump on a brewery tour, or savor the locally-sourced eats from Farm to Fender Food Truck. Tickets are just $10 at the door and admission is free for kids 12 and under.
Saturday, 11 a.m. to 9 p.m.
Banks & Buxton Avenues, Asheville
The up-and-coming South Slope District hosts a celebration of the importance of the arts in the community. More than 30 performance art groups are set to help "XPand" your knowledge of the diversity of the arts in Asheville. Have a direct effect on the area arts scene by purchasing creative pieces from area artists who'll be on hand. Being so close to top area breweries, there'll be local food, ciders and brews, including a special festival brew by Bhramari Brewhouse. The festival is free and family-friendly.  
Saturday, 10 a.m. to 4 p.m.
Folk Art Center, Blue Ridge Parkway, Asheville
Given the mineral-rich clays of the Blue Ridge Mountains, it's no wonder one of the longest-practiced traditions in the Asheville arts community is ceramics. And, for the past 20 years, June has been a highlight for the ceramic artists of the Southern Highlands Craft Guild. Guild members and guests demonstrate their skills at the wheel or the kiln at the Blue Ridge Parkway's Folk Art Center during Clay Fest. Shape up your skills with many free opportunities to learn from master artisans or purchase one-of-a-kind pieces to take home.  
Saturday, All Day
Anywhere Outdoors
After stopping in at the Folk Art Center for Clay Fest, hit the trails to celebrate National Get Outdoors Day! Near the Folk Art Center, try the Lunch Rocks Trail. Or, make the quick drive up to Craggy Gardens, one of the best places to see famous Catawba Rhododendrons now in bloom. This is likely the best weekend to see the bright purple blooms at Craggy Gardens. Check out these other ideas for how to enjoy the great outdoors in Asheville.
Sunday, 12-3 p.m.
Asheville Outlets, Asheville
Sunday is all about the kids at the Asheville Outlets! Your kids will likely love the balloon art, stilt walking, unicyclist riding, face painting, crafts and live music. Children can even play games and enter to win a $500 Asheville Outlets shopping spree! And, kids and adults can sign up for the free Healthy Hikers Mall Walkers Club. The event is free and will be held monthly, June through August.  
Top photo by Jared Kay. Pottery photo by Emily Chaplin. Kids Day photo courtesy of Asheville Outlets.