Things to Do in Asheville This Weekend -- June 7-9, 2019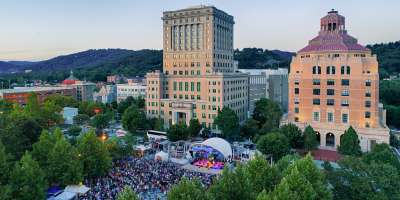 In Asheville, experience several festivals and community events celebrating the arts, a healthy lifestyle and a sustainable future. This weekend is an example of the great events going on in Asheville during the month of June. Because of the numerous festivals and relatively mild temperatures, CNN named Asheville one of the Top 5 Places to Visit in June in the world!
Plan your weekend trip to Asheville by utilizing our easy-to-use search feature to check room availability and rates at Asheville area accommodations. And, check events for any date by using our events calendar search. 
Ready to make your weekend plans? Here's a list of some of the best events happening around town.
Outdoor Festivals and Fun
Walk through downtown Asheville on any given weekend during the summer months, and you're sure to find a fun street festival taking place. This weekend is no exception with multiple events planned. Don't miss the drum circle in downtown on Friday evening, and check out these other cool happenings taking place this weekend,
XPand Fest
Saturday, June 8, 12:00 p.m. – 10:00 p.m.
South Slope, Downtown Asheville
Enjoy a day in the streets of the South Slope neighborhood for an outdoor festival celebrating the arts and sustainability. Live music., local art, food and beverage vendors, a scavenger hunt, a lantern parade, and a drop-in daycare are the highlights of this free, family-friendly community event.
VeganFest
Sunday, June 9, 11:00 a.m. – 6:00 p.m.
Pack Square Park, Downtown Asheville
Join a celebration of compassionate living in one of the top vegan-friendly cities in the country. On Sunday, listen to speakers from around the country as they tackle the latest vegan issues at this outdoor festival featuring vendors serving up vegan food, beer, and lifestyle products. Get a proper introduction to the joy of delicious, healthy, plant-based foods. This event is free to attend.
Sierra Nevada Beer Camp 
Saturday, June 8, 12:00 p.m. – 6:00 p.m.
Sierra Nevada Brewing Company
The epic adult day camp returns! Get ready for fun and games at this annual celebration with activities like human foosball, hungry human hippos, silent disco, obstacle course, keg bowling, Hammerschlagen ®, costume contest... the list goes on. And of course, you'll enjoy all of this with a cold Sierra Nevada beer in hand. Buy tickets now – they will see out.
Maggie B's 12th Anniversary Block Party
Friday, June 7, 5:00 p.m. – 9:00 p.m.
Maggie B's Wine and Specialty Store, Downtown Weaverville
Dance in the streets of downtown Weaverville this Friday at an outdoor block party. Enjoy music from Firecracker Jazz Band, food from the grill and drink specials. Beer will be available as well as Maggie B's favorite wines during a free tasting. This is a kid friendly event with a play area and face painting.
Explore the Blue Ridge Mountains
Asheville is surrounded by thousands of acres of outdoor playground. This Saturday, celebrate National Get Outside Day by choosing one of the multiple adventures found throughout the region. Soar through the forest canopy like a bird, slide down a 60-foot waterfall into a refreshing mountain swimming hole, or explore the mountains on foot along miles of hiking trails that lead to breathtaking scenic vistas. Here are some of the best guided hikes available this weekend.
Blue Ridge Hike of the Week
Friday, June 7, 10:00 a.m. - 12:00 p.m.
Blue Ridge Parkway – mile post 409.6
Join Parkway rangers for an easy 1.5-mile round-trip hike to the Frying Pan Fire Tower. Famous for its wildflowers, wildlife, and wildfires, this Pisgah area has it all! A hike to the fire tower is a perfect introduction to what the Parkway has to offer as well as a chance to take in some fabulous views.
Waterfalls and Wine
Friday, June 7, 11:00 a.m. - 3:00 p.m.
The Pisgah Field School
Visit the Land of Waterfalls in Transylvania County on a guided trip to visit some of the more than 250 scenic falls located throughout the region. Learn the unique history of our Appalachian Mountains and a little flora and fauna ID along the way. Expect to hike up to 1.5 miles for this tour. Transportation is provided.
Naturalist Niche Watershed Hike
Saturday, June 8, 9:30 a.m. – 3:00 p.m.
Chimney Rock State Park
Get a rare treat while visiting Chimney Rock this weekend. Hickory Nut Falls is one of the highest waterfalls east of the Mississippi River, and this weekend you have a special opportunity to explore the origination of the feeder creek, Fall Creek. Follow a park ranger along the creek path as it leads to the upper cascades of this beautiful waterfall. This hike is considered strenuous.
Forrest Falls Hike
Sunday, June 9, 10:00 a.m. – 12:30 p.m.
Shope Creek Parking Area
Take a guided hike with a member of the Buncombe County Recreation Services team. The Forrest Falls Hike is will include some obstacles and a moderate climb. You'll enjoy a plethora of butterflies and breezes during this 3-mile hike.
Around Asheville
Asheville is a small town with a big personality, and each weekend provides new opportunities to immerse yourself in the area's vibrant arts, culture and entertainment scene. From free Shakespeare performances in the park to hands-on art demonstrations, here's a list of the best shows, events, and exhibits happening now.
Saturday, June 8, 10:00 a.m. - 6:00 p.m.
River Arts District, Asheville
Any time is a great time to visit the River Arts District and the more than 200 artists in studios and galleries that you'll find there. But, Second Saturdays provides a special opportunity to get in touch with this district known as Asheville's artistic center. On the second Saturday of every month, take part in special openings, hands-on classes, demonstrations and celebrations.
Hands on a Hardbody
Friday June 7 - Saturday, June 8, 7:30 p.m. & Sunday, June 9, 2:30 p.m.
Asheville Community Theatre
See community theater at its finest in downtown Asheville. Based on a true story, this comedy follows 10 hard-luck Texans attempting to get a new lease on life. Under a scorching sun for days on end, armed with nothing but hope, humor and ambition, they'll fight to keep at least one hand on a brand new "hardbody" Nissan truck in order to win it. In the hilarious, hard-fought contest, only one winner can drive away with the American dream.
Clay Day
Saturday, June 8, 10:00 p.m. – 4:00 p.m.
Folk Art Center
The Folk Art Center, located on the Blue Ridge Parkway, has long been a hub for fine handmade craft produced in the region. On special Saturdays throughout the year they focus on specific mediums and invite the public to learn see craft techniques in action. This Saturday, members of the Southern Highland Craft Guild and invited guests will demonstrate throwing on the potter's wheel, hand building, surface design on clay, among other techniques. One highlight of the day is the annual "Make-and-Take" Raku, a ceramic firing process using fire and smoke to create unique patterns and designs. Attendees can purchase a pot for $10, glaze and watch as the experts fire it.
Janeane Garofalo
Saturday, June 8, 9:00 p.m.
Orange Peel Social Aid and Pleasure Club
Actress and comedian Janeane Garofalo has been an American institution since she burst on the scene in 1992. You've see her in many memorable and critically acclaimed film roles such as "The Truth About Cats and Dogs," "Wet Hot American Summer," "Ratatouille," "Steal This Movie," "Reality Bites," "Romy and Michelle's High School Reunion," "Mystery Men," "The Ten" and "The Cable Guy". Janeane also co-authored the best seller "Feel This Book," with Ben Stiller.
Biltmore Gardens Railway
Daily, 9:00 a.m. – 7:00 p.m.
Biltmore Estate
All aboard! The Biltmore Gardens Railway is a new exhibit on display in the Estate Conservatory. This model train display features small-scale replicas of the estate's structures, including miniature constructions of Biltmore House, the Lodge Gate, and even a small version of the Conservatory itself. With 800 feet of rails and trains traversing six separate lines at different eye levels, this is a one-of-a-kind, fun-for-all-ages garden experience.