Things to Do in Asheville This Weekend -- June 7-10, 2018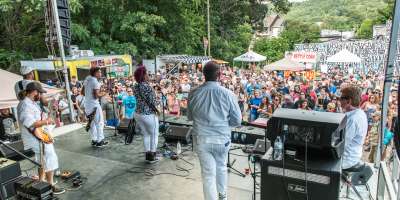 If there's a theme to this weekend's events, it's community. The festivals and celebrations you can experience in the coming days showcase a community dedicated to the arts, a healthy lifestyle and a sustainable future.
This weekend is an example of the great events going on in Asheville in the month of June. Because of the numerous festivals and relatively mild temperatures, CNN just named Asheville one of the Top 5 Places to Visit in June in the world!
Plan your trip to Asheville by utilizing our easy-to-use search to check room availability and rates at Asheville area accommodations. And, you can check events for any date by using our events calendar search.
Here's a look at what you can enjoy this weekend in Asheville:
XPand Fest
Saturday (June 9), 12-10 p.m.
South Slope District, Asheville
Celebrate community and the arts at this festival which highlights area musicians and non-profit organizations. You'll experience a full day of creativity at Xpand Fest in the South Slope District. You'll find more than 40 performance groups across the festival's six stages. In addition, there will be roving performances, an interactive arts area and local food. Bhramari Brewhouse and Green Man Brewing will provide special festival beers. Coxe Avenue will transform into ArtRow – the perfect place to purchase local art and support local artists. Xpand Fest has published a full list of events and activities.
Friday through Sunday (June 8-10)
The Orange Peel and Pack Square Park, Asheville
Asheville is considered one of the most vegan-friendly cities in the country and this is your chance to see why! Kick off Vegan Fest at The Orange Peel with a first-ever benefit show featuring Lee Camp. Doors open at 7:30 p.m. There is also a benefit show on Saturday night that will feature the band Antibalas. Tickets can be purchased in advance through The Orange Peel or at the door. Proceeds support the Brother Wolf Animal Sanctuary.
On Friday and Saturday at The Orange Peel, hear from speakers from around the country as they talk about the latest vegan trends. It is free to attend the speaker sessions. And on Sunday in Pack Square Park from 11 a.m. to 6 p.m., enjoy a free outdoors festival with industry leaders showcasing vegan food, beer and lifestyle products.
Leading up to the VeganFest the City of Asheville is hosting the 7-Day Vegan Challenge. It's the first city-proclaimed vegan challenge in the U.S. You can sign up for the challenge leading up the festival. 
VegOut for Bounty & Soul
Saturday (June 9), 1-6 p.m.
Pisgah Brewing Company, Black Mountain
Non-profit hunger relief organization Bounty & Soul will be hosting its third annual VegOut fundraiser at Pisgah Brewing Company. This family-friendly event is an opportunity to enjoy live local music, a silent auction and local food and beverages. For the kids, there will be a variety of activities.
Saturday (June 9)
River Arts District, Asheville
Any time is a great time to visit the River Arts District and the more than 200 artists in studios and galleries that you'll find there. But, Second Saturdays provides a special opportunity to get in touch with this district known as Asheville's artistic center. On the second Saturday of every month, take part in special openings, hands-on classes, demonstrations and celebrations. Many studios will open by 10 a.m. with celebrations extending as late as until 8 p.m. The River Arts District has compiled a full list of events.
Saturday (June 9), 10 a.m. to 5 p.m.
Crucible Glassworks, Weaverville
Experience glass blowing in a unique way! Ben Elliott from Elliott Glass and Jamie Wickliffe of Sand Spirit Glass will fire up their lampworking torches for a fun Flame Off: dueling bench-torches! It's a great opportunity for educational demonstrations and a behind-the-scenes look at glassblowing.
This is among the great events going on during the Summer of Glass in Asheville. The Summer of Glass is a six-month celebration of glass art in Western North Carolina and coincides with the Chihuly at Biltmore exhibition. Check out our guide to the Summer of Glass and learn how you can take a VIP Weekend Tour (a glass lover's dream!) to experience it all!
Saturday (June 9)
Various Locations
It's the 10-year anniversary for National Get Outdoors Day, which encourages you to take part in healthy, active outdoor fun. The Cradle of Forestry in Pisgah National Forest is among the places that will host special educational programs and demonstrations. You can also take your own outdoor adventure by exploring one of the many area trails. Our hiking guide breaks down area hikes into easy, moderate and challenging. Or, check out the great outdoor recreation options in Asheville including adventures on the river such as rafting, tubing, kayaking and stand-up paddle board.  
Blue Ridge Parkway rangers will host its Hike of the Week at Craggy Gardens. Join the rangers for a 1.5-mile round trip hike on the Craggy Gardens Trail. You'll visit two historic trail shelters along the way and learn about their link to the Parkway's past. Meet at the Craggy Gardens Picnic Area at Milepost 367.6.
RiverLink's RiverMusic
Friday (June 8), 5-9:30 p.m.
New Belgium Brewing, Asheville
Celebrate the beauty of the French Broad River with good drinks and sweet jams! Proceeds go to support RiverLink's work to create a healthy watershed. On the stage will be Tony Furtado, Elonzo Wesley and The Saylor Brothers.
Thursdays
UpCountry Brewing Co., Asheville
In support of RiverLink, UpCountry Brewing Co. is hosting a series of June Pint Nights. Each Pint Night will have a featured beer. Buy that beer and keep a pint glass, specially designed to represent the four specific themes of the RiverLink non-profit. Each of the glasses will never be produced again. Ten percent of beer sales will be donated to RiverLink. Live music starts at 7 p.m.
Friday, 11 a.m. to 1 p.m.
Western North Carolina Farmer's Market, Asheville
Taste free samples of North Carolina blueberries at the Western North Carolina Farmers Market. The WNC Farmer's Market offers fresh local produce, baked goods and mountain crafts. It's open seven days a week from 8 a.m. to 6 p.m. Learn more about Asheville's Famer's Markets and tailgate markets by seeing our guide.
Friday (June 8), 12-10 p.m.
Highland Brewing Company, Asheville
Get your hula skirts and Hawaiian shirts and celebrate a new brew from Highland Brewing Company! The extra IPA is a swell of passionfruit, mango, and tropical hop aromas. And, the celebration will be a full-on luau with leis, tiki torches and classic Hawaiian dishes prepared by The Bling Pig. The band Special Affair will play live from 7-9 p.m.
Live Music
These are just some of the highlights of the great live music shows you can experience this weekend in Asheville. For a full list of live music events please see our live music calendar.
Friday (June 8)
The Matt Fassas Trio – Music on the lawn at Isis an American Jam Rock singer/songwriter/guitarist. Isis Restaurant and Music Hall, 6:30 p.m.
Opal String Quartet – The local group will play Beethoven's Last Quartet. Asheville Masonic Temple, 7:30 p.m.
Richard Smith – Acoustic fingerstyle guitar player from Nashville. White Horse Black Mountain, 8 p.m.
Andy Ferrell and Carolina Tim – Music with strong influence of Appalachian roots. Ginger's Revenge, 8 p.m.
LITZ – Funk/Psychedelic/Jam music. Ages 21+. Asheville Music Hall, 10 p.m.
Saturday (June 9)
Kevin Maines and The Volts – Southern R&B/Soul. Highland Brewing Company, 7 p.m.
The Beltfast Boys – Northern Ireland's musical ambassadors to the Carolinas. White Horse Black Mountain, 8 p.m.
The Appalucians and Lazbirds – Dual CD release for the acoustic folk band (Appalcuians) and American roots band (Lazybirds). Isis Restaurant and Music Hall, 9 p.m.
The Groove Shakers – Bluegrass and classic hits. No cover. Pack's Tavern, 9:30 p.m.
Sunday (June 10)
Kerri Powers -- No. 1 charting Roots Report Artist. Isis Restaurant and Music Hall, 5:30 p.m.
Gomez – Indie rock band from England. The Orange Peel, 7 p.m.