Things to Do in Asheville This Weekend -- June 29-July 1, 2018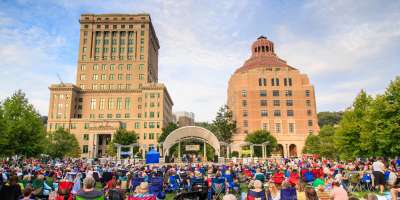 Music provides a cultural beat in Asheville. What stands out most about the Asheville music scene is that there is not just one sound. The diversity of music styles that you can hear on a daily basis in Asheville easily rival that of cities much larger in size.
This weekend, experience two of Asheville's music festival traditions, along with countless live music shows and street performances.
Plan your trip to Asheville by utilizing our easy-to-use search to check room availability and rates at Asheville area accommodations. And, you can check events for any date by using our events calendar search.
Here's a look at what you can enjoy this weekend in Asheville:
Saturday (June 30), 7-10 p.m.
Pack Square Park, Downtown Asheville
This Saturday night marks the kick off for Shindig on the Green, a free, outdoor, mountain bluegrass music and dance festival. The shindigs take place in the heart of downtown Asheville at Pack Square Park on eight Saturday nights throughout the summer months (June through early September). In addition to scheduled stage shows, Shindig on the Green features informal performances and jam sessions on the stage and around the park. Bring a lawn chair or a blanket and enjoy. The performances begin at about 7 p.m. or "along about sundown" as folks around here like to say! See our guide to Shindig on the Green for more information.
June 25-July 1
Various Venues in Asheville
Gather together with percussionists, dancers and music lovers for a celebration of rhythm! This year's theme is "Celebrating Women in Rhythm," to honor powerful female artists from around the globe. Take an intensive program to study percussion, discover your own rhythm through workshops and demonstrations, watch top notch performers on stage and relax with a sound meditation. Highlights include the Friday evening Masters Concert, which will feature original collaborative compositions created during the week. The concert is at 8 p.m. at the Diana Wortham Theatre. There will be free workshops and activities from 10 a.m. to 6 p.m. at Odyssey Community School with performances to follow at 8 p.m. Take a look at the full schedule and purchase tickets for the Asheville Percussion Festival.
May-October
Various Locations in and around Asheville
Join in the celebration! The Summer of Glass in Asheville is going on now! The Summer of Glass is a six-month celebration of glass art in Western North Carolina and coincides with the Chihuly at Biltmore exhibition. In addition to showcasing the Chihuly glass sculptures, Biltmore hosts glassblowing demonstrations in Antler Hill Village, Fridays, Saturdays and Sundays from 2-5 p.m. (weather permitting).
There are many other events going on throughout the Asheville area from workshops to demonstrations to special celebrations. Check out our guide to the Summer of Glass and learn how you can take a VIP Weekend Tour (a glass lover's dream!) to experience it all! The next VIP tour is coming up in July. The experience includes a glassblowing demonstration, guided visits to galleries and studios, a chance to meet accomplished glass artists and a hands-on glass experience. The tour also includes both day and night tickets to Chihuly at Biltmore.
Also, don't miss the opportunity to take the Gray Line Hop on/Hop off Summer of Glass Trolley Tour experience.
Friday and Saturday (June 29-30), 7:30 p.m.
Hazel Robinson Amphitheatre, Asheville
It's the final weekend to attend a free performance of A Midsummer Night's Dream at an outdoor amphitheater in the historic Montford District. The Montford Park Players have been presenting Shakespeare and other classical works to the Asheville community since 1973 and has become a proud theatrical tradition.   
Art Experiences
Learn how to make your own fiber coaster using a simple technique called "locker hooking." In this two-and-a-half-hour workshop, Cappy Tosetti will show you how to take scrap material and turn it into a one-of-a-kind piece. The class is Saturday June 30) from 1-4 p.m. at the Purple Crayon (9 Old Burnsville Hill Road, Asheville). Tickets are $45.
The recent works of painter Morgan Santander go on exhibition at the Pink Dog Creative Gallery in the River Arts District. See the floral still life paintings and narrative paintings from Santander's series called "Beyond Reconstitution." The gallery will host an opening reception Friday (June 29) from 5-8 p.m.
Asheville City Soccer Club Men's and Women's matches
As you follow the FIFA World Cup, feel the energy and excitement of a soccer match first-hand in Asheville! Asheville City SC competes in the National Premier Soccer League (NPSL). This Friday at 7 p.m., the men's team takes on the NOLA Jesters. On Saturday at 7 p.m., the league-leading women's team take on the Charlotte Eagles. The soccer matches are played at Memorial Stadium near downtown Asheville.
Live music and entertainment
Friday (June 29)
Minas – Brazilian jazz duo featuring internationally-acclaimed performers. White Horse Black Mountain, 7:30 p.m. *Please not the duo will also perform Sunday, July 1 at Isis Restaurant and Music Hall in Asheville at 5:30 p.m.
Andrew Scotchie and the River Rats – Band formed in Asheville, beginning as street performers (buskers) in 2011. Highland Brewing Company, 7 p.m.
Howlin' Brothers – Nashville based string band. Isis Restaurant and Music Hall, 7 p.m.
Storyteller Connie Regan-Blake – An engaging storyteller who has performed at Lincoln Center and the Smithsonian. Black Mountain Center for the Arts, 7:30 p.m.
Sam Burchield & The Scoundrels – From folk to funk to southern soul, his band captures it all. Pisgah Brewing Company, 8 p.m.
Appetite for Destruction – Guns N' Roses tribute band. The Orange Peel, 9 p.m.
Love Canon with Patty, Hank and The Current – Band covers music from the '80s but by making use of a traditional bluegrass sound. Isis Restaurant and Music Hall, 9 p.m.
Saturday (June 30)
Helpmate Concert by Carolina Music Planner – Evening filled with top notch talent. Proceeds will be donated to Helpmate. Asheville Masonic Temple, 6 p.m.
South Hill Banks – Jam infused bluegrass sound. Isis Restaurant and Music Hall, 7 p.m.
David Cody Band, Jukes of Hazzard and The Fixers – Live video and CD recording session. White Horse Black Mountain, 7 p.m.
Boo Ray – Authentic southern sound. Highland Brewing Company, 7 p.m.
Sunday (July 1)
Pisgah Sunday Jam – Musical couple Spiro and Nicol Nicolopolous, also known as the Paper Crowns, host an open jam. Jams happen every Sunday through September 30. Pisgah Brewing Company, 6:30 p.m.