Things to Do in Asheville This Weekend -- June 28-30, 2019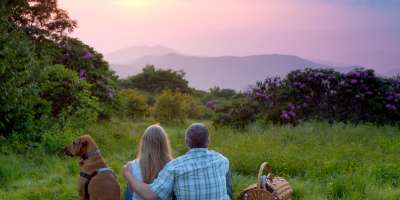 Surrounded by millions of acres of protected forests, the highest mountain peaks east of the Mississippi, and hundreds of cascading waterfalls, Asheville is a mecca for outdoor adventure. This weekend explore the region's natural beauty and take part in one of the lively events happening all around the city. Looking to try something different? Check out our round up of out-of-the-ordinary outdoor adventures.
Planning a trip to Asheville is easy. Utilize our easy-to-use search to check room availability and rates at Asheville area accommodations, and be sure to check out the special deals and packages. And, you can check events for any date by using our events calendar search.
Here's a look at what you can enjoy this weekend in Asheville:
Outdoor Festivals & Adventures
The Grey Eagle 25th Anniversary Celebration
Saturday, June 29, 12:00 p.m.
Lake Eden, Black Mountain
The Grey Eagle, an iconic music venue in Asheville, is celebrating its 25th anniversary. Over 10,000 artists have graced The Grey Eagle's stage over the years including Ralph Stanley, Avett Brothers, and Band of Horses. To commemorate this milestone they're throwing an outdoor festival at Lake Eden in Black Mountain, NC. A full day of music, food, and fun is planned with performances by Mandolin Orange, The Budos Band, of Montreal, Drivin N Cryin, and more. Tyler Ramsey will perform a special VIP show as well, which includes early site access, camping, parking at the venue, Sunday breakfast, and an anniversary poster.
Farm to Fork Fondo
Sunday, June 30, 8:00 a.m. - 6:00 p.m.
Hickory Nut Gap Farms
Ride in the picturesque foothills of the Blue Ridge Mountains on a farm-to-table bicycle event. This non-competitive cycling event in the mountain's farmland region highlights and supports the symbiotic relationship between cyclists, farmers and beautiful landscapes. This "party on wheels" is open to accomplished cyclists and novice riders. Aid-stations are available featuring chef-prepared treats made using farm fresh ingredients.
Gardens Galore Tour
Saturday, June 29, 10:00 a.m. - 4:00 p.m.
Downtown Weaverville
Tour Weaverville's most exciting and beautiful private gardens, which will inspire and delight the senses. These private, innovative, enchanting, and unusual garden habitats combine all aspects of nature and beauty to create charming spaces.
Ultralight Endurance Challenge
Thursday - Sunday, June 27 - 30, 5:00 p.m.
Blue Ridge Hiking Company
Prepare for a three-day, 50-mile backpacking adventure through the Blue Ridge Mountains! This challenging guided hike will cover 14-20 miles each day and is for advanced hikers only. The tour includes food, a backpack, tent, sleeping pad, and a sleeping bag (but bring your own if you have one). The tour also provides all community gear for the trip, including water filters, back-up chemical treatments, camping stoves and fuel, bowls, spoons, cups, trowels, toilet paper, hand sanitizer, first aid kit, map and compass.
Live Entertainment & Nightlife
Dwight Yoakam
Friday, June 28, 8:00 p.m.
Thomas Wolfe Auditorium
Get tickets to see Dwight Yoakam perform live in downtown Asheville this weekend. This country music superstar has sold more than 25 million albums worldwide, and is a 21-time nominated, multiple GRAMMY Award winner. He has 12 gold albums and 9 platinum or multi-platinum albums, with five of those albums topping Billboard's Country Albums chart and another 14 landing in the Top 10!
AbsFest Speakeasy Allstars
Friday, June 28, 8:00 p.m.
Orange Peel Social Aid and Pleasure Club
The Americana Burlesque, & Sideshow Festival presents a night of burlesque, comedy and circus arts all performed to live Golden Age blues performed by the Gravy-House Storytellers. Join international man of Mystery and Jester of Muncaster Castle Paolo Garbanzo, and the hardest working woman in show business Madame Onça, along with special guests for a hilarious night of tricks and tunes!
Edwin McCain
Friday, June 28, 5:30 p.m.
Cherokee Indian Fairgrounds
Grab a picnic blanket and head out to see Edwin McCain perform live at an outdoor venue in Cherokee, located west of Asheville. Other musical acts begin at 2:00 p.m. as part of the Cherokee Summer Concert Series. Get there early and secure a good spot for the show. Food and beverages are available on site.
Free Theatre! Robin Hood: Quest for Justice
Friday – Sunday, June 29 - 30, 7:30 p.m.
Hazel Robin Amphitheatre
Go see the world premiere of Robin Hood: Quest for Justice. This new play about the legend of Sherwood has all of the swashbuckling action you would expect from Robin Hood. Montford Park Players' shows are free to the public! Bring a picnic and your favorite libation.
Also Check Out:
It's Summer Time! Luau Dance Party – Saturday, June 29, 9:00 p.m. – Ambrose West
Soul Boogie w/ Marley Carroll + more – Saturday, June 29, 10:00 p.m. – Asheville Music Hall
Queer Comedy Party featuring Shawna Jarrett – Sunday, June 30, 9:00 p.m. – Fleetwood's
Arts & Shopping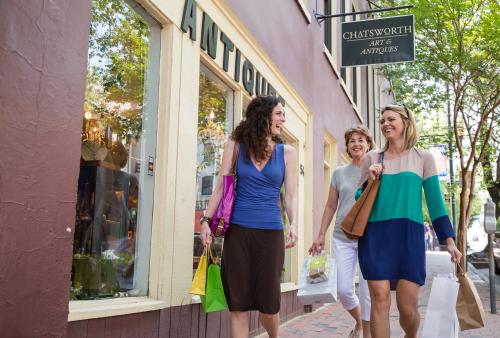 Asheville has multiple shopping districts filled with independent shops, art galleries, bookstores, antiques, and cool vintage wares. This weekend peruse the multiple pop-up shops happening all around town. Here are some best bets
The Local BARK Market takes place at Pleb Urban Winery this Sunday, June 30, from 12:00 p.m. – 5:00 p.m. and features an array of locally made goods, food truck, delicious wine, and some adoptable puppies.
Head to Downtown Asheville's Pritchard Park for the Ooh La La Curiosity Market this Saturday from 10:00 a.m. – 4:00 p.m. to find beautiful works of art from local painters, leather smiths, jewelry makers, and potters.
Visit the WNC Agriculture Center this Saturday and Sunday from 9:00 a.m. – 5:00 p.m. for the Uncommon Market, which features vintage antiques, art, handmade items, and other curiosities.
Find the finest in handcrafted art that Asheville area artists have to offer at Art in the Park, happening at Pack Square Park in downtown Asheville this Saturday from 10:00 a.m. – 5:00 p.m. Skilled workers of glass, ceramics, wood, jewelry, and metal are participating.
Head over to Mountain Made on Saturday, beginning at 11:00 a.m. This art gallery in the Grove Arcade will feature a live art demonstration and you can shop for beautiful handmade crafts from local artists.