Things to Do in Asheville This Weekend -- June 22-24, 2018.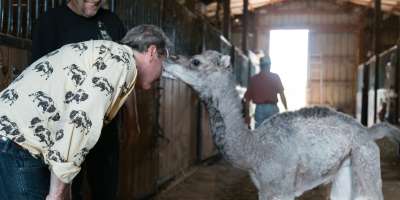 In Asheville, you'll find there's a major emphasis on celebrating local products and goods. There are a hundreds of independent local stores and restaurants. Many of these restaurants serve food produced right here in Western North Carolina at local farms.
This weekend, take a tour of these farms or tour local artists studios. You can taste the best of the local harvest at the WNC Farmers Market or try the delicious plates prepared by local food trucks. All the while, you'll experience the local culture of the Southern Appalachian mountains. 
Plan your trip to Asheville by utilizing our easy-to-use search to check room availability and rates at Asheville area accommodations. And, you can check events for any date by using our events calendar search.
Here's a look at what you can enjoy this weekend in Asheville:
Saturday and Sunday (June 23-24), 12-5 p.m.
Various Farms in the Asheville Area
Tour local farms and experience firsthand how food is grown and raised in the Southern Appalachian mountains! This farm tour is self-guided, so you get to craft your own experience! See alpacas, goats, bison and even camels! You'll have the opportunity to purchase fresh produce and locally-made products. Pick berries or taste wine from the vineyard. The possibilities are endless! The Farm Tour is hosted by ASAP (Appalachian Sustainable Agriculture Project), an Asheville-based non-profit that aims to help local farms thrive, link farmers with markets and build healthy communities through a connection to local food. Purchase a pass on the ASAP web site or at the first farm you visit. The ASAP web site has a map of participating farms to help you plan your visit.
Saturday, 9:30 a.m. – 5 p.m.
Various Art Studios, Asheville
Discover five premier artists with local art insider Sherry Masters of Art Connections Tours as your guide. This tour is part of the ongoing celebration of a Summer of Glass in Asheville. Sherry will lead you to the glass studios where you'll see wonderful hot glass objects, stained and etched glass windows and sculpture. You'll travel through beautiful mountain valleys with amazing views and enjoy lunch from a local independent restaurant (included in admission). Online sign-up is available.
Saturday (June 23), 11 a.m. – 3 p.m.
Western North Carolina Farmers Market, Asheville
Taste the unique and delicious finds from the WNC Farmers Market shoppes! The market's Charley King will be grilling up local meats and vegetables. All other stores will be sharing samples of the many products that are available year-round at the Market. Other highlights include Chef Bruce Brown showing off his famous pimento cheese and other homemade treats. The event is free to attend.
Sunday (June 24), 12-8 p.m.
68 Haywood Street, Downtown Asheville
The Table hosts a Food Truck Park event and Manna Food Drive with some of the best food trucks in the city all in one place! Enjoy live music, face painting and corn hole. Bring two cans of non-perishable food or a donation of $10 and you'll receive a ticket for 10 percent off any plate of food.
Saturday (June 23), 12-9 p.m.
Pack Square Park, Downtown Asheville
Downtown Asheville comes alive with the sights, sounds, music, pageantry, colorful costumes and extraordinary talent of Latin America. Local and regional Latin acts will take the stage in Pack Square Park. Hear the rhythms of Salsa, Bachata, Zamba, Tropical, Tango and Merengue! It is free to attend.
Saturday (June 23), 10 a.m. to 4 p.m.
North Carolina Arboretum, Asheville
Hundreds of daylilies will be on display at the beautiful North Carolina Arboretum. You can also purchase daylily plants at this annual event. Members of the WNC Daylily Club will be there to provide information on care and cultivation of daylilies.
Saturday (June 23), 7 p.m.
Memorial Stadium, Asheville
As you follow the FIFA World Cup, how about watching some great soccer being played in Asheville! The men's team plays Greenville FC at Memorial Stadium this weekend. The women's team next plays Wednesday, June 27 at home against Oak City United.
Saturday (June 23), 9 a.m. – 3 p.m.
Lake Julian Park, Arden
Watch or participate in Dragon boat racing at Lake Julian Park! It's fun and open to any skill level. A 92-year-old woman will be racing this year for the second time! This year's event features food/craft vendors, a children's area and a wellness village. This event helps support the 3,500 people CarePartners Health Services works with every day in 18 counties in Western North Carolina.
June 22-August 5
Brevard Music Center, Brevard
An easy day-trip from Asheville, the Brevard Music Center presents more than 80 performances of a wide variety of musical genres during a seven-week span. Friday night is opening night with artistic director Keith Lockhart leading Rachmaninoff's Piano Concerto No. 2 featuring virtuoso pianist Olga Kern. The musical lineup includes the Grammy Award-winning quartet The Manhattan Transfer (June 23) and the Grammy-award winning Steep Canyon Rangers (June 26).
Live Music and Performances
These are just a few highlights of the many live music and stage show performances in Asheville this weekend. For a full list of live music events please see our live music calendar. 
Friday
Zoe and Cloyd Trio – Americana group and long-time veterans of the Asheville music scene. Lawn concert. 6:30 p.m., Isis Restaurant and Music Hall.
Belle and The Band – Suncoast Emmy Award-winning band. Isis Restaurant and Music Hall, 7 p.m.
Anthony Jeselnik – Comedian who starred in and created "The Jeselnik Offensive" on Comedy Central. The Orange Peel, 7:30 p.m.
Marcia Ball – Texas State Musician of the Year in 2018 with numerous other awards to her name during her long career. The Grey Eagle, 8 p.m.
Riccardi Duo – Satirical musical cabaret. White Horse Black Mountain, 8 p.m.
Saturday
Joshua Davis – Top 3 finalist on NBC's "The Voice" Season 8. Isis Restaurant and Music Hall, 7 p.m.
David Blaine – Internationally known magician known for his exceptional fusion of magic and stunt work. There is a Parental Advisory for this event. Thomas Wolfe Auditorium, 8 p.m.
Yarn with Reed Turchi – Grammy-nominated band playing roots music. Pisgah Brewing Company, 8 p.m.
Sunday
Taste of Argentina – Tate and Karen demonstrate the evolution of the Argentine Tango. Isis Restaurant and Music Hall, 5:30 p.m.
Asheville Mish-Mash Bash – Some of Asheville's finest musicians rock the stage with an eclectic mix of music. The Grey Eagle, 7 p.m.
Rick Dilling and Time Check – A tribute to the Buddy Rich Big Band. Isis Restaurant and Music Hall, 7:30 p.m.