Things to Do in Asheville This Weekend -- June 21-23, 2019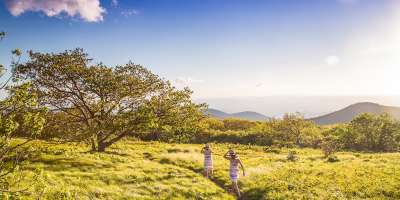 This weekend kicks off the official beginning to summer, and Asheville is heating up with free street festivals, outdoor adventures, and live entertainment. As the temperatures rise, hike to the higher elevations in search of cool mountain breezes, float down the French Broad River, or find a secret swimming hole along the Blue Ridge Parkway.
In downtown, get a bird's eye view of sunset while sipping frosty pints of craft beer at a rooftop bar, dine outdoors on one of the many restaurant patios, and listen to the rhythm of the drum circle - a Friday night tradition in Pritchard Park!
Planning a trip to Asheville is easy. Utilize our easy-to-use search to check room availability and rates at Asheville area accommodations, and be sure to check out the special deals and packages. And, you can check events for any date by using our events calendar search.
Here's a look at what you can enjoy this weekend in Asheville:
Outdoor Festivals & Adventures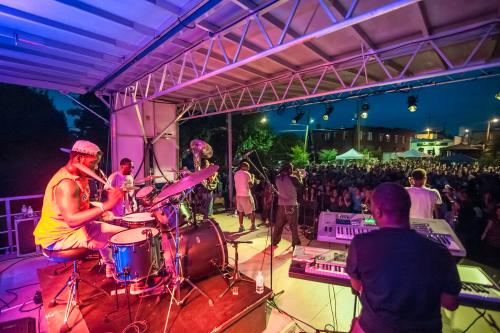 The streets of downtown will be free-spirited this weekend with multiple festivals, live music, and street performances. On Friday, head to Downtown After Five and hear the powerful vocals of Austin native Tameca Jones, and the R&B soul music of Secret B-Sides. Local food and beer vendors will be on site including Gypsy Queen Cuisine, Kernel Mike's Kettle Corn, and Sunshine Sammies.
On Saturday, Pack Square Park will come alive with the sights, sounds, music, pageantry, colorful costumes, and extraordinary talent of Latin America during the free iHola! Asheville festival. Local and regional Latin acts take the stage and unite festival-goers with the rhythms of Salsa, Bachata, Zamba, Tropical, Tango and Merengue.
At Lake Julian Park in South Asheville on Saturday, head out to participate in Drums & Dragons, a free family-friendly event where teams compete in Dragon Boat racing. The competition is open to all skill levels and consists of 20 paddlers, a drummer, and a person to steer the boat. Do your friends and family have what it takes to beat the other teams to the finish line? Food trucks and craft vendors will be on site.
The Upper French Broad Riverfest takes place on Saturday in Rosman, located within an hour drive of Asheville. This free, family-oriented, riverside festival includes food trucks, music and lots of games and activities for kids like tube rides, archery, fishing, a scavenger hunt, live reptiles, balloons, and face painting. Also watch the start of the 20-mile Hellbender Paddle Relay.
Cool Ways to Explore the Mountains
ASAP's 2019 Farm Tour
Saturday - Sunday, June 22 - 23, 12:00 p.m. - 5:00 p.m.
Multiple Locations
Visit 20+ farms across Western North Carolina during the Appalachian Sustainable Agriculture Project's 2019 Farm Tour, an annual event connecting people to our region's local farms and producers. Each participating farm provides guided and self-guided tours, demonstrations, and other unique hands-on experiences. Tour participants choose which farms to visit over the weekend. The Farm Tour showcases a variety of farms, including fruit and vegetable farms, creameries, vineyards, orchards, fiber farms, and farms that raise animals. Many farms offer family friendly activities like hayrides, u-pick, and visiting with farm animals. 
Ultra on Art Loeb
Friday, June 21, 6:00 a.m. - 5:00 p.m.
Blue Ridge Hiking Company
Trail runners or hikers looking to put in some mileage, this one is for you! Enjoy supported hiking, incredible views, and rugged terrain on the beautiful 30 mile Art Loeb Trail, where you'll summit 6000' peaks in the Balsam Range of the Blue Ridge. Hike or run, on your own, with a guide stationed every 8 to 10 trail miles for food or first aid. This is a difficult hike, ideal for those who are comfortable following trail markers and who have hiking or trail running experience. 
Blue Ridge Parkway Buck Spring Hike
Saturday, June 22, 9:30 a.m. - 11:30 a.m.
Blue Ridge Parkway Mile Marker 408
Join Parkway rangers for a moderate, 2.2 mile round-trip hike to the site of the old hunting lodge at Buck Spring, the summer refuge of the Vanderbilts. Learn more about the Pisgah area and George W. Vanderbilt's role in the conservation of the natural resources along the southern end of the Parkway. Meet at the northern end of the Pisgah Inn parking lot (Milepost 408.6). Bring water, wear good walking shoes, and be prepared for changeable weather. 
Arts, Entertainment, and Dining
Brevard Music Center - Opening Weekend
Friday - Sunday, June 20 - 22, Various Times
Brevard Music Center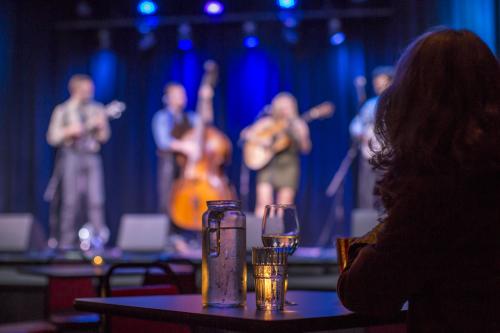 Every summer, musicians from around the world gather in the Blue Ridge Mountains to perform alongside distinguished members of major symphonies, universities, and conservatories. They are joined by some of the most celebrated names in music – from classical superstars to pops legends to acclaimed composers – for unforgettable performances under the stars. Led by the creative direction of Boston Pops Conductor, Keith Lockhart, this weekend's star-studded events will kick off 12 weeks of concerts. Enjoy the music of Tchaikovsky, The Temptations and The Four Tops!
Grand Opening: The Greenhouse Bistro and Bar
Friday, June 21, 10:00 a.m. - 6:00 p.m.
The Greenhouse
This weekend, Noble Cider's new restaurant opens its doors in downtown Asheville. The menu features large format entrees, delicious locally made cider, and adventurous craft cocktails (think: pork belly washed vodka, sweet tea, and watermelon). This orchard-to-table restaurant uses a charcoal oven that burns wood directly sourced from the orchard, and the farm-raised meat was fed apple mash from the cider-making process. Chef Gavin Baker, formerly at a Michelin-starred British restaurant, collaborated with his team to create the modern-American menu. Reservations are recommended.
The Weave Pop-Up Artists Market
Saturday, June 22, 10:00 a.m. - 6:00 p.m.
Creperie and Cafe of Weaverville
Find beautiful handmade art to take home at this pop-up market featuring more than 20 local artists. This one day only market takes places on Main St. in Weaverville, located within a 10 minute drive, north of Asheville.
Comedy Night
Friday, June 21, 9:00 p.m. - 12:00 a.m. 
Noble Kava
Immerse yourself in a rooted state of mind with libations that are safe for those who are searching for an alternative to alcohol. Kava is a beverage made from the roots of the Kava Kava plant and has a relaxing effect. Every third Friday at Noble Kava is comedy night, hosted by the master of ceremonies, Justin Blackburn. He uses comedy to confront the issues we face in the world and within ourselves while giving them a hilarious and enlightening spin. Blackburn has opened for such comedians as Kevin Smith, Trevor Noah, Rory Scovel, and Jon Ree.
Hunger
Friday - Sunday, June 20 - 22, 8:00 p.m. 
Diana Wortham Theater
The Terpsicorps Theatre of Dance will perform one of their most popular works this weekend - Heather Maloy's HUNGER - a work that dares to ask the question, "What do you hunger for?" Told through vignettes that range from funny to shocking, HUNGER inspires the audience to contemplate the force of their own desires and envision how a need for something as basic as food and water would alter their lives. Dancers will also debut the world premier of AYT (Are You There?), a humorous statement how technology, and cell phones in particular, inhibits our ability to communicate and appreciate one another.
Also Check Out:
Reasonably Priced Babies - Friday, June 21, 7:00 p.m. - Ambrose West - Improve comedy and viral goofiness.
The Asheville Opry - Sunday, June 23, 7:30 p.m. - Isis Restaurant and Music Hall - Local artists perform classic country tunes in this casual fine dining location in West Asheville.
Beacon Blankets: The Mill - Friday & Saturday, June 21 - 22, 10:00 a.m. - 5:00 p.m. - Swannanoa Valley Museum and History Center - Explore the story of the textile industry in Western North Carolina through a multimedia exhibit. It highlights the history of the Beacon Manufacturing Company, which once was the largest blanket manufacturer in the world.