Things To Do in Asheville This Weekend -- June 2-4, 2017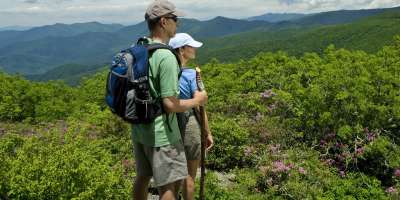 Every weekend in Asheville brings a bounty of things to do and new places to explore. Keeping up the momentum from a busy holiday weekend of events, the outdoors and the arts take center stage this weekend.
Downtown Asheville
Friday, 5-8 p.m.
On the first Friday of the month (April through December), downtown Asheville showcases its robust and diverse arts scene. As you explore the shops and restaurants of downtown, you can explore 25 galleries and museums within a half-mile radius of the city's center. Lexington Glassworks is among those that go all out for Downtown Art Walk. The Glassworks Concert Series features live local music, glassblowing, and an opportunity to taste local craft beers.
ZaPow Gallery (150 Coxe Ave.), Asheville
Saturday, 7-9 p.m.
ZaPow Art Gallery, which focuses on comic book art, popular culture and illustrations, is back. The gallery has moved from downtown to the up-and-coming South Slope District. The grand re-opening will feature local brews, hors d'oeuvres from Strada, and a live DJ.
Multiple Locations
Saturday
Nearly every day in Asheville feels like a celebration of the outdoors, given the city's close proximity to the beautiful Blue Ridge Mountains. But this Saturday is the official National Trails Day, which was established by the American Hiking Society. North Carolina State Parks, like Chimney Rock and Mt. Mitchell, will celebrate with guided hikes and other activities. Or, celebrate by choosing any trail that you'd like to explore. Our trail guide breaks down local trails into easy, moderate, and difficult, to help you choose the best hike for you!
Multiple Locations
Dates vary by performance
At Asheville Community's Theatre's 35below, Nick Payne's Tony-nominated Constellations explores relationships, love and loss amidst the quantum multiverse. A one-of-a-kind comedy at North Carolina Stage Company, Matt & Ben, depicts Hollywood's golden boys Matt Damon and Ben Affleck before they achieved fame with Good Will Hunting. Please note this show does contain strong language. And, at the Magnetic Theatre, John Crutchfield's Malverse makes its world premiere as a urban myth in two acts.
Top photo by Chris Cassels. Art gallery photo by Jared Kay. Trail photo by Jason Tarr.