Things to Do in Asheville This Weekend -- June 14-16, 2019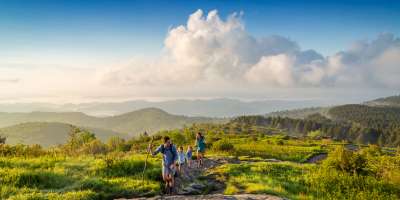 Spend some quality time with family this Father's Day weekend. With multiple events, great hiking, outdoor adventures and other iconic experiences to explore in Asheville, you're sure to find something dad will love.
Planning a trip to Asheville is easy. Utilize our easy-to-use search to check room availability and rates at Asheville area accommodations. And, you can check events for any date by using our events calendar search.
Here's a look at what you can enjoy this weekend in Asheville:
Father's Day Events
Bring Dad to Biltmore for just $25 with the purchase of an adult or youth daytime admission. It's a great chance to see the new Biltmore Gardens Railway and to enjoy fantastic Father's Day dining.
Check out the the top Dads of Comedy this Father's Day at Fleetwood's! The hilarious Eric DaSilva is headlining. Featuring James Burks & Craig Holcombe. Admission is free for fathers. 
Show off your ping pong skills at the Smoky Park Supper Club. This special pop up event includes open play, or enter the Dad's-only ping pong tournament.This brunch time event offers food at the restaurant and patio, plus the restaurant's new Airstream will be serving up tasty beverages.
Also Check Out:
Father's Day Brunch Buffet - Sunday, June 16, 11:00 a.m. - 2:00 p.m. - Roux
Father's Day Pasta Making - Sunday, June 16, 4:00 p.m. - 7:00 p.m. - Asheville Mountain Kitchen
The Music of Grateful Dead for Kids - Father's Day Celebration - Sunday, June 16, 12:30 p.m. - The Grey Eagle Music Hall and Pub
Cruise 'In Car Show - Sunday, June 16, 2:00 p.m. - 5:00 p.m. - Asheville Outlets
Father's Day Grill Out - Sunday, June 16, 12:00 p.m. - 4:00 p.m. - Hickory Nut Gap Farm
Caleb Johnson & The Ramblin' Saints Album Release Show
Friday, June 14, 8:00 p.m.
The Grey Eagle Music Hall and Pub
The Asheville local turned American Idol season 13 winner returns home to release his latest album. Caleb Johnson uses this album to showcase his southern roots and he channels a spirit that combines gospel, blues and rock n roll into a modern but classic and timeless sound. 
Rodger and Hammerstein's South Pacific
Friday - Sunday, June 14 - 16, Various times
Flat Rock Playhouse - Flat Rock, NC
See the Broadway classic at North Carolina's official Playhouse - War brought them together. Beliefs may tear them apart. Conflicting family values set against the beautiful Pacific Islands during World War II.
S.P.A.C.E - Spruce Pine Alien Conference & Expo
Friday - Saturday, June 14 - 15, 8:00 a.m. - 12:00 p.m.
Downtown Spruce Pine
Take a short drive from Asheville to visit Spruce Pine's first annual alien expo. This event will celebrate Spruce Pine's long history of the most UFO sightings in NC. Learn about the purest quartz in the world responsible for all technology and the worlds largest telescopes, hear from Mike Bara of the History Channels Ancient Aliens, and meet alien/ufo authors.
Full Moon Yoga Hike
Friday, June 14, 7:30 p.m. - 10:00 p.m.
Craggy Mountain Picnic Area - Blue Ridge Parkway
Peace...breathe...be… As the full moon rises in the night sky, take a hike through the woods to a mountain bald to enjoy a gentle lunar yoga practice. Hot tea will be served afterwards.
Art in Bloom Local Garden Tour
Friday-Saturday, June 14 - 15, 10:30 a.m. - 2:00 p.m.
Black Mountain Center for the Arts
Tour beautiful gardens around Black Mountain and watch as painters capture the beauty of the gardens on canvas. This event is paired with a gallery of floral designs that represent Western and Ikebana arranging styles.
Asheville Art in the Park
Saturday, June 15, 10:30 a.m. - 5:00 p.m.
Pack Square Park - Downtown Asheville
Find the finest in handcrafted art that Asheville area artists have to offer. Skilled workers of glass, ceramics, wood, jewelry, and metal make their shops open to display at this outdoor public market.
Saturday, June 15, 9:00 p.m. - 11:00 p.m.
LaZoom Room
Catch a stand up comedy show by Joe Zimmerman, who started his comedy career in North Carolina. While living in the South, his stand-up group the Beards of Comedy landed a record deal with Comedy Central Records. He moved to New York City in 2012, quickly appearing on The Late Late Show and John Oliver's New York Stand-Up Show, as well as performing at Montreal's prestigious Just for Laughs festival. His resume has since grown to include The Tonight Show, Conan, Nickelodeon, Last Comic Standing, and his own Comedy Central Half Hour.