Things to Do in Asheville This Weekend -- July 4-7, 2019
Celebrate our nation's independence this holiday weekend with a number of events and festivals happening across Asheville. From thunderous fireworks to a free concert in the park featuring bluegrass and old-time mountain music, you'll have a blast celebrating the Fourth of July here in the Blue Ridge Mountains! 
Planning a trip to Asheville is easy. Utilize our easy-to-use search to check room availability and rates at Asheville area accommodations, and be sure to check out the special deals and packages. And, you can check events for any date by using our events calendar search.
Here's a look at what you can enjoy this weekend in Asheville:
Fourth of July Weekend Celebrations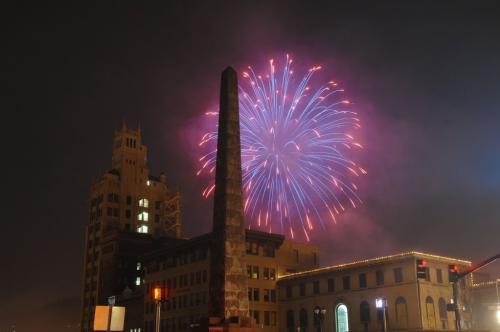 The skies will sparkle over the mountains this Thursday. Take part in one of these July 4th festivities taking place in and around Asheville, and check here for our list of the fireworks shows happening around town.
Saturday - Sunday, July 5 - 6, 10:00 a.m. - 5:00 p.m.
Pack Square Park
Head downtown to find handmade works of art from national and regional artists. Many artistic mediums will be represented including painters, potters, jewelers, and glass blowers.
Friday - Sunday, July 5 - 7, 8:30 a.m. - 5:00 p.m.
Chimney Rock State Park
Challenge yourself on a 32-foot climbing tower, take in the different views on one of many hiking trails, and at 2:00 p.m. get up-close to some of the Park's wilder staff at the Family Animal Encounter.
Guided Outdoor Adventures Around the Mountains
Friday - Sunday, July 5-7, 12:00 p.m.
Asheville Adventure Company
Take part in a brand new paddling trip on the French Broad just outside of downtown Asheville. This trip is a great introduction to whitewater paddling and it is the closest whitewater trip to downtown Asheville. As part of the launch of this new trip, Asheville Adventure Company is offering 30% off of all bookings until July 31st. This trip will roll along the majestic French Broad through some exciting class 2 rapids. Guests will twist through the Asheville valley surrounded by views of the spectacular Appalachian mountains on inflatable kayaks. Inflatable kayaks, also known as "duckies," are a stable and exciting way to see a new river. It's like a raft that you can paddle yourself! At the conclusion, guests will stop briefly on walnut island and explore before taking the scenic drive back for a cold beer with Asheville Adventure Company. 
Friday, July 5, 10:00 a.m. - 12:00 p.m.
Blue Ridge Parkway, Milepost #431
Join Parkway rangers for a moderate to strenuous,1.5-mile round-trip hike through Richland Balsam. Renowned for its high-altitude spruce-fir forest, this hike offers a majestic nature trail through landscape that was thought to be unique to the Northern latitudes. Observe the forest's cycle of life as we explore an area hit by the woolly adelgid and see how the local tree life has been affected by this invasive pest. Meet at the Haywood-Jackson Overlook at Milepost 431 (a quarter mile north of the Richland Balsam Overlook). Bring water, wear good walking shoes, and be prepared for changeable weather.
Saturday, July 6, 9:30 a.m. - 11:30 a.m.
Blue Ridge Parkway Milepost #408
Join Parkway rangers for a moderate, 2.2 mile round-trip hike to the site of the old hunting lodge at Buck Spring. The Pisgah area has been a place of refuge and wilderness, for humans and animals alike. Come learn about the summer refuge of the Vanderbilts, and their role in the conservation of the natural resources along the southern end of the Parkway. Meet at the northern end of the Pisgah Inn parking lot (Milepost 408.6). Bring water, wear good walking shoes, and be prepared for changeable weather.
If you prefer to explore the Blue Ridge Mountains without a guide, then here are recommendations for some of the best trails to visit.
Live Entertainment, Arts, & Nightlife
Saturday, July 6, 7:00 p.m. – 10:00 p.m.
Pack Square Park
Experience the beautiful music and dance traditions of Southern Appalachia on a summer evening in the mountains. This free concert series kicks off its 2019 season in downtown Asheville with old-time string bands, cloggers, ballad singers, storytellers, and audience participation dances.
Saturday, July 6, 7:00 p.m. – 9:00 p.m.
THE BLOCK off Biltmore
Asheville Improv Collective and Disclaimer Stand-Up Lounge are teaming up for the first ever Asheville Comedy Short Film Competition. Short comedic films will be evaluated by a panel of judges, and in the event of a tie the audience will serve as a tie-breaker.
Plein Air Gallery
Friday, July 5, 10:00 a.m. – 5:00 p.m.
Black Mountain Center for the Arts
Last month, artists visited local gardens in Black Mountain for inspiration, and created new paintings while they were there. This was part of the Art in Bloom weekend, an annual celebration of spring beauty in Black Mountain. Visit the gallery now to see the paintings created from the event.
Saturday, July 6, 7:00 p.m. – 9:00 p.m.
ZaPow
Do you love the Great British Baking Show? This weekend amateur home bakers from across Western North Carolina will compete for the top spot in a celebration of cakes, pies, candies, and bread. ZaPow Member Artists are creating original works of art in tribute to the popular baking show and the competition will take place during the opening reception.
Saturday, July 6, 7:30 p.m. – 11:00 p.m.
Asheville Community Theatre
Attend an eclectic evening of inventive fashion as local designers compete for cash prizes in this Project Runway-esque show. The categories are Light, Paper, Artistic License, and Oceania (items found both in the sea or on the shore).
Also Check Out:
LaZoom Comedy - Diego Attanasio – Friday, July 5, 9:00 p.m. – 11:00 p.m. – LaZoom Room
Appetite for Destruction – Guns N' Roses Tribute Band – Saturday, July 6, 9:00 p.m. – Orange Peel Social Aid and Pleasure Club
Serafina and the Seven Stars Book Launch Party – Sunday, July 7, 11:00 a.m. – 4:00 p.m. – Barnes & Noble – Asheville Mall
Grammy Award Winning Vocalist Rebecca Haviland and Whiskey Heart – Sunday, July 7, 6:00 p.m. – Isis Restaurant and Music Hall