Things to Do in Asheville This Weekend -- July 28-30, 2017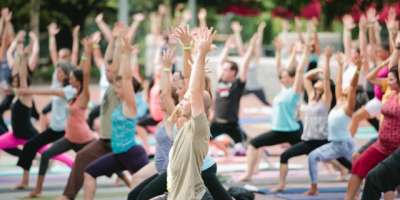 No matter the season, you'll find something exciting going on in Asheville. During the summer, that's especially true. Asheville's summer festivals showcase the wealth and variety of experiences you can have here in the mountains.
For a list of each day's events throughout the week, take a look at our full event calendar!
Whether you want to find your find your zen or challenge yourself with an obstacle race, celebrate Japanese animation or hear live mountain soul music, you can have it all this weekend!
Thursday-Sunday
Various venues, Asheville
Namaste, y'all! Come together at locations throughout Asheville for connection, relaxation and healing as part of the expanded Asheville Yoga Festival. The festival will feature 30 presenters including local yoga all-stars and prominent yoga experts from across the country. There will also be live music, outdoor activities and unique health and wellness vendors. Given that the events will be happening all over the city, you'll be able to experience all the eclectic locally-owned shops, art galleries, restaurants and breweries along your way.
Friday, 8-9:30 p.m.
The Grey Eagle, Asheville
Prepare to laugh! A hand-picked group of Asheville's best and brightest stand-up comedians entertains at The Grey Eagle. Nearly 10 comics will take the stage. These comedy showcases tend to sell-out quickly, so buy your ticket in advance!
Did you know that Asheville is known as Dog City USA? Did you know Asheville is home to the first dog welcome center in America? There are so many adventures for you and your dog to enjoy together in this super pet-friendly community. Just ask Sammy the rescue the dog! Watch this adorable two-minute video of Sammy exploring Asheville and read about how to follow in his paw prints! From outdoor adventures to downtown excitement, make new memories with your best (furry) friend!
Friday, 9 a.m. – 7 p.m.
U.S. Cellular Center, Asheville
Celebrate Japanese animation, manga and culture at the Asheville Anime Regional Convention. This video game-inspired convention began in 2013 and has continued to grow each year.
Friday, 7 p.m. to 1 a.m.
Pisgah Brewing Company, Black Mountain
Let the music soothe your soul! Three local bands serve up mountain soul at Pisgah Brewing Company in the nearby community of Black Mountain. Window Cat, Secret B-Sides and King Garbage all infuse a unique mixture of R&B, soul and funk into their music.
Friday, 10 a.m. to 5 p.m.
Main Street, Waynesville
International Day is a tradition of the 10-day Folkmoot Festival. Folkmoot means "meeting of the people" and provides communities across Western North Carolina the opportunity to experience other cultures. On International Day, artisans, food vendors and international groups will come together on Main Street in Waynesville, just about 35 minutes from downtown Asheville.
Friday, 4-6 p.m.
740 N. Fork Rd., Black Mountain
Get a sneak peek at Asheville's largest individual sporting event: the Asheville Super and Sprint Weekend Spartan Race! Spartan Races are innovative obstacle races held around the world. If you've ever been curious about the Spartan lifestyle, this open house is your chance to learn more. Try race obstacles for yourself under the direction of expert coaches, meet some of the top pros and athletes, and tour the race course. Admission is free to this family-friendly event. The first 200 people through the door will take home a special gift! The actual Spartan Super and Sprint races will take place Saturday and Sunday.
With summer in full swing, cool off in Asheville with an adventure on the French Broad River, the third oldest river in the world! One of the newest ways to enjoy the river is Bellyak, a sport that was created here in Asheville!
Check out Bellyaking in this video: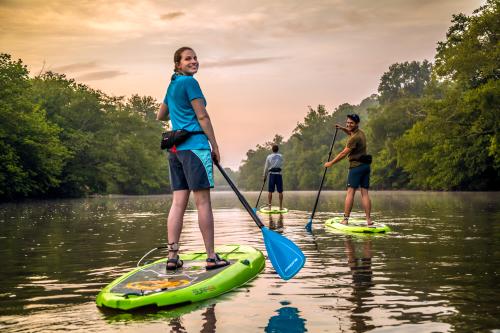 Or, head out on a stand-up paddle board tour, an especially magical way to soak in a sunrise! Looking to just sit back and kick your feet up, float on to relaxation with a day of tubing. For more information and more ways to enjoy the French Broad, take a look at our guide to river fun.
Photo credits: Top Yoga photo courtesy Yoga Rocks the Park. Microphone photo by Art Meripol. SUP photo by Jared Kay.