Things to Do in Asheville This Weekend — July 26-28, 2019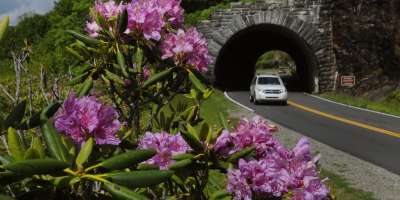 Asheville has been a destination for those seeking rejuvenation and relaxation for years, and this weekend you can experience our wellness culture during the four-day Asheville Yoga Festival. In addition, Asheville's vibrant music, beer and cultural-arts scenes are on display at special events and celebrations throughout town.
Plan your weekend trip to Asheville by utilizing our easy-to-use search feature to check room availability and rates at Asheville area accommodations. And, check events for any date by using our events calendar search. 
Ready to make your weekend plans? Here's a list of some of the best events happening around town.
FESTIVALS
2019 Asheville Yoga Festival
Friday – Sunday, July 26 – 28, 8:00 a.m.
Pack Square Park and Downtown Asheville Venues
Experience more than 80 movement workshops, nature hikes and SUP yoga on the French Broad River, free live music & community yoga throughout the weekend. An open-air market will include over 60 health and wellness vendors, a slackline playground, self-care sanctuary, meditation and sound healings.
Folkmoot Festival 2019
Friday – Sunday, July 26 - 28, 10:00 a.m.
Multiple Locations
Enjoy performances by cultural ambassadors and dance groups from Ghana, Italy, Czech Republic, Mexico, Venezuela, Northern Cyprus, Thailand and local Appalachian and Cherokee dancers and musicians.  Folkmoot was named by USA Today as one of the Top Twenty Festivals in North Carolina and includes dozens of performances by hundreds of world dancers and musicians. Folkmoot brings the world's diverse cultures together.
OUTDOOR ADVENTURES
Friday, July 26, 10:00 a.m. - 12:00 p.m.
Blue Ridge Parkway – mile post 401.7
Join Parkway rangers for a moderate, two-mile round-trip hike to the top of Ferrin Knob on the Mountains-to-Sea Trail. During this short, but steady climb we'll explore the unusual name of the knob and the three Parkway tunnels below it as well as visit an old fire tower site at the top. Meet at the Beaver Dam Gap Overlook at Milepost 401.7. Bring water, wear sturdy shoes or boots, and prepare for changeable weather.
Wild Walks: A Behind the Scenes Experience
Saturday, July 27, 1:20 p.m. - 3:00 p.m.
WNC Nature Center
Join the Nature Center team for a behind the scenes tour. Be introduced (up close and personal) to some of their predators and learn more about our animals' daily care routines
Kava Campout
Saturday - Sunday, July 27 - 28, 2:00 p.m. – 1:00 p.m.
Vintage Kava
Sleep under the stars at Vintage Kava during their annual campout. This year's event features ten musicians including The Kavalactones, 5J Barrow, and Aaron Woody Wood on two stages! Enjoy live glass blowing, art installations, fire jam, yoga, kid-friendly activities, and sound healing.  The night will end with an outdoor movie in the field.
BREWERY EVENTS
HiWire Brewing 6th Anniversary Party
Saturday, July 27, 3:00 p.m. - 10:00 p.m.
HiWire Brewing – The Big Top in Biltmore Village
The circus returns to the big top as HiWire celebrates their 6th Birthday. Dance to the music of Natural Born Leaders, Free The Optimus + Mike L!ve, and April B & the Cool curated by Orange Peel Events. Cold beer will be flowing including an exclusive 10-tap Sour & Wild Ale beer station. Carnival attractions including a Ferris wheel, carousel, and water gun race station are planned.
Highland Night Flight
Saturday, July 27, 7:30 p.m. - 10:00 p.m.
Highland Brewing Company
Get your glow on for Asheville's favorite twilight race. Highland Brewing Company is hosting a 4.5-mile East Asheville Course that takes runners through the Asheville Golf Course, through the Beverly Hills neighborhood (where you will be showered with cheers from the residents) and past the WNC Nature Center before heading back to the brewery where a beer will be waiting at the finish line.
LIVE ENTERTAINMENT
All Shook Up
Friday - Sunday, July 26 - 28, various times
Flat Rock Playhouse
Travel back in time to 1955 to a small, dreary cookie-cutter town where everything is about to change. A young mechanic, Natalie, dreams for adventure and love. Suddenly, a mysterious, leather-jacketed, guitar-playing, hip-swinging stranger shakes up the people of this small town as they discover romance, rock & roll, and riotous fun! This musical fantasy is built around songs made famous by Elvis Presley including hits like "Heartbreak Hotel," "Love Me Tender," "Don't Be Cruel," and, "Can't Help Falling in Love".
Petey Pablo & Special Guests: 19 Summers Tour
Friday, July 26, 9:00 p.m.
The Orange Peel Social Aid and Pleasure Club
One of the more versatile rappers who came out of the Dirty South school of hip-hop in the early 2000s, multi-gold and Grammy-nominated North Carolina native Petey Pablo has demonstrated the art of mixing poignancy with sharp, gut-wrenching lyrics that reach across age, race and social status. The gruff-voiced MC was born and raised in Greenville, NC, and is best known for rap anthems such as "Raise Up," "Freek-A-Leek" and "Carolina Colors," have become mainstays on urban radio and as sports stadiums across the country.
GO DANCING
Learn to Dance Country Two-Step
Saturday, July 27, 12:00 p.m.
The Grey Eagle Music Hall and Pub
Learn a popular dance from two of the United Country Western Dance Council's World Champions. Choose from a one-hour class or two-hour class beginning at noon on Saturday. No partner is needed, but bring one if you can.
James Brown Dance Party
Saturday, July 27, 10:00 p.m.
Asheville Music Hall
Don't miss a rare opportunity to see the James Brown Dance Party. A rotating All-Star roster of musicians will pay tribute to James Brown in downtown Asheville. This group has featured members of Galactic, Kool & the Gang, Parliament Funkadelic, the Dap King, Sly and the Family Stone, and many more talented musicians. The band doesn't tour full time so this is the best weekend to see them.
CommUNITY Salsa and Latin Dance
Saturday, July 27, 9:00 p.m. – 2:00 a.m.
THE BLOCK off biltmore
Learn the basics of Salsa dancing with a 30 minute tutorial at 9:00 p.m. and then show off your new moves the rest of the evening during this weekly dance party. See the area's best Salsa, Bachata, Kizomba, Cumbia, and Merengue dancers and enjoy great drink specials.