Things to Do in Asheville This Weekend -- July 21-23, 2017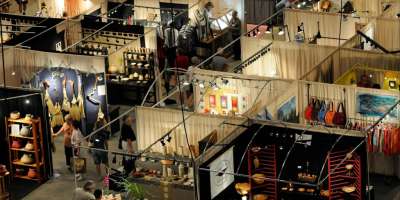 As we hit mid-July, summer is in full swing! This weekend, we're expecting warm temperatures in the mountains. But, thankfully, there's a lot of big events and activities going on indoors this weekend to help you cool down and have fun.
To see what's going on each day throughout the week, take a look at our full event calendar!
Friday through Sunday
10 a.m. to 6 p.m. (Fri./Sat.), 10 a.m. to 5 p.m. (Sun.)
U.S. Cellular Center, Asheville
Asheville's largest craft fair celebrates 70 years with a giant showcase by top artists from the region! Nearly 150 makers from the Southern Highland Craft Guild will exhibit contemporary and traditional work in clay, metal, leather, wood, glass, fiber and more! The artists will fill both floors of the U.S. Cellular Center, Asheville's largest event venue. New this year, "design vignettes" will help you understand how to use craft in your home. And, there will be more interactive craft demonstrations than ever. General admission is $8 per day or $12 for a weekend pass. Students get in for $5 and children under the age of 12 get in free!
Friday through Saturday, 3 p.m. to Midnight
Oskar Blues REEB Ranch, Hendersonville
Burning CAN celebrates canned craft beer in all its glory with a multi-day, outdoor festival at the Oskar Blues REEB Ranch. The festival features nationally-touring bands, some of the best canning breweries from around the country, camping, a group mountain bike ride and other outdoor adventure activities. A weekend two-day pass is $75. Friday day passes are $35. A Saturday day pass (music + beer) is $55 ($30 for music only).
Live Music and Performances
There's a reason musicians and music fans are flocking to Asheville. On any given night, Asheville's booming music scene provides a chance to hear local and national bands play live at some of the coolest venues around. This weekend is no different. On Friday night, Downtown After 5, a free outdoor concert in downtown Asheville, ramps up on Lexington Ave. The headliner is the Asheville All-Stars, a group of some of the city's best musicians. Hear a free preview of their music on Explore Asheville Radio! Or, head to New Mountain Asheville to see "Who's Bad," a world-renowned Michael Jackson tribute act.
Later on Friday night, Corey Feldman will take the stage at The Grey Eagle to perform rare songs from all of his albums as part of his first solo tour in 14 years. Also on Friday night, get into the groove with The Digs' 90s Dance Party at Asheville Music Hall.
On Saturday night, enjoy a musical evening in Biltmore Park Town Square. Bring a blanket you to sit on so you can watch two hours of family-friendly live music as part of The Concert in the Park series.
Saturday, 5-10 p.m.
Hi-Wire Big Top Production Brewery, Asheville
Head over to Hi-Wire's Big Top Production Brewery for a big celebration featuring 16 never-to-be-seen-again sour and wild ales. There will be circus-themed activities including a glass-house maze, Ferris wheel, and dual aerialist acts. The family-friendly party is $10 and includes commemorative glassware and two beer tokens.
Luella's BBQ 10th Anniversary Celebration
Saturday, 12-8 p.m.
Luella's North, Asheville
Get ready for a BBQ block party at Luella's with great live music, craft beer and family-fun! At the "Meat in the Street" event, you'll have the opportunity to try new smokey creations and enjoy collaboration beer from Hi-Wire! The block party is a benefit for LEAF Community Arts. There will be plenty of parking available nearby at the Beth Israel Synagogue (next to Weaver Park).  
Beat the Summer Heat
With temperatures expected to reach the 90s, this is a perfect weekend for keeping cool. Kids of all ages love to splash in the Splashville Fountain in downtown's Pack Square Park. The arching rays of water that fly up randomly will keep you guessing, and cool! On a warm day, nothing beats a refreshing ice cream cone. Asheville is home to tasty ice cream shops such as The Hop and Ultimate Ice Cream.
A trip to the mountain tops is a sure way to cool down! Temperatures at higher elevations can often be 20 degrees cooler than the surrounding valleys. Hike or drive to the top of Mount Mitchell--the highest peak east of the Mississippi River.
Or, head indoors for a day of games at Well Played Board Game Cafe or the Asheville Pinball Museum.
Photo credits: Top photo courtesy of Southern Highland Craft Guild. Hi-Wire photo by Emily Chaplin, Luella's photo by Jared Kay.