Things to Do in Asheville This Weekend -- July 19-22, 2018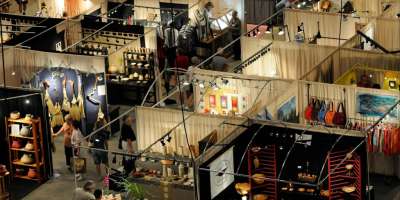 Asheville is known as being one of the best towns in the country for American craft. In fact, after tens of thousands of votes were cast in 2018, Asheville was named one of America's Top 10 Towns for Craft Lovers!
This weekend, you can explore Asheville's largest craft festival and purchase one-of-a-kind pieces from some of the region's best makers.
If hearing a live band is music to your ears, this is also an incredible weekend to see great live performances at venues throughout the Asheville area. From festivals to one-night-only performances, you can experience the vast range of musical styles in town.
Plan your trip to Asheville by utilizing our easy-to-use search to check room availability and rates at Asheville area accommodations. And, you can check events for any date by using our online events calendar search.
Here's a look at what you can enjoy this weekend in Asheville:
Craft Fair of the Southern Highlands
Friday through Sunday (July 20-22)
10 a.m. to 6 p.m. (Fri./Sat.), 10 a.m. to 5 p.m. (Sun.)
U.S. Cellular Center, Asheville
Asheville's largest craft fair celebrates 71 years with a giant showcase by top artists from the region! Nearly 140 makers from the Southern Highland Craft Guild will exhibit contemporary and traditional work in clay, metal, leather, wood, glass, fiber and more! New exhibitors include jewelry makers specializing in one-of-kind pieces, nature-inspired ceramists and fiber artists specializing in wearable art. The artists will fill both floors of the U.S. Cellular Center, Asheville's largest indoor event venue. The fair opens Friday morning for you to shop. Local musicians will play live on the Arena stage and craft educators will share their knowledge through demonstrations. General admission is $8 per day or $12 for a weekend pass. Children under the age of 12 get in free!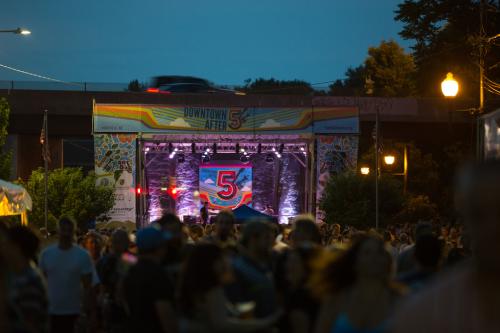 Outdoor Concert: Downtown After 5
Friday (July 20), 5-9 p.m.
North Lexington Avenue, Asheville
Asheville's downtown free, summer outdoor concert series is celebrating its 30th anniversary! Black roots musician Fantastic Negrito headlines with The Get Right Band serving as the opener. While you listen to the music, enjoy local and national brews, and fuel up with food from local food trucks and eateries.  
Saturday (July 21), 7-10 p.m.
Pack Square Park, Downtown Asheville
Head to Pack Square Park for Shindig on the Green, a free, outdoor, mountain bluegrass music and dance festival. The Shindigs take place in the heart of downtown Asheville on eight Saturday nights throughout the summer months (June through early September). In addition to scheduled stage shows, Shindig on the Green features informal performances and jam sessions on the stage and around the park. Bring your instruments, a lawn chair or a blanket and enjoy. The performances begin at about 7 p.m. or "along about sundown" as folks around here like to say! See our guide to Shindig on the Green for more information.
Robin Hood with the Montford Park Players
Fridays, Saturdays and Sundays, 7:30 p.m. nightly
Hazel Robinson Amphitheatre (92 Gay Street), Asheville
Attend a free performance of Robin Hood at an outdoor amphitheater in the historic Montford District. The Montford Park Players have been presenting Shakespeare and other classical works to the Asheville community since 1973 and has become a proud theatrical tradition. All the performances are held at the Hazel Robinson Amphitheatre on Friday, Saturday and Sunday evenings throughout the month of June.   
Saturday (July 21), 7-9 p.m.
Biltmore Park Town Square, Asheville
Bring your family and enjoy an evening of music in Biltmore Park Town Square in south Asheville! The Concerts in the Park are two hours of live music, dancing and fun. Rock Academy is the headliner this week. The Concert Series series takes place on select dates through September.
Live Music and Entertainment
These are just a few highlights of the many live music and stage show performances in Asheville this weekend. For a full list of live music events please see our live music calendar. 
Thursday (July 19)
An evening with Brian Dunne and Laura Rabell -- Brian Dunne is a singer/songwriter from Brooklyn, N.Y. Laura Rabell is a Nashville Americana singer/songwriter. Isis Restaurant and Music Hall, 8:30 p.m.
Friday (July 20)
An Evening with David LaMotte – Award-winning songrwriter, speaker and writer. He has performed more than 3000 concerts and released 12 full-length CDs. Ambrose West, 7 p.m.
Andrew Thelston Band – Original music off of recent album that was written and recorded in the North Carolina mountains. Pisgah Brewing Company, 8 p.m.
Best of Asheville Comedy Show – Benefit show featuring hilarious stand-up from Asheville's best comics. The Grey Eagle, 7 p.m. and 9:30 p.m.
Chuck Brodsky – Guitarist/Singer from Asheville who has appeared at major folk festivals and venues. White Horse Black Mountain, 8 p.m.
Dynamo – Nationally-touring band whose music fuses jazz, rock and funk with elements of soul and R&B. Asheville Music Hall, 10 p.m.
Saturday (July 21)
Cliff Eberhardt with special guest Louise Mosrie – Award-winning veteran songwriter provides a moving, collaborative show of smart, passionate and heartfelt songs. Isis Restaurant and Music Hall, 7 p.m.
Karaoke – Sing your heart out. Wild Wing Café Downtown Asheville, 9-12 p.m.
PMA – Reggae fusion band from Sylva, North Carolina. Highland Brewing Company, 7 p.m.
The Lazybirds – Old time jazz, blues and swing. Pisgah Brewing Company, 8 p.m.
Sunday (July 22)
Cody Blackbird Band – Indie Native Americana. White Horse Black Mountain, 7:30 p.m.
Rockin' in Rhythm – The Music of Duke Ellington and The Cotton Club. Isis Restaurant and Music Hall, 7:30 p.m.