Things to Do in Asheville This Weekend — July 19-21, 2019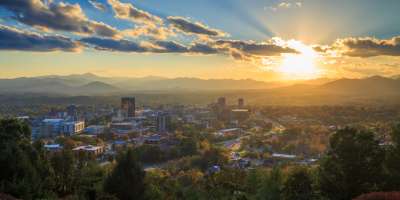 Asheville is known as being one of the best towns in the country for American craft, and this weekend you can explore Asheville's largest craft festival and purchase one-of-a-kind pieces from some of the region's best makers.
It's also an incredible weekend to see great live performances at venues throughout the Asheville area. From festivals to one-night-only performances, you can experience the vast range of musical styles in town.
Planning a trip to Asheville is easy. Utilize our easy-to-use search to check room availability and rates at Asheville area accommodations, and be sure to check out the special deals and packages. And, you can check events for any date by using our events calendar search.
Here's a look at what you can enjoy this weekend in and around Asheville:
Friday - Sunday, July 19 - 21, 10:00 a.m. - 6:00 p.m.
US Cellular Center
It's the largest handmade arts and crafts show of the summer! Peruse the work of hundreds of local artists and craft makers at the 72nd annual Craft Fair of the Southern Highlands in downtown Asheville. Filling two entire levels of the U.S. Cellular Center, makers exhibit a variety of craft ranging from contemporary to traditional in works of clay, wood, metal, glass, fiber, natural materials, paper, leather, mixed media, and jewelry. Live demonstrations and music are planned.
Saturday, July 20, 9:30 a.m. - 2:00 p.m.
French Broad River – River Arts District
Watch the annual Anything That Floats Parade as people from all walks of life express their creativity on the river. Teams work together to create all sorts of river vessels; some simple, some elaborate, some made from recycled materials, and others made with lots of flair. The sky is the limit, as long as it floats! View the parade from many of the beautiful greenways and parks along Amboy Rd. and Riverside Dr. as well as the Liquid Center deck at New Belgium. 
Saturday, July 20, 12:00 p.m. - 11:00 p.m.
Catawba Brewing Company – South Slope
Celebrate a milestone anniversary at Catawba brewing this Saturday. Sip on four brand new anniversary beers, listen to live music, and nosh on food from The Blind Pig and Deli Llammma food truck. Door prizes and limited-edition t-shirts will be available.
Saturday, July 20, 11:00 a.m. – 4:00 p.m.
Grovewood Village
Meet the resident artists of Grovewood Village as they open their studios to the public, allowing visitors to gain insight into their creative process and view their most recent works. Meet makers who work in a variety of media and browse original works of art ranging from jewelry to pottery to sculpture. Tours are free and self-guided.
Saturday, July 20, 7:00 p.m. – 8:15 p.m.
Olde World Christmas Shoppe – Biltmore Village
Santa is vacationing in the mountain this month, and to celebrate the Holly Jolly Christmas "in July" Trolley Tour will embark from Biltmore Village on a festive 75-minute trip. The tour will include stories of local holiday traditions, singing of classic carols and popular Christmas songs. The Biltmore Village and the Olde World Christmas Shoppe will be hosting special events with Santa throughout this one-day event. Reservations are required and seats are limited.
Enjoy Live Music and Performance Art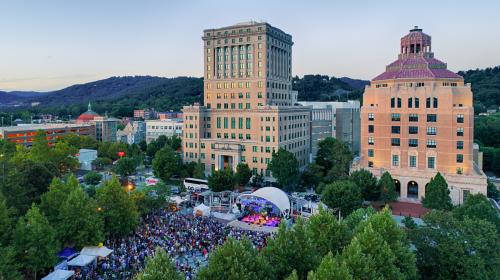 This weekend's there are two popular live entertainment traditions taking place in downtown Asheville. On Friday night head out to North Lexington Avenue at 5:00 p.m. for Downtown After 5, a fun street festival with live music from Shamarr Allen of Galactic and the Underdawgs, food trucks, and beer tents. On Saturday, head out to watch Shindig on the Green, a free celebration of old-time mountain sound and dance traditions.
Saturday, July 20, 8:00 p.m.
Thomas Wolfe Auditorium
Join Gordon for a night of music during his 80th birthday celebration tour. After more than 50 active years of hit song making and international album sales well into the multi-millions, it's safe to say that esteemed singer-songwriter and musician Gordon Lightfoot resides with some very exclusive company atop the list of all-time greats. His song catalog is incredibly vast and includes such immortals as "Early Morning Rain," "If You Could Read My Mind," "Carefree Highway," "Sundown," "(That's What You Get) For Lovin Me," "The Wreck Of The Edmund Fitzgerald," "Canadian Railroad Trilogy," "Ribbon Of Darkness," "Beautiful," "Song For A Winter's Night" and "Rainy Day People" to name a few.
Saturday, July 20, 8:30 p.m. - 10:30 p.m.
Whiffington-Pfohl Auditorium - Brevard
The film that gave the world one of its greatest movie heroes, Indiana Jones, is back and better than ever before! Relive the magic on the silver screen with the original great adventure Raiders of the Lost Ark, with John Williams' epic score performed live to picture by a full symphony orchestra!
Friday – Sunday, July 19 - 21, various times
The Magnetic Theatre
See the beloved children's story come of a little pig, Wilbur, who becomes famous with the help of his clever friend Charlotte and their chatty animal neighbors. Asheville Creative Arts, the area's professional children's theater, brings its signature style of contemporary and sophisticated storytelling for this fresh, new take on this tale of friendship, sacrifice and growing up featuring puppets, live music and an immersive, interactive experience.
Also Check Out:
Billy Joel Tribute – Friday, July 19, 9:00 p.m. – Orange Peel Social Aid and Pleasure Club
Reasonably Priced Babies: Improv Show – Friday, July 19, 7:00 p.m. Ambrose West
LaZoom Comedy: Robby Slowik – Saturday, July 20, 9:30 p.m. – LaZoom Room
Celebrations of Food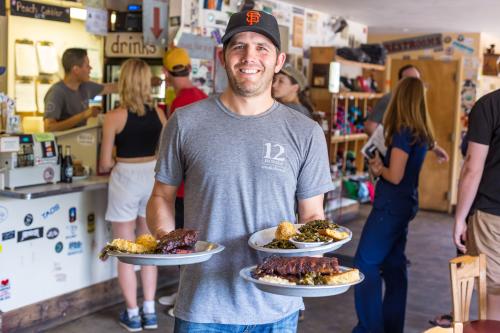 Enjoy a true food adventure in Asheville this weekend. From local Appalachian cuisine to international flavors, these food-centric events are sure to whet your appetite.
Saturday, July 20, 7:00 p.m. – 10:00 p.m.
Hickory Nut Gap Farm
Put on your dancing boots and join Friends of the Smokies for the 2nd annual "Smokies Stomp" Barn Party just outside of Asheville, NC. Folks will be treated to a gourmet farm-to-table dinner, live music, drinks, square dancing, and the opportunity to visit with rangers from the National Park Service. This is a fundraiser to support projects such as Parks As Classrooms, which brings thousands of schoolchildren into the Smokies each year for educational programs.
Sunday, July 21, 2:00 p.m. – 4:00 p.m.
The Wedge at Foundation
Taste the culinary treats of more than 30 chefs and home cooks, offering small bites that reflect their cultural background and heritage. This celebration of Asheville's diversity will have you sampling a passport's worth of global food, and all proceeds will help provide free civil legal aid for low-income families across Western North Carolina.
Sunday, July 21, 5:30 p.m. - 7:30 p.m.
Red Rocker Inn – Black Mountain
It's two North Carolina traditions in one event! Join the fun Sunday night as The Red Rocker Inn hosts an outdoor barbecue dinner with live bluegrass by "Rhiannon and the Relics". Menu includes pulled pork or chicken breast BBQ, tons of southern sides, and a choice of banana pudding or peach cobbler! A keg from Pisgah Brewing Co and other beers will be available. Bring your own lawn chairs or picnic blanket.