Things to Do in Asheville This Weekend -- July 14-16, 2017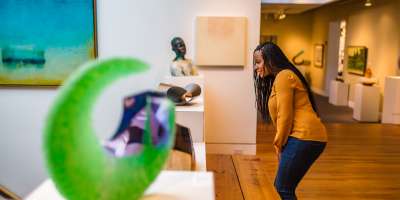 Asheville is well-known for its creative community of artists and crafters. In fact, craft enthusiasts recently voted Asheville one of "America's Top 10 Towns for Craft Lovers in 2017." This weekend, experience Asheville's craft culture as you browse locally-made wares and artwork. And, discover the area's tremendous talent on the stage from the opera to bluegrass to theater.
Friday, 8-10:30 p.m.
Diana Wortham Theatre, Asheville (Downtown)
Experience one of the world's most beloved comic operas. The Elixir of Love is about a country bumpkin in love with a girl way out of his league. When he purchases a "love potion" from a traveling doctor, does it work? See the show at the Diana Wortham Theatre to find out! And, take a look at our events page for more performances to catch on the stage this weekend.
Friday, 5-7 p.m.
The Red House Gallery (310 W. State St.), Black Mountain
For the 50th year, the talented artists of the Swannanoa Valley Fine Arts League showcase their work during this juried show in nearby Black Mountain. The show kicks off Friday night with a reception at The Red House Gallery as David Collins puts the finishing touches on an art piece in the front yard. Head inside the gallery to view the juried selection of artwork. The pieces will be on display through September 9, 2017.
The Grove Arcade is one of Asheville's most historic and awe-inspiring buildings. And, if that's not reason enough to visit – The Grove Arcade features 35 restaurants, galleries, and locally-owned shops just waiting to be explored. Bring your camera! The intricate architecture inside the Grove Arcade makes for incredible pictures! Check out the Grove Arcade Saturday before heading to nearby Pack Square Park for Shindig on the Green, a free outdoor bluegrass stage show and jam session beginning at about 7 p.m.!
Sunday, Noon-6 p.m.
Pack Square Park, Asheville (Downtown)
This local favorite event brings back the tradition of a community outdoor market. The Big Crafty has been named the Best Arts/Crafts Fair in the annual Mountain Xpress readers' poll for 8 years in a row! Browse fine wares from a juried group of select indie artists and crafters while you enjoy local bands and local food!
Asheville's nationally-acclaimed food scene includes many restaurants that serve up delicious breakfasts that will start your day of Asheville adventure off right. From gravy flights to Southern comfort food to farm-to-table feasts, pick from these eight eateries our Facebook fans voted the top breakfast spots in town.
Photo credits: Top photo and breakfast photo by Jared Kay. Grove Arcade photo by Art Meripol. Craft photo provided by The Big Crafty.