Things to Do in Asheville This Weekend -- July 13-15, 2018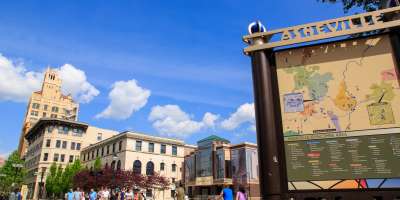 There's always something going on in Asheville and this weekend is no exception!
Want great food? Head to an all-day food truck festival. Want to see and purchase great art and crafts? There's a festival this weekend just for you. And, if you want to put on your leg warmers and party like it's 1980, you can do that, too: there's an 80's dance party planned!
Don't miss out. Plan your trip to Asheville by utilizing our easy-to-use search to check room availability and rates at Asheville area accommodations. And, you can check events for any date by using our online events calendar search.
Here's a look at what you can enjoy this weekend in Asheville:
Saturday (July 14), 11 a.m. to 5 p.m.
Asheville Outlets (next to Field & Stream), Asheville
Taste the best of Asheville's food truck scene at this day-long celebration presented by iHeart Media Asheville. The Bites and Brews Festival at the Asheville Outlets will also feature local craft brews and local music. The festival will have a family-friendly atmosphere. And, a portion of the proceeds will benefit the Eblen Foundation, an area charity. General admission is $10 in advance or $15 at the gate. The event will happen rain or shine.
Sunday (July 15), 12-7:30 p.m.
Pack Square Park, Downtown Asheville
Browse the goods from a juried group of select indie artists and crafters while you enjoy local bands and local food! This local favorite event brings back the tradition of a community bazaar with a celebration of all things handmade. The Big Crafty has been named the Best Arts/Crafts Fair in the annual Mountain Xpress readers' poll 9 years in a row! The event is free to attend.
Friday through Sunday (July 13-15)
Various Locations in the Asheville area
Summer of Glass VIP Weekends are certain to be a "glass-lovers" dream trip! You'll meet artists and go behind the scenes at studios not usually open to the public. These packaged itineraries are not only a fantastic way to experience some of the best art glass in the nation, but also included in your ticket is the opportunity to enjoy the beauty of the Blue Ridge Mountains, the splendor of Biltmore Estate, the local Southern hospitality and the flavors of Asheville's foodie culture. See our guide to the VIP Tours for more information.
Saturday (July 14), about 7 p.m.
Pack Square Park, Downtown Asheville
Experience Shindig on the Green, a free, outdoor, mountain bluegrass music and dance festival. The shindigs take place in the heart of downtown Asheville at Pack Square Park on eight Saturday nights throughout the summer months (June through early September). In addition to scheduled stage shows, Shindig on the Green features informal performances and jam sessions on the stage and around the park. Bring a lawn chair or a blanket and enjoy. The performances begin at about 7 p.m. or "along about sundown" as folks around here like to say! See our guide to Shindig on the Green for more information.
Saturday (July 14), 10 a.m. to 8 p.m.
River Arts District, Asheville
Any time is a great time to visit the River Arts District and the more than 200 artists in studios and galleries that you'll find there. But, Second Saturdays provides a special opportunity to get in touch with this district known as Asheville's artistic center. On the second Saturday of every month, take part in special openings, hands-on classes, demonstrations and celebrations. Many studios will open by 10 a.m. with celebrations extending as late as until 8 p.m. The River Arts District has compiled a full list of events.
Friday (July 13), 11 a.m. to 1 p.m.
Western North Carolina Farmer's Market, Asheville
Celebrate the arrival of fresh North Carolina peaches! The Western North Carolina Farmer's Market has a free sampling of fresh peaches along with other peach treats. The WNC Farmer's Market is open seven days a week all year round. Hours are 8 a.m. to 6 p.m. April through October and 8 a.m. to 5 p.m. November through March.
Guided Hikes
Head up to the Blue Ridge Parkway Friday at 10 a.m. for the "Hike of the Week." Parkway rangers will lead an easy-to-moderate, 1.5-mile round-trip hike on the Mountains to Sea Trail. This section is known for its diversity of vegetation. Meet at the dirt pull off at Milepost 388.8. Bring water and good walking shoes. The hike is free to attend.
On Saturday at 9 a.m., Chimney Rock State Park rangers lead a hike to an area not typically open to the public. They'll introduce you to characteristics of old growth forests and native trees. This is a moderate hike. The cost is $23 for adults (that cost includes park admission).
Saturday (July 14), 7-11 p.m.
Attic Salt Theatre Company (2002 Riverside Drive), Asheville
Break out your leg warmers, parachute pants and Members Only jackets! This 1980s dance party is a fundraiser for the Attic Salt Theatre Company. They'll have Aqua Net and crimping irons, and blue-eye liner and uber-blush at the hairstyling and make-up stations. They also encourage you to send in your favorite songs by heading over to their request line. Tickets are $15 in advance and $20 at the door.
Saturday (July 14), 11 a.m. to 4 p.m.
Hickory Nut Gap Farm, Fairview
Join in the adventure at the Farm at the first-ever HeroFest! There will be a superhero costume contest for both children and adults. Well Played Board Game Café will supply games. Peace, Love and Fire perform an LED hoop show. And, so much more!
Live Music and Entertainment
These are just a few highlights of the many live music and stage show performances in Asheville this weekend. For a full list of live music events please see our live music calendar. 
Friday
Punch Brothers w/ Madison Cunningham – Grammy-nominated acoustic quintet. Pisgah Brewing Company, 7 p.m.
The Lost Chord: Moody Blues Tribute Band – Asheville based band. Isis Restaurant and Music Hall, 8:30 p.m.
Same As it Ever Was – Talking Heads tribute band. Salvage Station 9 p.m.
Handmade Moments with Christy Lynn Band – Asheville Music Hall, 10 p.m.
Saturday
Lucero – Rock band hailing from Memphis, Tenn. Salvage Station, 9 p.m.
Beth Snapp with Rebecca Haviland and Whiskey Heart --- Snapp is a roots artists and Haviland is a Grammy-award winning vocalist and multi-instrumentalist. Isis Restaurant and Music Hall, 9 p.m.
Sunday
Shared Madness with Haley Richardson – Irish traditional music and song. Isis Restaurant and Music Hall, 5:30 p.m.
Jenny Lewis and the Cactus Blossoms – In addition to a storied solo career, Lewis was a member of the band The Postal Service. The Orange Peel, 9 p.m.