Things to Do in Asheville This Weekend — July 12-14, 2019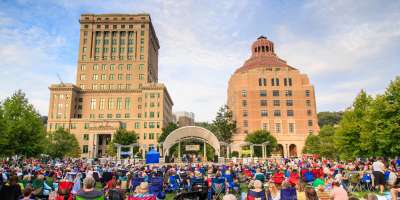 Asheville's event calendar is jam-packed with cool things to do this weekend. From popular summer arts festivals to free concerts to guided hikes, take part in one of the many fun experiences happening around the mountains.
Planning a trip to Asheville is easy. Utilize our easy-to-use search to check room availability and rates at Asheville area accommodations, and be sure to check out the special deals and packages. And, you can check events for any date by using our events calendar search.
Here's a look at what you can enjoy this weekend in and around Asheville:
Discover Handmade Arts and Crafts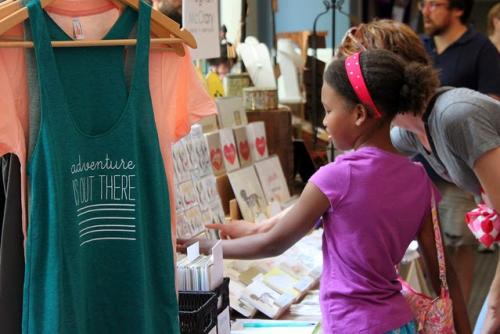 Asheville's thriving arts and crafts scene is on full display this weekend. Meet with local makers and artists at one of these multiple events around town.
Sunday, July 14, 12:00 p.m. - 7:30 p.m.
Pack Square Park
The Big Crafty revives the tradition of the community bazaar, a lively celebration of handmade commerce, featuring local food, beer, music, and fine wares from a juried group of select indie artists and crafters. This free event has been rated the best arts and crafts fair in the mountains for 10 years in a row!
Saturday, July 13, 10:00 a.m. - 6:00 p.m.
River Arts District
This Saturday, artists across the River Arts District will open the doors to their studios. Meet the people behind the art, take part in a gallery walks, see live demonstrations, get hands on at a workshop, listen to live music, and enjoy food and wine tastings. Meander the mile-long district or hop on and off the free trolley and discover all that the "RAD" has to offer.  There are more than 200 artists in the 23 buildings throughout the district.  Most of them will be on hand to describe or show you their techniques and share their inspirations.
Saturday, July 13, 10:00 a.m. - 5:00 p.m.
Grovewood Gallery
See the opening day of a solo exhibition of work by local artist Neil Carroll, featuring graffiti-inspired, mixed-media art and fine furniture. The show opens this Saturday, with an artist's reception from 2:00 p.m. – 5:00 p.m. (free and open to the public).
Enjoy Live Music and Performance Art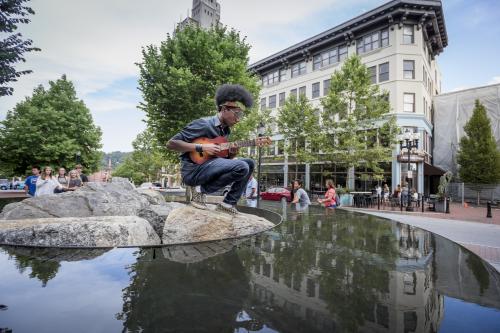 This weekend's events calendar is brimming with live entertainment options including free concerts for the family. Among those is Shindig on the Green, a celebration of old-time mountain sound and dance traditions, taking place each Saturday in July. Also this Saturday is a free concert at Biltmore Park Town Square featuring BoogiTherapi, an All Star Funk Band comprised of some of Asheville's top musicians.
Saturday, July 13, 7:00 p.m. - 9:00 p.m.
Diana Wortham Theater
Be the first to see an Asheville-original show that blends classic circus with a unique style of acrobatics and theater. Clan Destiny, an Asheville acrobatic theater group, will debut TROUPE, which tells the story of a group of survivors at the edge of a nameless battle who come together and form a 'Circus Troupe', traveling the war zone and performing for food and other supplies. 
Saturday, July 13, 2:00 p.m. - 4:30 p.m.
Porter Center at Brevard College
See the classic tale of a feud between the Montague and Capulet families and the tragedy that would befall them. This night out at the opera is part of the Brevard Music Center's summer festival series and features the Brevard Festival Orchestra. This class love story will be sung in French with English subtitles.
Friday - Sunday, July 11 - 19, various times
Flat Rock Playhouse
Visit the official North Carolina State Theatre as they present an inspiring and uproarious voyage of rediscovery. This romantic comedy by M.J. Cruise brings new life to the enduring question, is the grass greener on the other side, as two couples compare their relationships. To spice up their relationship, empty nesters embark on a cruise vacation only to meet another couple who seem to "have it all." Will these couples rekindle the sparks that brought them together?
Also Check Out:
Russ Wilson and the Euphonic Ragtime Orchestra – Sunday, July 14, 7:30 p.m. – Isis Restaurant and Music Hall
Trial by Fire (Tribute to Journey) – Friday, July 12, 9:00 p.m. – Orange Peel Social Aid and Pleasure Club
Top Regional Events & Things to Do
Thursday - Sunday, July 11 - 14
McCrea Meadows on Grandfather Mountains
Revel in Scottish traditions, music, dancing, athletics and food at the nation's grandest Highland Games, celebrating its 64th year. Watch brawny athletes hurling massive cabers, dainty dancers performing traditional steps or bands of bagpipers blaring Celtic sounds at the base of beautiful Grandfather Mountain. This multi-day event is taking place within an hour and half long drive from Asheville.
Saturday, July 13, 10:00 a.m. – 1:30 p.m.
McCrea Meadows on Grandfather Mountains
Join a member of the Buncombe County Recreation Services team for a guided hike on a popular trail in Alexander, located 14 miles north of downtown Asheville. The terrain is somewhat rough and there are some obstacles and a moderate climb. You'll enjoy a plethora of butterflies and breezes during this four-mile hike.
Laugh 'Til It Hurts
Asheville's comedy scene continues to grow attracting the best in regional and national stand-up acts.
Saturday & Sunday, July 13 - 14, various times
Blue Ridge Parkway Milepost #408
Trae Crowder (The Liberal Redneck), Drew Morgan and Corey Forrester have firmly established themselves as three of the most exciting new voices in comedy of their generation. Often compared to Carlin and Hicks, or a modern-twist on the Blue Collar Comedy Tour, the trio of comedians and writers challenge stereotypes and deeply-held beliefs about what is means to grow up humbly in the South.
Saturday, July 13, 9:30 p.m. – 11:30 p.m.
LaZoom Room
Brian got his start performing on New Faces at Montreal Just For Laughs, before going on to win an Emmy for his writing on Last Week Tonight with John Oliver. He performs standup in NYC and on the road, hosts one of the hottest monthly comedy shows in Brooklyn, and has been selected to perform at a number of festivals including the Asheville Comedy Festival coming up in August.
Sunday, July 14, 8:30 p.m. – 10:30 p.m.
LaZoom Room
Come out to see the number one ranked roast comic from New York City make his return to Asheville. After 21 years of growing up in Longford, Ireland, Sean Finnerty decided to move stateside where a series of mature decisions that he failed to make led him to stand-up comedy. Recently he was rewarded for his efforts as he became the first ever Irish comedian to perform on the Tonight Show with Jimmy Fallon. Sean moved to New York where he quickly became known as one to watch, performing at famous venues such as The Comedy Cellar, Gotham Comedy Club, Caroline's on Broadway, The Stand and The Friars Club.
Friday, July 12, 7:30 p.m. & 9:30 p.m.
Fleetwood's
Watch the comedic talents of five powerhouse femme comics from across the southeast. Featuring Erin Terry, Allie Steinhoff, Morgan Boston, Chloë Marie Stillwell, and Robyn Scott. VIP tickets are available for both the early and late show.