Things to Do in Asheville This Weekend -- July 1-4, 2017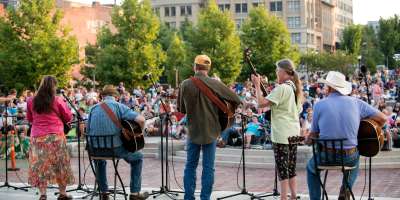 Patriotism runs deep in the mountains of Western North Carolina. So, it's no wonder that Asheville and the surrounding communities go all out when it comes to celebrating our nation's Independence Day. The festive atmosphere surrounding this holiday weekend sets the stage for dancing, drumming and mountain music that hearken back to the all-American traditions of Southern Appalachia. 
For a list of firework shows in and around Asheville on the Fourth of July, visit our Fourth of July 2017 page!
Or, continue reading below to see the other great events going on in the area this holiday weekend!
Barn Dance at Hickory Nut Gap Farm
Friday, 6-9 p.m.
Hickory Nut Gap Farm (57 Sugar Hollow Road), Fairview
Grab your dancing shoes and head back to the barn! Hickory Nut Gap Farm continues its popular barn dances with their first-ever contra dance! Experience the heart and soul of contra with some of the area's finest performers: Vollie & Laura. Diane Silver will led the dance as the caller. If you can't make it this week, Hickory Nut Gap Farm hosts dances every Friday night through October 27, with theme nights that include everything from square dance to zydeco, two-step to blues! Admission is just $6 (kids under age 4 get in free!).
Asheville Percussion Festival
Friday through Sunday
Odyssey Community School and Diana Wortham Theatre, Asheville
Dance to the beat of your own drum at the 6th Annual Asheville Percussion Festival. You'll have the opportunity to learn how to play rhythms from various world traditions and listen to masters play instruments from around the globe! On Friday night, join in a free community event at Odyssey Community School (90 Zillicoa St.) that gives you the chance to drum and listen to solo demonstrations by festival artists. Saturday, free drumming and dancing workshops are available at Odyssey Community School before guest teaching artists will perform a thunderous Masters Concert at the Diana Wortham Theatre ($35 for adults/$18 for youth under age 15). The festival wraps up Sunday with a soothing Sound Meditation.
Shindig on the Green
Saturday, 7-10 p.m.
Pack Square Park, Asheville
Shindig on the Green opens its 51st season of free outdoor mountain music. It's an Asheville tradition unlike any other! Locals and visitors alike come together in downtown "along about sundown" (or 7 p.m. for those wearing a watch) to experience the beautiful music and dance traditions of Southern Appalachia. Bluegrass, old-time, and folk musicians play on the main stage. But magical moments happen all over Pack Square Park, as musicians host impromptu jam sessions.
Friday through Sunday
Acquoni Expo Center (1501 Acquoni Rd.), Cherokee
Day trip an hour to Cherokee for a three-day explosion of authentic Native American music, dancing, food and festivities. More than $60,000 worth of prize money is up for grabs as world-class dancers compete. The Grand Entry marches are especially vibrant with colorful regalia and music made to move you. Admission is $12 daily (cash only).
Serafina Book Tour Kickoff
Sunday (11 a.m. -7 p.m).
Barnes & Noble Asheville Mall (Sunday)
Join New York Times bestselling author Robert Beatty to celebrate the release of his highly anticipated third book in the hit Serafina mystery-thriller series! Beatty is from Asheville and Asheville serves as the setting for Serafina's adventures. From the basement of Biltmore to the magical surrounding forests, you can visit the iconic Asheville spots featured in the book with the help of our Serafina-inspired itinerary! Sunday, July 2, is the official launch party with Robert Beatty at Barnes & Noble in the Asheville Mall. Be among the first readers in the nation to get the new book at this free, open-house style event. Serafina-themed activities are planned throughout the day. The following weekend, on Saturday, July 8, Beatty will be at Barnes & Noble in Biltmore Park to sign the new novel, Serafina and the Splintered Heart. 
Top photo by Sandi Stambaugh. Hickory Nut Gap Farm photo by Keith Wright. Shindig on the Green photo by Sandi Stambaugh.