Things to Do in Asheville This Weekend -- January 4 - 6, 2019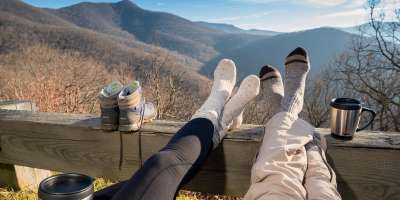 The holiday season in winding down, but there's still time to catch the final days of Asheville's favorite holiday celebrations including Christmas at Biltmore, which will host it's last Candlelight Christmas Evening this Saturday, Jan. 5, and the last Daytime Christmas tour on Sunday, Jan. 6. The public viewing of the 2018 National Gingerbread Competition Display at The Omni Grove Park Inn ends this Friday, Jan. 5, and you can see the winner of this year's competition on display all year long in the Vanderbilt wing of the resort.
The new year is ushering in new experiences for visitors to Asheville. Here's what you can't miss in 2019!
Thi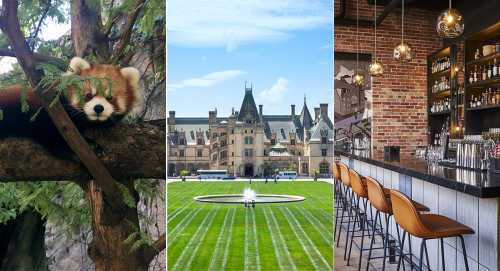 s weekend you could be one of the first to dine at All Day Darling, the newest creation of Asheville food phenom and James Beard semifinalist Jacob Sessoms. At Biltmore, their new Outrider Tour will have you exploring remote trails and roads of America's Largest Home via electric recumbent tricycles. Also, the new French Broad Chocolate Factory  has opened in the RAMP (River Arts Makers Place) Studios. They offer daily tours, a chocolate museum and a view of the sweet bean-to-bar treats being made.
Want to see some phenomenal long-range views? Winter is the perfect time to take a hike to enjoy crisp air and stunning vistas unobstructed by leafy trees. Here are the top 5 winter hikes we recommend. The recent rainfall means this weekend will be a good one for waterfall hunting. Exercise caution as there may be some slippery areas on the trails and rocks.
Planning a trip? Use our easy-to-use search feature to check room availability and rates at Asheville area accommodations, and check events for any date by using our online events calendar search.
Here's a look at what you can enjoy this weekend in and around Asheville.
Live Entertainment
Deloused: The Music of the Mars Volta
Friday, Jan. 4, 9:00 p.m. - 11:59 p.m.
Ambrose West
The progressive and alternative rock group Deloused will cover songs by Mars Volta. They'll play the entire Deloused in the Comatorium album and a collection of other tunes from the rest of the band's catalog.
Off With Your Radiohead
Friday, Jan. 4, 9:00 p.m.
Orange Peel Social Aid & Pleasure Club
After mesmerizing a crowd of unsuspecting Radiohead fans at an OK Computer tribute show last fall, frontman Jeff Thompson and his all-star band of Asheville music veterans knew they were onto something. What was intended to be a one-off homage to the greatest rock record of all time quickly developed into a permanent ensemble. Now, the five-piece is dedicated to mastering even Radiohead's most complex arrangements, one album at a time.
Saturday, Jan. 5, 3:00 p.m.
Asheville Symphony Chamber Chorus
Enjoy an elegant Twelfth Day of Christmas performance by the Asheville Symphony Chamber Chorus, our chorale of 32 distinguished singers. Revel in gorgeous renditions of A Festival of Carols, I Saw Three Ships, Ave Maria, and many more favorites of the season. It's a wonderful opportunity to hear musical classics in an intimate setting!
A Winter Blast of Hot Jazz with the Asheville Jazz Orchestra
Saturday, Jan. 5, 8:00 p.m.
White Horse Black Mountain
Snowy roads forced the reluctant cancellation of the Asheville Jazz Orchestra's December show, but big band addicts who have been experiencing withdrawal symptoms can catch up with the ensemble they host their inaugural performance of 2019. 
2nd Annual Woman in Music: A Tribute to Iconic Female Artists
Sunday, Jan. 6, 7:30 p.m.
Isis Restaurant & Music Hall
Join six of Asheville's favorite local female singer/songwriters as they perform the works of iconic female artists. This year's artists will pay tribute to the iconic works of Dolly Parton, Stevie Nicks and Kate Wolf.
Arts & Crafts
Asheville's Gallery of Art January Art Show 2019
Daily, Begins Jan. 2, 11:00 a.m. - 6:00 p.m. (closes at 4:00 p.m. on Sunday)
Asheville Gallery of Art
Start the new year off right by surrounding yourself with the bright glow and warmth of colorful works of art. Asheville Gallery of Art's January 2019 show, "A Colorful Beginning" ushers in the year with an expressive interpretation of color by more than 20 member artists.
James Henkel: Table Arrangements
Friday, Jan. 4, 6:00 p.m. - 8:00 p.m.
Tracey Morgan Gallery
Attend the opening reception of Table Arrangements, an exhibition of new work by photographer James Henkel. The exhibition features fourteen black & white, and color photographs that explore ideas of beauty, purpose, and perception.
Wellness
New Moon Meditation in the Salt Cave
Friday, Jan. 4, 6:00 p.m. - 7:00 p.m.
Asheville Salt Cave
Harness the energy of the New Moon in the healing space of the Asheville Salt Cave. This evening includes a personal altar-making practice and each participant leaves with their own altar item as a special gift from the salt cave.
Updated February 21, 2019