Things to Do in Asheville This Weekend — January 3 - 5, 2020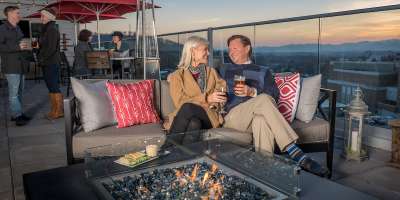 Asheville is primed and ready for an exciting first weekend of the new year. As we ring in 2020, Asheville offers many new and creative experiences for you to experience while in town.
New art centers, cultural adventures, buzz-worthy restaurants, outdoor and wellness offerings are springing up all around town. Read our guide to Asheville 2020 and discover what's new and noteworthy this year. Spend a weekend here, and you'll quickly see why Asheville was named one of 50 best places to travel in 2020 by Travel + Leisure.
Planning your trip to Asheville? Utilize our easy-to-use search to check room availability and rates at Asheville area accommodations, and be sure to check out the special deals and packages. And, you can check events for any date by using our events calendar search.
Here's a look at what you can enjoy this weekend in and around Asheville.
Christmas at Biltmore (Final Weekend)
Now through January 5, 2020 10:00 a.m. – 5:00 p.m.
Biltmore
It's a holiday tradition that dates back more than 120 years. During the two-month-long Christmas at Biltmore celebration, the estate transforms with elegant and stunning decorations that include more than 100 hand-decorated Christmas trees. Among the most beautiful trees is the 35-foot Fraser Fir laden with ornaments and wrapped packages that serves as the centerpiece in the grand Banquet Hall. The Conservatory in the Walled Garden is filled with fresh poinsettias. And, 7,000 globe-shaped ornaments hang from the ceiling of Biltmore Winery, America's most visited winery. A daytime visit to Christmas at Biltmore is included in your admission.
In the evenings, Biltmore glows during Candlelight Christmas Evenings with thousands of twinkling lights and dozens of roaring fireplaces. Step back in time and experience the estate much like the Vanderbilts did during their first Christmas Eve spent at Biltmore in 1895. As you stroll into the estate past luminaries that line the walkway, stop to see the 55-foot Norway spruce sparkling on the front lawn. Candlelight Christmas Evenings do require a reservation and separate admission.
For more information on the daytime and evening celebrations, see our guide to Christmas at Biltmore.  
Winter Lights at the North Carolina Arboretum (Final Weekend)
Now through January 4, 2020, 6:00 p.m. to 10:00 p.m. (Daily)
North Carolina Arboretum, Asheville
One of Asheville's brightest holiday traditions kicks off this weekend at the North Carolina Arboretum. More than half a million lights will be on display as part of this self-guided walking tour through the nationally recognized gardens. Transportation from downtown and Biltmore Village is available every Thursday through Saturday with a special trolley ticket. Listen to the sounds of your favorite holiday tunes and enjoy a cup of holiday-inspired cocoa, cider or beer.
Harlem Globetrotters 2020
Sunday, January 5, 3:00 p.m.  
US Cellular Center
Watch some of the most elite dunkers on the planet, exceptional ball handlers, and Guinness World Record holders during their one-of-a-kind show in downtown Asheville. A Globetrotters game is more than just basketball – they are the ultimate in family entertainment that will bring smiles and fan interaction to people of all ages.
Foraging Tour
Saturday, January 4, 1:30 p.m. – 4:30 p.m.
Natural areas around Asheville
Uncover the Garden of Eden all around Asheville: edible greens, berries, mushrooms, flowers, nuts, roots... you never know what you'll find on this three-hour foraging tour through the forest. Along the way you'll discover wild foods, focusing on the ones you might find in your own woods or backyard. Then you get to eat what you've found! You can either learn to cook your own catch of the day or let one of three award-winning restaurants prepare it for you, with lunch or dinner, for free. You could call it "Survivor meets Iron Chef." We call it find dining.
Paws and Pints with Charlie's Angels
Sunday, January 5, 2:00 p.m. – 5:00 p.m.
Hillman Beer
Ready to meet your new furever friend? Grab a pint of Hillman Beer and hang out with some amazing animals that will brighten your day and quite possibly your life if you choose to adopt.
Giggles and Wiggles: Comedy and Burlesque
Sunday, January 5, 7:30 p.m. – 11:30 p.m.
Fleetwood's
End your weekend on a high note with an evening of comedy and irreverence. Giggles & Wiggles features an amazing cast of comedians and hilarious burlesque performers returning to Fleetwood's in West Asheville for their second time.
"A Life of Art"
Friday, January 3, 5:00 p.m. – 8:00 p.m.
Asheville Gallery of Art
Attend the opening of the January show at the Asheville Gallery of Art. Friday night, a reception for three artists will be held. Each contributed exciting and harmonious works for the new exhibit, inspired by mountain landscapes and the changing seasons.
New Year, New Crew, Local Comedy Showcase
Friday, January 4, 8:00 p.m. – 10:00 p.m.
LaZoom Room
Asheville's comedy seen has seen tremendous growth over the past year.  Many amazing new comics have popped up in town, and to celebrate LaZoom invites you to join them for a new faces showcase.
Downton Abbey: The Exhibition
Now through April 7, 2020, 9:00 a.m. – 5:00 p.m.
Biltmore
Fans of the popular the global hit television series will love the new exhibit at Biltmore, which offers never-before seen interactive elements that connect you to your favorite characters, as well as the fashions, locations, and historic events of the time period. Showcased in two estate locations, Downton Abbey: The Exhibition pairs seamlessly with the real-life story of the Vanderbilt family. The Exhibition is included with daytime admission, Candlelight Christmas Evenings admission, or an overnight stay that includes daytime admission.