Things to Do in Asheville This Weekend -- January 25 - 27, 2019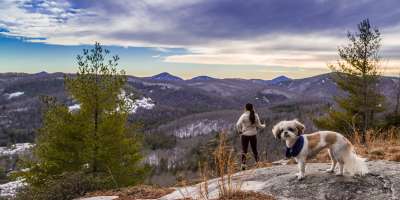 There are two week-long events happening across multiple venues and restaurants across Asheville. First off, prepare to feast as Asheville Restaurant Week has officially kicked off. From now through January 27, dine at many of Asheville's most celebrated restaurants while getting a great deal on your meal. Special menus have been crafted for for this week-long event, but you can still order off the regular menu if you prefer. Also happening this week is the return of the Asheville Fringe Arts Festival. This annual event provides artists with opportunities to explore the edges of their work through innovative performances. There are 53 ticketed performances and 10 free Random Acts of Fringe performances scattered throughout town.
Despite the cooler temperatures outside, there is still plenty of outdoor adventure to be found around Asheville. If you're in need of relief from cabin fever, then check out our roundup of winter sports and activities that will get the blood pumping (waterfall ice climbing, anyone?). More of the indoors type? Check out our roundup of 7 Cozy Ways to Experience Asheville.
Planning a trip? Check out ExploreAsheville.com's easy-to-use search feature to check room availability and rates at Asheville area accommodations, and check events for any date by using our online events calendar search.
Here's a look at what you can enjoy this weekend in and around Asheville.
Live Entertainment
Comedy at Fleetwood's Mia Jackson
Friday, Jan. 25, 8:00 p.m. - 10:00 p.m.
Fleetwood's
Mia Jackson is a bonafide Georgia peach (that's Georgian for "native") and self proclaimed know-it-all. She has appeared on NickMom's Night Out, Viceland and was a semi-finalist on Season 9 of NBC's Last Comic Standing. She has appeared on Inside Amy Schumer and the movie Mother's Day.
12th Planet
Friday, Jan. 25, 9:00 p.m.
Orange Peel Social Aid & Pleasure Club
12th Planet burst onto the scene in 2006, releasing tracks that helped ignite the North American EDM explosion and collaborating with the likes of Skrillex, Kill The Noise, Datsik and Plastician. Since 2006, 12th Planet has also led what's become one of the most thriving underground movements in electronic music, with MTV calling the crew a "pioneering incubator of bass music in America."
Molly Tuttle
Friday Jan. 25, 8:00 p.m. - 10:00 p.m.
Diana Wortham Theatre
This award-winning multi-instrumentalist singer-songwriter is a rising star in folk and bluegrass because of her melodic elegance. Molly was named 2017's International Bluegrass Music Awards' Guitar Player of the Year, was awarded 2018's International Folk Music Awards' Song of the Year, and she was featured on the covers of both Acoustic Guitar Magazine and Flatpicking Guitar Magazine.
An Evening with The Kruger Brothers
Saturday, Jan. 26, 7:30 p.m. - 9:30 p.m.
Blue Ridge Community College, Flat Rock
The Kruger Brothers' remarkable discipline, creativity, and ability to infuse classical music into folk music has resulted in a unique sound that has made them a fixture within the world of acoustic music.
Greenville Jazz Collective Big Band
Sunday, Jan. 27, 7:30 p.m.
Isis Restaurant & Music Hall
Greenville Jazz Collective Big Band will celebrate its 2018 Album release "Welcome to Earth"  featuring original compositions.
LaZoom Comedy Night: Reena Calm
Sunday, Jan. 27, 8:00 p.m.
LaZoom Tours
Pulling from a lifetime of questionable choices, Reena Calm's material is autobiographical, silly, and charmingly inappropriate. She travels the country on her signature #CalmedyTours, and has performed in some of the best rooms in America. Reena has opened for Arsenio Hall, has been on Doug Loves Movies, was named Comic of The Week on The Jackie & Laurie Show.
Arts & Crafts
Arts & Crafts Workshop: Mixed Media Pocket Shrine
Friday Jan. 25, 1:00 p.m. - 4:00 p.m.
Purple Crayon
Admit it. You hate throwing out those used mint tins. They're so darn cute! Now you don't have to! Join mixed media artist, Christy Ammerman, as she shows you how to turn them (and old matchboxes) into pocket "shrines!"
Food & Drink
Scottish Friendship Dinner
Friday Jan. 25, 6:00 p.m.
Folkmoot Friendship Center, Waynesville
Enjoy a traditional Scottish meal of sauteed cabbage, parsley potatoes, highland chicken with whiskey and cream sauce with shortbread cookies for dessert. Beer will be available for purchase from Bearwaters Brewing Company. Guests will convene to the Sam Love Queen Auditorium to enjoy Scottish music and a presentation of Scottish cultural fashion with the Breacan Clann.
Fermented Pairings: Beyond the Bean
Saturday Jan. 26, 12:00 p.m. - 1:30 p.m.
White Labs Kitchen & Tap
An exploration of coffee in food and beer. Examine the rich history of coffee and learn how the aromas and flavors in coffee play with elements in food and beer.
Sip & Stretch at Pleb Urban Winery
Saturday Jan. 26, 11:00 a.m. - 12:00 p.m.
Pleb Urban Winery
Relax and stretch out on the mat for a soothing Saturday afternoon. This hour-long, all-levels yoga class will be followed with an optional glass (or flight!) of delicious, local wine to enjoy.
Updated May 9, 2019