Things to Do in Asheville This Weekend — January 24 - 26, 2020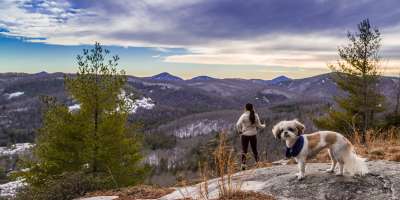 Take part in two celebrations happening all week long and into the weekend. One focuses on Asheville's independent restaurants with special menus and pricing at multiple dining hot spots, and the other is an annual event that grants performing artists permission to push the boundaries of their work to the edge of what most consider mainstream theater. More details on those events are listed below.
Winter brings with it a whole new level of outdoor adventure to Asheville. Find relief from cabin fever with our roundup of winter sports and activities guaranteed to get your blood pumping. If you're more into the great indoors, then we've got your covered. Here are 7 Cozy Ways to Experience Asheville
Planning your trip to Asheville? Utilize our easy-to-use search to check room availability and rates at Asheville area accommodations, and be sure to check out the special deals and packages. And, you can check events for any date by using our events calendar search.
Here's a look at what you can enjoy this weekend in and around Asheville.
Friday – Sunday, January 24 - 26
Multiple Restaurants
Prepare to feast! From now through January 27, dine at many of Asheville's most celebrated restaurants while getting a great deal on your meal. Special menus have been crafted for this weeklong event, but you can still order off the regular menu if you prefer. Choose from these participating restaurants.
Friday - Sunday, January 24 - 26, various times
Multiple Venues
Get ready because things are going to get a little weird in Asheville this weekend. It's all part of a weeklong, multi-venue event dedicated to cultivating strange, innovative, and wonderful work that lands squarely outside the realms of normal theater. Events span the genres of improv, dance, storytelling, and musical theater. Plus, you may witness random acts of fringe happening all across town.
Reasonably Priced Babies
Friday, January 24, 7:30 p.m. – 9:00 p.m.
Black Mountain Center for the Arts
Take in a show by local comedy troupe Reasonably Priced Babies, a formidable improv group that asks the audience for suggestions and then they make that come to Technicolor life. Get ready to be a part of the experience because this show will push the envelope of ridiculous fun.
An Evening with the Bumper Jacksons
Friday, January 24, 8:30 p.m.
Isis Restaurant and Music Hall – West Asheville
Grab dinner and a show at the Isis Music Hall this Friday. Like an old-time barn dance in downtown New Orleans,the Bumper Jacksons pull together a vast array of early American traditions into a deliciously high-spirit sound.
Gong Meditation
Friday, January 24, 5:00 p.m. – 6:00 p.m.
The Salt Spa of Asheville & Himalayan Salt Cave Sanctuary
Make a reservation now to experience an amazing sound resonance meditation with multiple gongs in a Himalayan Salt Cave Sanctuary. Vibrations of multiple gongs will flow through you in perfect harmony and are amplified by the surrounding Millions of Himalayan Salt Crystals. Breathing the clean salt air rich in negative ions deepens therapeutic benefits and profoundly supports relaxation.
LaZoom Comedy: Rachel Fogletto
Saturday, January 25, 9:00 p.m. – 11:00 p.m.
LaZoom Room – Downtown Asheville
Rachel Fogletto is Philadelphia based stand-up comedian, self-described charming oversharer and middle-shelf wine enthusiast. Rachel has performed all over the country, and has even made international appearances in Canada and Sweden. The best compliment she has received to date was from an audience member who told her, "You were so funny you ruined my night.
Climbing Basics Class
Saturday, January 25, 4:00 p.m. – 7:00 p.m.
Smoky Mountain Adventure Center
Learn a new skill during the introductory course in Climbmax's curriculum. Climbing Basics is designed for new indoor rope climbers. The course covers climbing terminology, equipment, and basic movement techniques. An AMGA Certified Climbing Wall Instructor will introduce and demonstrate belay techniques and work with you towards achieving proficiency at providing a top-rope belay.
Free South African Wine Tasting
Saturday, January 25, 2:00 p.m. – 5:00 p.m.
Table Wine Asheville
Sample five all-star wines from South Africa's top producers during a free wine tasting. Table Wine in South Asheville will pull the corks and twist the tops on some staff and their favorites from Stellenbosch, Constantia, and Robertson.
Land Rover Night Drive
Saturday, January 25, 6:00 p.m.
Biltmore
Take an exciting journey and navigate incredible off-road obstacles with a Land Rover Experience. Darkness adds a unique layer to this popular driving experience as you travel with a guide through the forests and hills of Biltmore Estate at night! This memorable and rugged adventure includes refreshments by campfire.
Mystical Night Market
Saturday, January 25, 6:30 p.m. – 9:30 p.m.
The Violet Owl – Downtown Asheville
Attend a Lunar New Year Celebration for the mind, body, and spirit! Multiple vendors will provide astrological readings, intuitive/psychic/medium readings, Reiki/energy healings, transformational coaching, local art, Reiki-infused jewelry, fairy hair, hand-dyed fabrics, and apothecary items. The event is free to attend.
A Social Function
Saturday, January 25, 9:30 p.m.
Pack's Tavern – Downtown Asheville
Grab your dancing shoes and head out to Pack's Tavern for some live music from one of Asheville's premier party bands. They rock the dance floors with the classic rock 'n' roll hits you love.
Comedy at Fleetwood's: Jeena Bloom
Sunday, January 26, 8:00 p.m. – 10:00 p.m.
Fleetwood's – West Asheville
Jeena Bloom is a transgender comic that SiriusXM once described as "the unicorniest unicorn in New York City." She brings a wild and profane sense of humor along with bracing honesty to the stage. Jeena has been featured on Comedy Central, Viceland, SiriusXM and Vulture. She is the winner of the 2018 Harlem Comedy Festival.