Things to Do in Asheville This Weekend -- January 18 - 20, 2019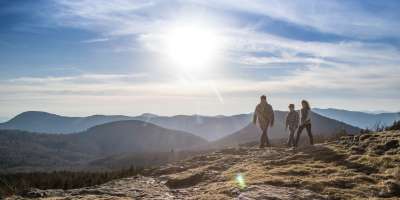 There are some great new ways to experience Asheville this winter. When exploring the area this weekend, you can be among the first to visit the newly opened French Broad Chocolate Factory in the RAMP (River Arts Makers Place) Studios. They offer daily tours, a chocolate museum and a view of their sweet bean-to-bar treats being made. You can also venture to the South Slope neighborhood where Asheville's first all-cider bar has expanded to a second location. Urban Orchard offers more than 80 cider styles, features 30 taps and serves up an Old Europe vibe. Try a sip from their chili series, lagered series or their line of fruit and herb ciders. Looking for other new experiences in Asheville this year? Here's what you can't miss in 2019!
Don't go into hibernation this winter! Get outside to enjoy the trails, crisp air, and stunning vistas that go on for miles. Here are the top 5 winter hikes we recommend. More of the indoors type? Check out our roundup of 7 Cozy Ways to Experience Asheville.
Planning a trip? Check out ExploreAsheville.com's easy-to-use search feature to check room availability and rates at Asheville area accommodations, and check events for any date by using our online events calendar search.
Here's a look at what you can enjoy this weekend in and around Asheville.
Live Entertainment
Steep Canyon Rangers with Hiss Golden Messenger
Saturday, Jan. 19, 8:00 p.m.
US Cellular Center
The Steep Canyon Rangers return to the ExploreAsheville.com Arena Stage. Riding the heels of their most recent album "Out in the Open," the Steep Canyon Rangers affirm their place as one of the most versatile bands in contemporary American music.
Appetite for Destruction - The Greatest Guns N' Roses Tribute on Earth
Friday, Jan. 18, 9:00 p.m.
The Orange Peel
The true blue, time tested, road-rashed, mother of all Guns N' Roses tributes, NotQuiteGNR (or Appetite For Destruction), is the only full time touring GNR tribute. Starting originally in 2001, they never cease to amaze fellow Guns N Roses enthusiasts with spot on authenticity. Having always been made up of truly incredible musicians, even "tribute band naysayers" leave completely entertained.
Reasonably Priced Babies
Saturday, Jan. 19, 7:00 p.m. - 10:00 p.m.
Ambrose West
This improve comedy troupe was called into being by the Universal Mind to spread joy, odd noises and viral goofiness for the betterment of man.
Masterworks 4: Offenbach, Saint-Saëns, Poulenc, Berlioz
Saturday, Jan. 19, 8:00 p.m.
Thomas Wolfe Auditorium
Vive la France! The Asheville Symphony presents Masterworks 4, which celebrates the work of four very distinct French composers. Offenbach's Overture to Gaîté Parisienne, inspired by the amorous high spirits of the City of Lights, sets the scene. Cellist Daniel Kaler, winner of the Payne Prize, dazzles with Saint-Saëns' Cello Concerto. Then, the Asheville Symphony Chorus takes the stage to present Poulenc's delightful Gloria, and the program closes with Berlioz's grandiose La Marseillaise. 
Nunsense-A-Men
Friday - Saturday, Jan. 18 - 19, 7:30 p.m. & Sunday, Jan. 20, 2:30 p.m.
Asheville Community Theatre
When the Little Sisters of Hoboken – comprised of a former circus performer, a wannabe ballerina, a streetwise nun, a sister that's lost her mind, and an overly ambitious second in command – discover that their cook, Sister Julia Child of God has poisoned 52 of their sisters, they must raise money to bury their dead. Think Mrs. Doubtfire goes to the convent for this delightfully funny and heartfelt show.
Arts & Crafts
Ready, Set, Throw: A One-Night Pottery Class
Friday, Jan. 18, 7:00 p.m. - 9:00 p.m.
Odyssey Center for Ceramic Arts
Ever wanted to try your hand at the pottery wheel? Have you always wanted to learn to throw but you're not sure if you want to commit to an 8-week class? Even if you've never touched clay before, our highly skilled staff will guide you through the entire process. It's the perfect opportunity to get creative and have fun! All ages and skill levels are welcome.
Crafty Historian: Mandala Sand Art
Saturday, Jan. 19, 10:00 a.m. - 12:30 p.m.
Smith McDowell House Museum
Learn how to make a Sand Mandala. The process includes using colored sand on a prepared surface to make a beautiful mandala design. Children's mandalas are easy to color or decorate and will feature concentric circles with sunburst, flower or geometric shapes. Best for youngsters who can manage small details and patience. Younger crafters may have a parent willing to help them or may be offered a mandala coloring sheet as an alternative.
Food & Wine
Free Wine Tasting - All Star Italians
Saturday, Jan. 19, 2:00 p.m. - 5:00 p.m.
Table Wine
Like of love Italian wines? If you answered yes, head to Table Wine this Saturday for a free wine tasting featuring an all-star cast of Italian wines.
Saturday, Jan. 19, 4:00 p.m. - 7:00 p.m.
Ofri's Home Cooking
Celebrate the flavors of Thailand. Get to know the special aromatic ingredients that contribute to the unique flavor of Thai food. You'll learn how to make Green papaya salad (Som Tam), Chicken basil (Pad ka prao) and finish w Sticky coconut rice w mango. The dishes are all gluten free and can be vegan upon request at time of booking.
Wines of Spain - Free Tasting
Saturday, Jan. 19, 2:00 p.m. - 5:00 p.m.
Margaret and Maxwell
Spain offers a wide range of grape varietals not often found in other parts of the world. This tasting will cover regions throughout Spain.