Things to Do in Asheville This Weekend — January 17 - 19, 2020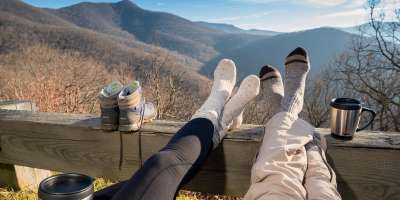 Enjoy multiple nights of comedy, music, and performance art at venues all across Asheville this weekend. Also, take advantage of winter specials like the annual Winter at Biltmore (now underway), which provides visitor with the lowest admission rates of the year.
Explore our at-a-glance look at top winter events in Asheville. Get inspiration for your January getaway with our Winter Vacation Itinerary, which offers ideas for indoor and outdoor adventure. Also check out our guide to Asheville 2020 and discover what's new and noteworthy this year.
Planning your trip to Asheville? Utilize our easy-to-use search to check room availability and rates at Asheville area accommodations, and be sure to check out the special deals and packages. And, you can check events for any date by using our events calendar search.
Here's a look at what you can enjoy this weekend in and around Asheville.
Winter at Biltmore
Daily, 9:00 a.m. – 5:00 p.m.
In the early months of the year, Biltmore offers a peaceful retreat following the hectic pace of the holidays. Discover the great indoors in Biltmore House, America's largest home, and explore the Victorian conservatory. Winter specials include lowest admission of the year.
Two Nights of LaZoom Comedy:
Scott Eason
Friday, January 17, 8:30 p.m. – 11:00 p.m.
LaZoom Room – Downtown Asheville
Being from Huntsville, Alabama, Scott Eason knows what you're thinking…and he's here to shatter the Southern stereotype. Not your typical good ol' boy, he brings a new sensibility to Southern comedy. He's been featured on SiriusXM and the Comedy Central Roast Battle Podcast.
Carter Deems
Saturday, January 18, 9:00 p.m. – 11:00 p.m.
LaZoom Room – Downtown Asheville
Carter Deems is a standup comedian, writer and friendly battle rapper originally from the town of Cartersville, Georgia (for real). He is a cast member on the upcoming Season 14 of the MTV show Wild 'n Out and his YouTube videos have gained millions of views.
Public Star Gaze
Friday, January 17,6:30 p.m.
Lookout Observatory – UNC Asheville Campus
Join the Astronomy Club of Asheville for a night under the stars! This star gazing event is free and open to the public, but pre-registration is required to attend.
3rd Annual Waynesville Chili Cook-Off Stroll
Saturday, January 18, 12:00 p.m. – 4:00 p.m.
Multiple Locations
Located 30 miles west of Asheville, the Smoky Mountain town of Waynesville is hosting a town-wide chili cook-off. Visit the three downtown districts of Main Street, Hazelwood, and Frog level to sample chili at multiple shops and cast votes for your favorite. Shuttle service will be provided.
Mountain Murders: A True Crime Podcast Live Show
Saturday, January 18, 5:00 p.m. – 7:30 p.m.
Fleetwood's – West Asheville
Join the Western North Carolina based podcasters from Mountain Murders for an afternoon of true crime, comedy, booze and live audience participation! Your hosts will discuss truly terrifying and true Appalachian crime cases during this live podcast.
Brilliant Traces
Friday - Sunday, January 17 - 19, various times
Asheville Community Theatre – Downtown Asheville
Catch a show at our local theatre. Brilliant Traces is compelling story about two people, Rosannah and Henry, who have both suffered from a series of unfortunate circumstances throughout their lives. One night, after traveling for many days with little to no rest, Rosannah mysteriously shows up on Henry's doorstep, in Alaska. As Henry and Rosannah begin to open up to one another, they come to the realization that they both have had serious and emotionally complicated lives.
Downton Abbey: The Exhibition
Now through April 7, 2020, 9:00 a.m. – 5:00 p.m.
Biltmore
Fans of the popular the global hit television series will love the new exhibit at Biltmore, which offers never-before seen interactive elements that connect you to your favorite characters, as well as the fashions, locations, and historic events of the time period. Showcased in two estate locations, Downton Abbey: The Exhibition pairs seamlessly with the real-life story of the Vanderbilt family. The Exhibition is included with daytime admission, Candlelight Christmas Evenings admission, or an overnight stay that includes daytime admission.
Nashville in Asheville: Writers in the Round
Sunday, January 19, 7:30 p.m.
Isis Restaurant and Music Hall – West Asheville
Nashville singer/songwriters Natascha Myers, Nicole Miller, & Paige Rose bring the world-renowned Bluebird Café to ISIS Music Hall with an intimate, writers-in-the-round performance.
Disney's Frozen Jr.
Friday - Sunday, January 17- 19, various times
The Magnetic Theatre – River Arts District
Hot on the heels of the Frozen 2 film release comes an enchanting modern classic based on the 2018 Broadway musical. Performed by Broadway Jr. stars, this performance brings Elsa, Anna, and the magical land of Arendelle to life, onstage. The show features all of the memorable songs from the animated film, with music and lyrics by Kristen Anderson-Lopez and Robert Lopez, plus five new songs written for the Broadway production. A story of true love and acceptance between sisters, Frozen JR. expands upon the emotional relationship and journey between Princesses Anna and Elsa.
Weekend Wind Down
Sunday, January 19, 11:00 a.m. – 12:15 p.m.
Inner Light Journeys – Downtown Asheville
Relax, unwind, and meditate in your own terms with group light assisted meditation. This session may help reduce stress and anxiety, improve sleep, boost creativity and feeling of joy.