Things to Do in Asheville This Weekend -- January 11 - 13, 2019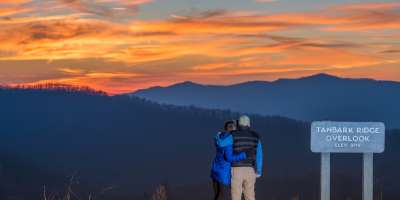 A number of new places have just opened their doors in Asheville, and this weekend you can be among the first to try them out. Chef Katie Button, the mastermind behind the incredible dishes at Cúrate and Nightbell, has opened Button & Co. Bagels, the newest bagel and sandwich shop in downtown. Also make plans to dine at Benne on Eagle, which serves up traditional Appalachian and Southern fare with dishes like Braised Rabbit, Fried Catfish and Waffles and Crispy Quail with Hot Water Cornbread. This is the newest venture by five-time James Beard semifinalist Chef John Fleer. Looking for other new experiences in Asheville this year? Here's what you can't miss in 2019!
This weekend might get a little chilly, but get outdoors anyway! Winter is the perfect time to take a hike to enjoy crisp air and stunning vistas that go on for miles. Here are the top 5 winter hikes we recommend. Exercise caution as there may be some slippery areas on the trails and rocks. If you would rather stick with cozy indoor activities, then check out our Winter Vacation Itinerary for inspiration.
Planning a trip? Use our easy-to-use search feature to check room availability and rates at Asheville area accommodations, and check events for any date by using our online events calendar search.
Here's a look at what you can enjoy this weekend in and around Asheville.
Daily, 9:00 a.m. - 5:00 p.m.
In the early months of the year, Biltmore offers a peaceful retreat following the hectic pace of the holidays. Discover the great indoors in Biltmore House, America's largest home, and explore the warmest room in winter at the Victorian conservatory Winter specials include lowest admission of the year.
Live Entertainment
Friday, Jan. 11 - Sunday, Jan. 13
Omni Grove Park Inn
Bring your dancing shoes and hit the floor for a weekend of great Big Band hits. This is a "don't miss" weekend for those who treasure the Big Band era of music and dance. 
Friday, Jan. 11, 8:30 p.m.
Asheville Music Hall
On their fifth full-length, Watching It All Fall Apart, Fruition transform pain and heartache into something truly glorious. With their songwriting sharper and more nuanced than ever before—and their sonic palette more daringly expansive—the Portland, Oregon-based band's full-hearted intensity ultimately gives the album a transcendent power.
Saturday, Jan. 12, 8:00 p.m.
White Horse Black Mountain
Guitars meet NASCAR when Kyle Petty, son of legendary driver Richard Petty, shows off the musical side of his personality alongside singer-songwriter David Childers at the White Horse Black Mountain.
Saturday, Jan. 12, 2:00 p.m. - 4:00 p.m.
Diane Wortham Theatre
As a multiple award-winning performance group described by UK Express as "Cirque du Soleil with a fistful of grit," A Simple Space pushes the limits of performance art by defying gravity as they are tossed weightlessly through the air.
Saturday Jan. 12, 7:30 p.m.
Isis Restaurant and Music Hall
Isis is proud to welcome back the "King of Newgrass" – Sam Bush and his band. This is a standing show with limited seating.
Sunday Jan. 13, 5:00 p.m. - 6:15 p.m.
UNCA - Lipinsky Hall
International banjo-fiddle duo Newberry & Verch join the Blue Ridge Orchestra Chamber Strings for unforgettable revelry in January! Also featuring Asheville musicians Franklin Keel, Megan McConnell, Rebecca O'Quinn, Alex Watson, and Ryan Kijanka, the eclectic program ranges from Vivaldi to Kenny Loggins.
Arts & Crafts
Friday - Saturday Jan. 11 - 12, 10:00 a.m. - 4:00 p.m.
Flow Gallery - Downtown Marshall
Jocelyn Mosser and sister Corina Dross - the dynamic duo behind Abacus Corvus - began creating limited calendars in 2012. Beginning in 2017, they began to pair images and words (small spells) to serve as focal points for people to use to amplify their own healing and magic in the world.  The 2019 calendar, Wild Awake, is the third calendar of small spells.  The sisters both have a lifelong commitment to healing, and draw on the same sensitivities and attunement they use in their healing practices when they make their art. This show will feature giclee prints of the twelve works used in the making of the calendar. This is the final weekend of the show.
Sunday Jan. 13, 12:00 p.m. - 3:00 p.m.
The Block off biltmore
Asheville's newest downtown market is held every 2nd and 3rd Sunday of the month. Discover creative local makers, herbals and CBD, handmade pottery, gem stones, culinary herbs, tea and cacao. The BLOCK bar will be serving signature NOHM elixirs as well as classic Sunday cocktails.