Things to Do in Asheville This Weekend — January 10 - 12, 2020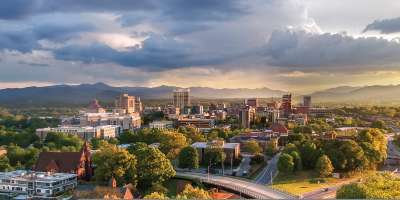 This weekend warmer temperatures are in the forecast making this a great time explore the outdoors. Hike to see stunning unobstructed views that stretch for miles, go on a waterfall discovery mission, or simply stick the downtown streets filled with independent shops, galleries, tap rooms, and tasty restaurants.
Winter is Asheville's undiscovered season. It's a time to enjoy everything the city offers, but with fewer crowds. Get inspiration for your January getaway with our Winter Vacation Itinerary, which is chock-full of ideas for indoor and outdoor exploration. Also read our guide to Asheville 2020 and discover what's new and noteworthy this year.
Planning your trip to Asheville? Utilize our easy-to-use search to check room availability and rates at Asheville area accommodations, and be sure to check out the special deals and packages. And, you can check events for any date by using our events calendar search.
Here's a look at what you can enjoy this weekend in and around Asheville.
Fringe Fest Kickoff
Saturday, January 11, 7:00 p.m.  
Fleetwood's – West Asheville
In one week the Asheville Fringe Arts Festival will bring innovative theater, dance, spoken word and performance arts to multiple venues throughout town. This weekend get a first look at the performances including dance, installations, and music. Meet the artists and organizers and pick up a guide to the weeklong festival, which begins January 19.
Craft Conversation Series: Student Pecha Kucha
Friday, January 10, 6:30 p.m. – 8:30 p.m.
Center for Craft – Downtown Asheville
Listen and converse with students from Warren Wilson pursuing a Master of Arts in Critical Craft Studies during a public conversation about research and projects connected to craft studies. This is not a formal lecture; rather Pecha Kucha is a Japanese storytelling format with slides and brief commentary on each one. Presenters will share their work before opening the floor for discussion between presenters, and attendees. You'll also be among one of the first to see the newly opened galleries in the Center for Craft, with new exhibits that explore the future of craft. 
Pancake Apocalypse (a night of sketch comedy)
Saturday, January 11, 9:00 p.m. – 11:00 p.m.
LaZoom Room – Downtown Asheville
The pancake apocalypse is here so you butter run! See the antics of six comics during a night of sketch comedy at the LaZoom Room in downtown Asheville. Make it a day of laughter by booking a LaZoom comedy tour. Think SNL meets a history tour. These 90-minute tours run daily with a ten-minute break at Green Man Brewing. You can also BYOB!
Odyssey Co-op Gallery's Annual Seconds Sale
Saturday - Sunday, January 11 - 12, 11:00 a.m. – 5:00 p.m.
Odyssey Co-Op Gallery – River Arts District
Discover a handmade work of art at a great price during this special sale at Odyssey. This gallery includes the work of 25 local ceramicists who produce functional pottery as well as art. See artist demos and enjoy food and live music.
TreeRock Social Cider House 2nd Anniversary Party
Saturday, January 11, 6:00 p.m. – 11:00 p.m.
TreeRock Social Cider House – Biltmore Village
Attend a 2nd anniversary party and enjoy a selection of ciders, mead, beer and wine. Seeing as how we've reached the Twenties, the theme for the evening is the Roaring Twenties and will include a live swing jazz band. Also planned is a silent auction and delicious food from Cecilia's Kitchen, a north Asheville favorite, which serves Argentinian fare.
Abbey Road LIVE!
Saturday, January 11, 8:00 p.m.
The Orange Peel – Downtown Asheville
Hear the music of the Beatles performed live on stage. Abbey Road LIVE! is well known in the Southeast for their energetic concerts at clubs, theaters and festivals. This time, the focus will be on the kids. Expect fun classics such as "Octopus' Garden", "Yellow Submarine", and "Lucy In The Sky With Diamonds". The band often will take requests, and has often been known to invite kids on stage to sing along.
Downton Abbey: The Exhibition
Now through April 7, 2020, 9:00 a.m. – 5:00 p.m.
Biltmore
Fans of the popular the global hit television series will love the new exhibit at Biltmore, which offers never-before seen interactive elements that connect you to your favorite characters, as well as the fashions, locations, and historic events of the time period. Showcased in two estate locations, Downton Abbey: The Exhibition pairs seamlessly with the real-life story of the Vanderbilt family. The Exhibition is included with daytime admission, Candlelight Christmas Evenings admission, or an overnight stay that includes daytime admission.
3rd Annual Women in Music Series
Saturday & Sunday, January 11 & 12, 8:30 p.m. & 7:30 p.m. respectively
Isis Restaurant and Music Hall – West Asheville
Listen to the sounds six Asheville-based artists as they cover the works of iconic female artists and songwriters including Linda Rondstadt, Patty Griffin and North Carolina native Nina Simone. This two-night event sells out each year so secure your tickets early.
Disney's Frozen Jr.
Friday - Sunday, January 10 - 12, various times
The Magnetic Theatre – River Arts District
Hot on the heels of the Frozen 2 film release comes an enchanting modern classic based on the 2018 Broadway musical. Performed by Broadway Jr. stars, this performance brings Elsa, Anna, and the magical land of Arendelle to life, onstage. The show features all of the memorable songs from the animated film, with music and lyrics by Kristen Anderson-Lopez and Robert Lopez, plus five new songs written for the Broadway production. A story of true love and acceptance between sisters, Frozen JR. expands upon the emotional relationship and journey between Princesses Anna and Elsa.
Ice Dying Workshop
Friday - Sunday, January 10 - 12, various times
WAXON Batik and Dye Studio – West Asheville
Learn an incredible new way to use the dyes in fabric that result in beyond gorgeous pieces. Similar to tie-dyeing, this process involves melting ice cubes to dilute dye powders on fabric to create beautiful and complex designs. Bring your own material to dye or select from the studio's collection (they have plenty of options).