Things to Do in Asheville This Weekend — February 7 - 9, 2020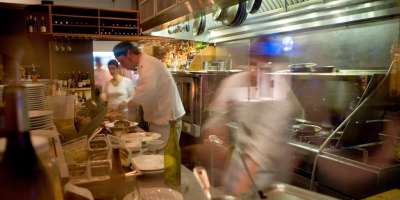 Asheville has a jam-packed weekend of special events in store for visitors including multiple nights of comedy, performance, art exhibits, and special tours. In addition to the guided hikes featured below you can also get outdoors and enjoy the mild winter weather with these 5 great winter hikes to enjoy spectacular unobstructed views.
Planning a trip to Asheville is easy. Utilize our easy-to-use search to check room availability and rates at Asheville area accommodations, and be sure to check out the special deals and packages. And, you can check events for any date by using our events calendar search.
Don't miss these great events happening this weekend!
Spring Awakening Art Show
Friday, February 7, 5:00 p.m. – 8:00 p.m.
Asheville Gallery of Art
See the work of three artists in a new gallery exhibit called "Spring Awakening," which runs throughout the month of February. Stop by the gallery on Friday evening for the special opening reception.
First Friday Dance Party
Friday, February 7, 8:00 p.m. – 11:00 p.m.
Highland Brewing Company
Kick-off the month at Highland with their First Friday Dance Party! A throwback DJ will hit you with classic tracks from the '90s and '00s as well as some deep cuts that will keep the party going. Get on the dance floor and show them what you can do! These parties are 21+, so please don't bring any young ones.
LaZoom Comedy: Andrew George
Friday, February 7, 8:00 p.m. – 10:00 p.m.
LaZoom Room
Andrew George a New York based comedian, actor, and writer. He spent his 20's working full time at a comedy club in exchange for stage time, but now he's in his 30's and he's hitting the road with his dumb jokes and wildly specific stories. You've seen him in the movie American Dirtbags, now streaming for free on Amazon Prime.
16th Annual Miniature Show Opening Reception
Friday, February 7, 5:00 p.m. – 7:00 p.m.
America Folk Art & Framing
Now in its sixteenth year, American Folk Art will present its Annual Miniature Show next month featuring 12 of the gallery's artists. With winter's chill taking hold during February, The Miniature Show, timed to align with Valentine's Day, is a much anticipated and heart-warming event. To be included, the artworks must be smaller than 9 x 7 inches. The challenge for the artists is to create a whole emotional world within that size limit.
A Taste of Downtown Asheville
Friday - Saturday, February 7-8, 3:00 p.m. – 6:00 p.m.
Taste Carolina Gourmet Food Tours
Take part in a spirited and delicious way to explore the city! You'll enjoy substantial bites and sips on this guided walking tour, sampling savory and sweet favorites, most paired with small drink pairings. This tour visits Asheville's hidden gems, including eclectic restaurants and bars, and specialty food stores. You'll also learn about the history of the city, the architecture, and the incredible culinary scene from your tour guide. By the end of this tour, you will feel like a local! Pre-registration is required.
The Fantasticks
Friday - Sunday, February 7-9, various times
Asheville Community Theatre
The Fantasticks is the longest-running musical in the world and with good reason: it's a timeless fable of love that manages to be nostalgic and universal at the same time and is punctuated by a series of catchy, memorable songs, many of which have become classics. "Try To Remember" a time when this romantic charmer wasn't enchanting audiences around the world!
Reverend Finster: Acoustic R.E.M. Tribute
Saturday, February 8, 7:30 p.m. – 9:30 p.m.
TreeRock Social Cider House
Head the iconic tunes for R.E.M. performed by Reverend Finster in an all acoustic tribute. This show features songs mostly from the earlier albums from the 80s and IRS years.
Bobcat Goldthwait & Dana Gould
Saturday, February 8, 7:30 p.m. – 10:00 p.m.
The Mothlight
Take part in one silly night as Bobcat Goldthwait and Dana Gould come together during a standup comedy event in West Asheville. Goldthwait is of Police Academy fame, and has since gained acclaim as the director of such dark comedies as World's Greatest Dad and God Bless America. Comparably impressive is the second comedic head, Dana Gould, who's penned multiple episodes of "The Simpsons" and created the IFC comedy/horror series "Stan Against Evil." The show will also be filmed and released later this year as a comedy special.
2020 Hunger Moon Hike
Saturday, February 8, 5:35 p.m. – 8:00 p.m.
Southern Appalachian Highlands Conservancy Community Farm
February's full moon is known as the "Hunger Moon" representing the time of year when food is scarce and hunting is arduous. Despite modern technology, food security and sustainable agriculture is still a problem for many individuals around the world. Join Southern Appalachian Highlands Conservancy's Community Farm Manager, Chris Link, in a discussion about food, their mission for community farming, and various environmental projects under the light of the Hunger Moon.
Historic Swannanoa Creek and Tunnel Hike
Saturday, February 8, 5:35 p.m. – 8:00 p.m.
Swannanoa Valley Museum and History Center
Get outdoors and explore the mountains with a guided hike from the Swannanoa Valley Museum. They'll lead this 4-mile difficult/strenuous winter hike along a historic path once used by wagons and stagecoaches bringing travelers up the mountain before the railroad was built. Though passenger train service ceased in the mid-1900s, the trains still run up and down the mountain several times a day transporting coal east and wood chips west. Hikers often view trains on the nearby tracks, and during the hike there is a good view of the eastern end of the Swannanoa Tunnel, the longest of the seven tunnels constructed up the Old Fort railroad grade. Along the way, hikers will also see the gravestones of two Civil War soldiers.
Jazzville: The Look of Love
Sunday, February 9, 6:00 p.m. – 7:30 p.m.
Isis Restaurant and Music Hall
Reserve your tickets now for Jazzville's "The Look of Love". This collection of love songs, which includes La Vie En Rose, Corcovado, and Besame Mucho will set the mood for you and your Valentine!