Things to Do in Asheville This Weekend -- February 23-25, 2018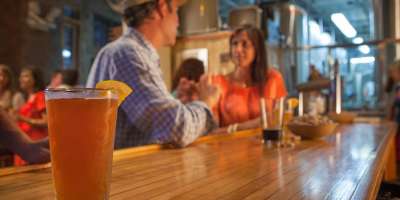 Beer City USA. It's a nickname Asheville earned and continues to embody. With nearly 40 breweries now in the Asheville area, the beer offerings are plentiful and varied. 
Among this weekend's happenings in Asheville is the Asheville Beer Expo, a chance for you to get a first-hand look at the local brewing scene.
Great local beer and cocktails are available at some of Asheville's newer nightlife spots. This weekend is a great time to try a new experience such as a cocktail bar with jazz, a Latin dancing club to a dueling piano bar.
What's more, temperatures have warmed into the mid-70s. Use our hiking guide to choose a trail that will help you enjoy the sunshine and nice weather.
Plan your trip to Asheville by utilizing our easy-to-use search to check room availability and rates at Asheville area accommodations. And, while you can check events for any date by using our events calendar search. 
Here's a look at what you can enjoy this weekend in Asheville:
AVL Beer Expo
Saturday (Feb. 24), 2-7 p.m.
Asheville Masonic Temple (80 Broadway Street)
What better place to learn about craft beer production than right here in Beer City USA? The AVL Beer Expo this Saturday (Feb. 24) at the Asheville Masonic Temple will showcase all elements of production: from raw ingredients to brewing to packaging and distribution. As you learn, you'll taste some of the area's best beers. Learn more about beer styles, get to know the people behind your favorite beers and dive into beer-centric topics with the craft beer creators. The Expo runs from 2-7 p.m. Tickets are $30 for general admission or $60 for VIP admission.
We've recently updated our list of Asheville's Beer Festivals, with newly announced dates for festivals and events in 2018!
Feel the energy of Asheville by enjoying a night out on the town. The city's late-night offerings include live music, dancing and tasty eats.
Among the new evening entertainment spots is Jargon – a cocktail lounge and eatery in West Asheville. Jargon features free live Jazz every Friday night beginning at 9 p.m. You'll love their signature cocktail known as The Ice Breaker, made with smoked-ice. The creative presentation is a real crowd pleaser.
Dance the night away in downtown Asheville at Polanco! Latin dancing is brought to you by LAVA Nights every Friday night. You'll hear music sets of Salsa, Bachata, Merengue, Reggaeton, Cumbia, Punta and Top 40. The fun starts at 10:30 p.m.
Next door to Polanco is Off the Wagon – a dueling piano bar. Get ready for a fun, high-energy evening with musicians who will impress you with their repertoire of thousands of songs. Sing along, laugh, and dance. Off the Wagon is open Wednesday through Sunday. Reservations are highly recommended for large groups on the weekend.
Take a look at these other great ideas for late night things to do in Asheville.
Friday through Sunday (Feb. 23-25)
Haywood Park Hotel, Asheville
Plunge into the mystery of prized ingredient the tuber melanosporum – known as the Perigord (Black Winter) Truffle. The Truffle is traditionally found in the deep woods of France, Italy and Spain but now is also cultivated in the United States. Taste truffled appetizers prepared by local chefs (such as Chef William Dissen of The Market Place), hear from leaders in the culinary field, and even witness a truffle dog in action. The three-day experience is based at the Haywood Park Hotel. Registration is required.
There is no single sound in the Asheville music scene. You'll hear artists representing just about every genre you can think of and this weekend is a great example.
A world-class button accordion player Sharon Shannon performs Saturday night at 8 p.m. at the Diana Wortham Theatre. She burst onto the scene 26 years ago which her debut album which still holds the record as the best-selling Irish traditional music album of all time.
Mia Rose embodies a folk/bluegrass sound that is outside the pop country mainstream. She takes the stage at the White Horse Black Mountain Friday night at 8 p.m.. In 2017, she won the Kerrville Folk Festival New Folk Competition and took second place at the Rocky Mountain Folks Festival Songwriter Showcase.  
On Friday night at 9 p.m. at the Sly Grog Lounge, multiple local underground hip hop artists celebrate the release of a collective EP. Dress in all black attire and enjoy the champagne.
And on Monday night at The Grey Eagle, an up-and-coming metal band from Arkansas rocks the stage as part of its tour of the Eastern United States. Pallbearer has received awards and accolades from the likes of NPR, The New York Times Magazine and Rolling Stone.