Things to Do in Asheville This Weekend — February 21 - 23, 2020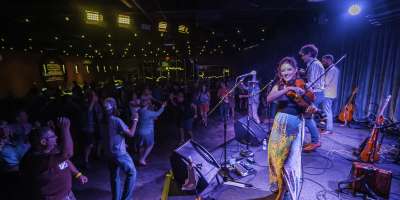 Get ready for a jam-packed weekend of events in Asheville. Across the city, enjoy live music, arts and crafts demonstrations, comedy shows, and, on Sunday, a festive Mardi Gras parade in the streets of downtown.
Asheville is experiencing a mild winter this year, and temperatures have remained above average. Take advantage by exploring the beautiful Blue Ridge Mountains, which have unobstructed views along many of the hiking trails this time of year. Check out our Asheville hiking guide for inspiration and ideas.
Planning a trip to Asheville is easy. Utilize our easy-to-use search to check room availability and rates at Asheville area accommodations, and be sure to check out the special deals and packages. And, you can check events for any date by using our events calendar search.
Don't miss these great events happening this weekend!
25th Annual Bluegrass First Class
Friday - Sunday, February 21 - 23, various times
Crowne Plaza Tennis and Golf Resort – Asheville
Get up close and personal with many local and nationally known Bluegrass performers during this three-day music festival. Performers include Ricky Skaggs and Kentucky Thunder, Rhonda Vincent & The Rage, Lonesome River Band, Seldom Scene and more.
Friday - Sunday, February 21 - 23, various times
Omni Grove Park Inn
Since 1913 the Grove Park Inn has been known as the mecca for Arts and Crafts enthusiasts, and since 1988 the Arts and Crafts Conference has been educating and entertaining those enthusiasts at every level -- from beginning collectors and bungalow owners to experienced auction and show veterans. Participate in the seminars, small group discussion and book club groups, join in on the Biltmore Industries and Grove Park Inn tours, and check out the multiple shows and demonstrations planned all weekend long.
Flow of Africa Opening Reception
Friday, February 21, 5:30 p.m. – 8:00 p.m.
Pink Dog Gallery, Turquoise Section
Attend the opening reception for Flow of Africa, an exhibition of paintings by Casimir Balibie Bationo (CasziB). Mr. Bationo is a contemporary artist from Burkina Faso, Africa. He now lives and works in Meknes, Morocco. Casimir travels constantly between Africa and Europe, which can be seen in his paintings.  It is a colorful and rhythmic atmosphere of faces full of shadow and contrasts. You can see Africa in action as well as some Western culture. It is an expression of the crossing of these cultures.
Salami and Wine Tasting
Friday, February 21, 5:30 p.m. – 6:30 p.m.
The Chop Shop Butchery
Learn and taste three different kinds of salami, expertly paired with three different types of wine! Salami is a type of cured sausage that's made by fermenting and air-drying meat, usually pork. At The Chop Shop Butchery, they make their own salami in-house, following styles and recipes inspired by various cuisines throughout the world while using locally and humanely-raised pork. During this one-hour, hands-on tasting, you'll get to learn all about how salami is made, the different styles and where they come from, and how each pair with different types of wine.
The Floyd Philharmonic
Friday, February 21, 9:00 p.m.
Isis Restaurant and Music Hall
Enjoy an evening with The Floyd Philharmonic performing 2 sets of like -the-recording Floyd! First set is a mix of your favorite classics followed by Dark Side of the Moon in its entirety
Frozen 2 Storytime and Dress Up
Saturday, February 22, 11:00 a.m. – 1:00 p.m.
Book Warehouse in the Asheville Outlets
Take the littles, dressed up as their favorite Frozen character, for a reading of Frozen 2. There will be Frozen coloring pages, a Frozen Scavenger Hunt with prizes, and Frozen themed snacks and juice boxes.
Gypsy Jazz Jam-Balaya
Saturday, February 22, 12:00 p.m.
Battery Park Book Exchange and Champagne Bar
Hear music from the best gypsy jazz band and players in Asheville during this all-day live music event. Six performances are planned starting at noon and through the evening hours. You can listen for free with a drink purchase (non-alcoholic options available), or upgrade your experience with reserved seating in the café and enjoy jambalaya and king cake.
Clan Destin Circus
Saturday, February 22, 7:00 p.m. – 9:00 p.m.
Ambrose West
This is a fun for all ages vaudeville style show featuring dozens of unique acts, this is a perfect show for really anyone wanting to experience some of the professional caliber circus performers that call Asheville their home.
LaZoom Comedy: Joe Zimmerman
Saturday, February 22, 9:00 p.m. – 11:00 p.m.
LaZoom Room
Catch a performance by stand-up comic Joe Zimmerman. His resume includes The Tonight Show, Conan, Nickelodeon, Last Comic Standing, and his own Comedy Central Half Hour. He's also appeared on The Late Late Show and John Oliver's New York Stand-Up Show, as well as performing at Montreal's prestigious Just for Laughs festival
Waterfall Hike at Grove Stone Quarry
Saturday, February 22, 9:00 a.m. - 1:00 p.m.
Swannanoa Valley Museum and History Center
Enjoy visiting the small, but beautiful, waterfall on Falls Branch, located within the boundaries of Grove Stone and Sand Quarry. This loop hike will ramble through parts of the quarry closed to the general public as well as portions of the quarry's nature preserve set up by their resource managers. The hike will be led by the museum's veteran hike leaders, who know the extensive history of the Swannanoa Valley, as well as Jason Conner, the quarry's environmental specialist, who has extensive knowledge of the land, topography, and geology of the valley.
Asheville Mardi Gras Parade
Sunday, February 23, 3:05 p.m.
South Slope Neighborhood - Downtown
Let the good times roll this weekend with Asheville's 13th annual Mardi Gras celebration! On Sunday, Krewes will parade through the streets of downtown in festive attire set to the theme of Superstition. Parade organizers emphasize that Asheville is not Bourbon Street so this is an alcohol-free, family friendly event. Everyone is welcome to march in the parade or cheer on the parade. Afterwards the Queens Ball will be held at the Funkatorium.