Things to Do in Asheville This Weekend -- February 14-17, 2019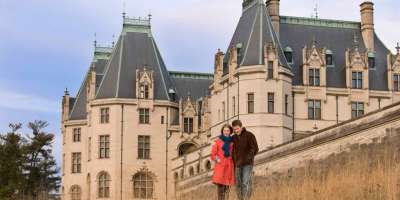 Love is in the air this week as Valentine's Day approaches. Asheville is the ideal place for couples to escape. See the events listed below to help you plan the perfect date night, and be sure to check out our special packages and deals for winter romance. Looking for something a bit different than your standard Valentine's Day experience, we have a list of the best place to celebrate romance in Asheville.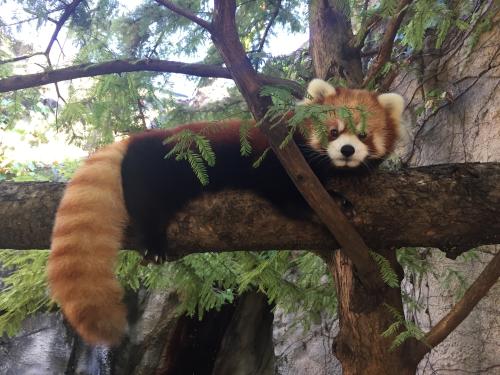 This weekend be among the first to catch a glimpse of the new prehistoric Appalachian panda exhibit at the Western North Carolina Nature Center. Featuring two red panda's name Leafa and Phoenix, this adorable couple are ancient ancestor of the endangered animal, the Bristol's Panda, which was once prevalent in the region. The male and female pair will be on display starting Feb. 14. Also check out the new entrance at the Nature Center, including other new exhibits and an events plaza.
The Winter at Biltmore event continues this week, and right now you can enjoy the lowest admission rates of the year. Their latest exhibit, A Vanderbilt House Party - The Gilded Age, is now on display. Using information gleaned from letters, photographs and documents in the Vanderbilt archives, take a glimpse back in time to when the Vanderbilts entertained family and friends for extended visits to Biltmore House. The Vanderbilts' clothing, re-created by Academy Award-winning costumier John Bright, will be featured along with a new audio-guided tour (free with all online ticket purchases) that uses innovative 360-degree sound techniques, to draw listeners into the preparations for a celebration in Biltmore House.
If you're planning a trip, then be sure to check out ExploreAsheville.com's easy-to-use search feature to find out room availability and rates at Asheville area accommodations, and check events for any date by using our online events calendar search.
Here's a look at what you can enjoy this weekend in and around Asheville.
Valentine's Day Events
Valentine's Special Le Vine Noir Wine Tasting in the Dark!
Thursday, Feb. 14, 3:00 p.m.
Conundrum
A special Valentine's experience that will leave you laughing and loving more than ever!  Much like the extraordinary Le Vine Noir, you will heightened your senses of taste, smell, hearing and touch, while you sip five types of wine in complete darkness.  Wine pours are paired with tasteful snacks, and there's a special Valentine's treat to celebrate Cupid's romance and connection.
Love Roux to the Moon & Back
Thursday, Feb. 14, 2019 – Saturday, Feb 16 5:00 p.m. – 9:00 p.m.
Roux – Hilton Asheville Biltmore Park
Show your sweetheart that you love them to the moon & back! Join Roux in Biltmore Park for "Love Roux to the Moon," a special Valentine's Day dinner prepared by South Asheville's famed chef Randy Dunn. This special three-course meal includes a Seared Scallop Crudo appetizer, Pumpkin Seed Crusted Seabass entree and Passion Fruit Crème Brûlée for dessert.
Thursday, Feb. 14, 5:00 p.m. – 8:00 p.m.
Hole Doughnuts
Hole Lotta Love will be feature three Valentine's themed doughnuts and live music. One of the flavors will be Persian Love Cake inspired (with pistachios, rose and cardamom). The other flavors are Cherry Amaretto and French Broad Chocolate Malt. Ashli Rose will be playing guitar and singing love songs!
LaZoom's Love Bus
Thursday, Feb. 14, 6:00 p.m. –9:30 p.m.
LaZoom Tours
Surprise your sweetie with LaZoom's Love Bus! Featuring live music, champagne, French Broad chocolate, Poppy Popcorn, and a bizarre comedy act at The Wedge at Foundation. This once in a lifetime tour happens only on Valentine's Day!
Infidelity, An Anti-Valentine's Day Tribute
Thursday, Feb. 14, 9:00 p.m.
The Grey Eagle Music Hall and Pub
Black Garter Revue is a Burlesque troupe co-produced by Nixxxy Darling, Gwen Sidious, and Seraphina Siren. Here to tantalize and tease for years to come.
Live Entertainment
Béla Fleck
Friday, Feb. 15, 2019 8:00 p.m. -10:00 p.m.
Diana Wortham Theatre
Béla Fleck is a banjo master who has performed alongside Appalachian sweetheart Dolly Parton, Randy Travis, Garth Brooks and The Oak Ridge Boys. With 15 Grammy-wins and 30 nominations (in more categories than any instrumentalist in history), Béla is a living legend.
Friday, Feb. 15 9:00 p.m. – 11:00 p.m.
Vintage Kava Tea House
Several local comedians will be coming together to provide you with an evening full of entertainment
Saturday, Feb. 16, 9:00 p.m.
The Grey Eagle Music Hall and Pub
Celebrating their 33rd Anniversary together, Atlanta-based folk rock act, Drivin N Cryin is coming to Asheville. With a gold record, 10 full-length albums, and a handful of EPs to their credit, the band still refuses to rest.
ARTS & CRAFTS
Arts & Crafts Workshop: Upcycled T-Shirt: Alabama Chanin Style
Friday, Feb. 15, 1:00 p.m. – 4:00 p.m.
Purple Crayon
In this fun and budget-friendly workshop, you'll learn how to turn old, worn-out or damaged t-shirts into something you'll love to wear again—maybe even more than you did originally! Fiber artist, Julie Bagamary, will show you how to create a unique stencil for your project first. Then, you'll use fabric paint to transfer your pattern onto your shirt. Finally, you'll reverse applique your design, by hand, using a simple embroidery stitch, and watch as your t-shirt transforms into a stylish "new" garment! No access to, or knowledge of, machine sewing necessary!
Friday, Feb. 15, 2019
ZaPow
A new group of Nationally Acclaimed artists come together for the first show of it's kind in Asheville. Twenty Artists from all over the country will be featured in this show. See new works by leading art toy makers.
Updated January 22, 2020