Things to Do in Asheville This Weekend — February 14 - 16, 2020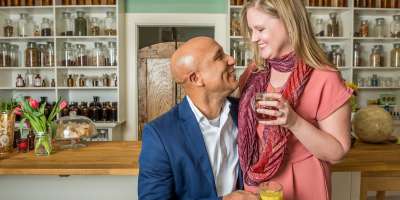 Fall in love with Asheville this weekend as we celebrate Valentine's Day with special events all weekend long. From food, to music, to a mass wedding – Asheville offers something for love birds and single folk alike.
Looking for something a bit different than your standard Valentine's Day experience, we have a list of the best place to celebrate romance in Asheville. Also check out our special packages and deals for winter romance.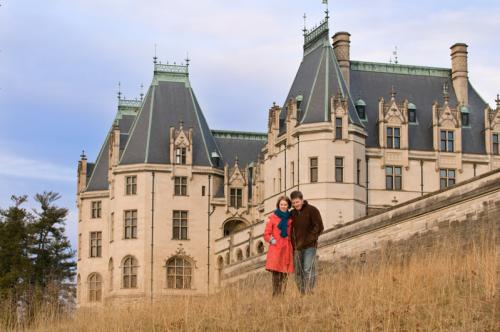 Take advantage of the lowest admission prices of the year as the Winter at Biltmore event continues this week, and right now you can enjoy the lowest admission rates of the year. Their latest exhibit celebrates Downton Abbey, is now on display. This immersive exhibition celebrates the global hit television series, offering never-before seen interactive elements that connect you to your favorite characters, as well as the fashions, locations, and historic events of the time period.
Planning a trip to Asheville is easy. Utilize our easy-to-use search to check room availability and rates at Asheville area accommodations, and be sure to check out the special deals and packages. And, you can check events for any date by using our events calendar search.
Don't miss these great events happening this weekend!
LEAF Global Arts Grand Opening Celebration
Friday, February 14, 6:00 p.m. – 9:00 p.m.
LEAF Global Arts – Downtown Asheville
One of Asheville's most beloved music festivals now has a brick and mortar location, and this Friday they open their doors for the first time. Take part in the opening celebration and enjoy powerful performances from Free Planet Radio, members of Toubab Krewe featuring music by Nex Millen and Adama Dembele, hip hop dance showcase by Otto Aquaboogy Vazquez & Goldilocks, and special surprises from New Orleans Legends, Dirty Dozen Brass Band!
Valentine's Day Foot Massage
Friday, February 14, 6:00 p.m. – 7:00 p.m.
Asheville Salt Cave
Looking for a memorable experience for your Valentine's date? Grab your lover, your bestie, or a family member and take a load off of the hardest working part of your body! Let one of the exquisite massage therapists at Asheville Salt Cave work all the tension out of your feet to help you get ready to take on the rest of your weekend with renewed energy. All while being bathed in the invigorating, negative ions and saturated salt air of a therapeutic salt cave.
Valentine's Comedy Special with Jessimae Peluso
Friday, February 14, 7:00 p.m. – 11:00 p.m.
The Funkatorium
See a comedy show by Jessimae Peluso, known for being the outspoken cast member on MTV's Girl Code. She went on to be featured on TBS' Deal With It, NBC's Last Call With Carson Daly, E!'s Chelsea Lately, Fox's World's Funniest Fails, AXS' Gotham Live, and Tru TV's Comedy Knockout, as well as multiple appearances on Comedy Central's @midnight and The High Court.
Ham Night at Archetype Brewing
Friday, February 14, 5:30 p.m. – 8:00 p.m.
Archetype Brewing
Taste one of the most sought-after culinary delicacies this Valentine's Day: Jamón Ibérico. The Cinco Jotas ham, hailing from the Iberian Peninsula of Spain, is from 100% pure Ibérico pigs, who have lived free-range to feast on natural acorns, giving it a distinct flavor that pairs beautifully with Archetype's complex, delicate, high-end beers. The ham will be hand-cut that evening by Chop Shop, served with a menu of delicious tapas by the culinary genius of Smash Events and Archetype Brewing will have an exclusive tap + wine list available that evening, with specialty wine offerings and aged beers pulled from our cellar for the special occasion. You'll also enjoy live music by The Gypsyswingers during this ticketed event.
Kat Williams - A Spell On You
Friday - Saturday, February 7-8, 3:00 p.m. – 6:00 p.m.
Isis Restaurant and Music Hall
Catch a special Valentine's performance by Emmy-nominated Kat Williams "Asheville's Queen of Soul." put "A Spell On You" with her heartfelt rendition of soulful songs for an unforgettable evening of Jazz & Blues. Kitchen 743 is creating a special Valentine Menu for lovers & friends.
Valentine's Day Partner Yoga
Friday, February 14, 6:00 p.m. – 8:00 p.m.
West Asheville Yoga Studio
Explore the world of Thai Yoga massage along with a friend, partner or loved one. This couples class will put a fun new twist on familiar poses during a floor-based practice that combines rhythmic massage, acupressure, and yoga. This powerful and ancient practice stimulates healing and balances the energy within the body. The practice is done fully clothed, and no experience is needed.
Valentine's Mass Wedding
Friday, February 14, 8:00 p.m.
Fleetwood's
Get hitched at Fleetwood's this Friday during their 3rd annual Mass Wedding. The wedding package includes: A mass ceremony conducted by a local comedian, a Fleetwood's marriage certificate (not legally binding), blinking wedding rings and wedding reception with a Champagne toast and DJ dance party to follow until 2:00 a.m. Everyone is welcome to view the ceremony and enjoy the festivities and "wedding reception" for free.
Asheville Celtic Festival
Saturday, February 15, 10:00 a.m. – 10:00 p.m.
Western North Carolina Ag Center – David Center
Celebrate the Celtic Spirit of the Seven Nations at this special indoor festival. Participate in entertaining battles and performances, learn about Celtic history and traditions, listen to live music, and enjoy traditional foods. Multiple vendors will be on site selling crafts, kilts, and other Celtic wares.
Umphrey's McGee
Saturday, February 8, 5:35 p.m. – 8:00 p.m.
Harrah's Cherokee Center
With over 2,400 gigs and 5 million tracks sold, Umphrey's McGee, now in their 21st year, have enjoyed countless milestones and show no signs of slowing down anytime soon. Band members know just how to communicate with each other on stage and in the studio. A call of progressive guitar wizardry might elicit a response of soft acoustic balladry, or a funk groove could be answered by explosive percussion. At any moment, heavy guitars can give way to heavier blues as the boys uncover the elusive nexus between jaw-dropping instrumental virtuosity and airtight songcraft.
LaZoom Comedy: Gilbert Lawand
Friday & Saturday, February 14 & 15, 9:00 p.m. – 11:00 p.m.
LaZoom Room
Catch one of two performances by stand-up comic Gilbert Lawland this weekend. He performs all over the New York City area at some of the best shows such as Night Train, the Knitting Factory, and Bar Matchless as well as comedy clubs like Caroline's, Gotham, New York Comedy Club, and the Creek and the Cave. He also produces the annual Red Clay Comedy Festival which takes place in Atlanta every September. He's performing both Friday and Saturday nights.
*Assembly Required: Asheville Designer Toy Expo
Saturday & Sunday, February 15 & 16, 11:00 a.m. - 4:00 p.m.
Highland Brewing Company
*Assembly Required is the premiere Southeast destination for designer, bootleg and art toy artists and collectors. With molding, and production techniques, designer toy artists echo the production methods of traditional toy manufacturers. Refining inspiration from a variety of underground and subcultural elements, *Assembly Required honors this pop surrealistic art movement, as the melting pot of artistic expression that it is.
Twisted Circus
Sunday, February 16, 8:00 p.m.
The Odditorium
Join a traveling danger show as they burn, slice and electrocute their way across America. They have a lot to give, and they're practically dying to show it to you. Get ready for an evening of knife throwing, sword swallowing, tap dancing, whip cracking and tassel twirling fun at Odd World Danger Show! With performances by Romeo the Dapper Dare Devil, Kita St Cyr, La Reine The Thrill, and Graham Cracker Stockdale.