Things to do in Asheville This Weekend -- December 8-10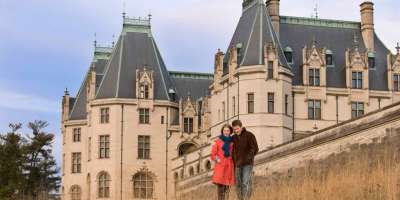 While Asheville is well known for its thriving downtown with art and music, and the elegant Biltmore Estate, a collection of local communities and neighborhoods help to shape the city's character.
As you explore the Asheville area this weekend, consider also branching out into these intriguing districts and towns. Visit north Asheville's Montford Historic District, one of the largest historic districts in the state. Head to the rolling hills of the Leicester community for wine and artisan crafts. Experience farm freshness in the agrarian community of Fairview. Or, tap your toes to live music in Black Mountain, which TripAdvisor readers have called America's Prettiest Small Town.
With so much going on in these communities and in Asheville, don't miss your chance to experience all the holiday season in the mountains had to offer. Browse accommodation rates and availability with our easy-to-use search feature.
Here are ideas for great things to do this weekend:
Saturday (Dec. 9), 1-5 p.m.
Montford Historic District, Asheville
Explore the lovingly-restored homes in the north Asheville historic district of Montford. Montford Historic District will showcase 11 homes during the Holiday Tour of Homes. This is a self-guided tour, offering you the ability to truly enjoy these architectural gems. Enjoy festive treats along the way. Tickets are $25. Purchase your ticket at the Asheville Shop at the Asheville Visitor Center (36 Montford Ave.). Your ticket comes with a full-color Montford Holiday of Tour of Homes keepsake booklet with a directional map, photographs and details on the homes.
Saturday (Dec. 9), 12-5 p.m.
Addison Farms Vineyard, Leicester
*Please note: This event has been canceled due to inclement weather.
Enjoy a local holiday tradition of handmade artisan crafts and wine! A Handcrafted Christmas will feature local artists and farms. The host, Addison Farms Vineyard will offer a complimentary wine tasting or glass of wine as part of admission. Admission is $10 at the door. All the funds raised (along with a $500 match from Addison Farms) will go to Southern Appalachian Highlands Conservancy (SAHC) – a local nonprofit land trust that has partnered with local families to preserve their family farms and the scenic mountains.
From top-notch cheeseburgers to tantalizing tapas to fresh-baked pie flights, there are some exciting things cooking in the Asheville dining scene! This is a great weekend to explore one of the many new restaurants in town. Here's a round up of 10 of the hottest new places to eat and drink in Asheville. On this list, Little Jumbo, a cocktail bar just outside of the Montford Neighborhood, just celebrated its grand opening on Tuesday.
Saturday and Sunday (Dec. 9-10), 1-4 p.m.
Hickory Nut Gap Farm, Fairview
Meet Santa down on the farm! Hickory Nut Gap Farm will have hot apple cider, hot chocolate, hot coffee and s'mores to roast on an open fire during the Christmas on the Farm event. The kids will also enjoy Holiday Hay Rides and Holiday Horse Rides (require admission). The rides are weather permitting. The event is free to attend.
Cole Vosbury, a top 5 finsher on NBC's The Voice (Season 5) performs with singer/songwriter Amanda June on Friday at 8 p.m. at Pisgah Brewing Company in Black Mountain. Cole's soulful gravelly voice blends well with Amanda's smooth and sweet sound. They are known as the "The Lovers" because they are lovers of music, art and each other.
On Friday night at 9:30 p.m. at Asheville Music Hall, Enter the Earth Gem Shop in Asheville presents the 16th annual Annual Christmas Party and Benefit for the Leaf Love Campaign (Leaf Community Arts). The concert will feature blues, funk, rock and other musical genres. Bands scheduled to perform include Roosevelt Collier, Soule Monde and the Josh Phillips Big Bands. Tickets are $17 in advance or $20 at the door.
On Saturday and Sunday at 3 p.m., The Blue Ridge Orchestra presents BRO Revels 2017, a holiday mix of classical and contemporary music. The concert will feature dances from Tchaikovsky's Nutcracker, Carol of the Bells and a sing-along of beloved carols. Tickets are $15. It is free to attend for children ages 6 and under.
And, North Carolina's Longest Running Shakespeare Festival, The Montford Park Players, perform A Christmas Carol in the outdoor Hazel Robinson Amphitheatre. Before each show, enjoy the "A Day with Dickens" Festival. The festival and show is every Saturday and Sunday through December 17. The festival begins at 3 p.m. and the show begins at 5 p.m. Both are free to attend.
Photo of Montford Holiday Tour of Homes provided by Rita Yerby. Photos in Handcrafted Christmas collage courtesy of Dianne Frisbee (photos showing work by Martha Johnson, Deanna Lynch, Frank Barbara and Jessica Sanchez).