Things to Do in Asheville This Weekend -- December 7-9, 2018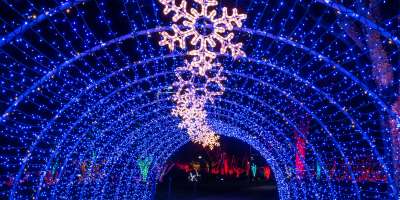 With December here, feel the holiday magic in Asheville! There are so many ways you can celebrate the season this week. Enjoy the rich traditions taking place around the city, including ongoing events such as Christmas at Biltmore, the 2018 National Gingerbread Competition Display at The Omni Grove Park Inn, the twinkling Winter Lights display at the North Carolina Arboretum, the Lake Julian Festival of Lights and the Jingle Bell Trolley Train Ride.
Asheville offers so many ways to get into the holiday spirit. Learn more about this season's festivities with our roundup of 8 ways Asheville sparkles for the holidays. And, see all the lights thanks to our guide to the top 8 places to see the lights in Asheville.
Don't miss your chance to experience this joyful time of year! Use our easy-to-use search feature to check room availability and rates at Asheville area accommodations, and check events for any date by using our online events calendar search.
Here's a look at what you can enjoy this weekend in and around Asheville:
Now through January 6, 2019
Biltmore, Asheville
It's a holiday tradition that dates back more than 120 years. During the Christmas at Biltmore celebration, Biltmore transforms with elegant and stunning decorations that include more than 100 hand-decorated Christmas trees. Among the most beautiful trees is the 35-foot Fraser Fir laden with ornaments and wrapped packages that serves as the centerpiece in the grand Banquet Hall. The Conservatory in the Walled Garden is filled with fresh poinsettias. And, 7,000 globe-shaped ornaments hang from the ceiling of Biltmore Winery, America's most visited winery. A daytime visit to Christmas at Biltmore is included in your admission.
In the evenings, Biltmore glows during Candlelight Christmas Evenings with thousands of twinkling lights and dozens of roaring fireplaces. Step back in time and experience the estate much like the Vanderbilts did during their first Christmas Eve spent at Biltmore in 1895. As you stroll into the estate past luminaries that line the walkway, stop to see the 55-foot Norway spruce sparkling on the front lawn. Candlelight Christmas Evenings do require a reservation and separate admission.
For more information on the daytime and evening celebrations, see our guide to Christmas at Biltmore.  
Now through Dec. 31, 6 p.m. to 10 p.m. (Daily)
North Carolina Arboretum, Asheville
Winter Lights at the North Carolina Arboretum is arguably Asheville's brightest holiday tradition! More than half a million lights will be on display as part of this self-guided walking tour through the nationally-recognized gardens. Transportation from downtown and Biltmore Village is available every Thursday through Saturday with a special trolley ticket. Learn more by checking out our guide to Winter Lights at the North Carolina Arboretum.
Holiday Shopping
Asheville has just been named one of the top places to shop local in the United States! Discover truly special and unique gifts in Asheville for everyone on your list. Check out Asheville's shopping districts or these seasonal shopping experiences: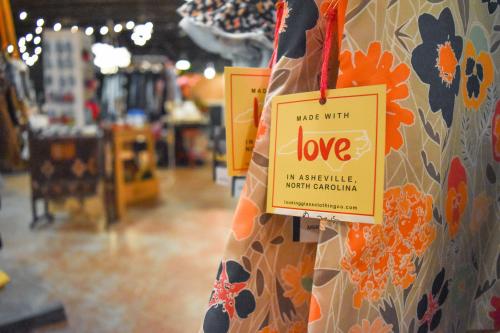 Show & Tell Holiday Pop Up Shop
Now through December 19, 10:00 a.m. – 8:00 p.m. daily
Asheville Masonic Temple, Downtown Asheville
Featuring some of the area's best in handmade and vintage, this pop up shop has curated goods from more than 125 local & indie makers and designers. Shop vintage wares including clothing, jewelry, decor, and greeting cards. 
2nd Annual Holiday Mingle & Jingle Local Craft Fair
Saturday (Dec. 8), 10:00 a.m. – 4:00 p.m.
The Grey Eagle Music Hall, Asheville
Shop an assortment of handmade goods, arts and crafts from local vendors. The in-house restaurant will be serving food and drink, and festive holiday music is planned to help set the mood while you shop.
Holiday Market & Open House
Saturday (Dec. 8), 12:00 p.m. – 5:00 p.m.
Refinery Creator Space/Open Hearts Arts Center, Asheville 
Stop by the Refinery Creator Space and Open Hearts Art Center for their annual holiday market. You'll be able to meet artists in their studios, shop for handmade goods, enjoy seasonal beverages and tour two new exhibitions in the galleries. Stop by Majik Studio to participate in the Make & Take event, where you can learn how to craft your own handmade holiday gifts.
Holiday Sip and Shop
Friday and Saturday (Dec. 7-8), 10:00 a.m. – 5:30 p.m.
Grovewood Gallery, Asheville
Enjoy complimentary wine, warm cider and cookies while shopping for unique gift items, including wooden bowls and utensils, ceramic tableware, blown glass, fine jewelry, hand-woven scarves and letterpress greeting cards.
Dec. 7 – Dec. 25, 11:00 a.m. to 8 p.m.
Asheville Outlets
Every family who visits Santa at the Asheville Outlets will receive two free 4"x6" Santa photo prints and a digital download of a single image. Additional photos and Christmas merchandise are available for purchase.
23rd Annual Montford Holiday Tour of Homes
Saturday (Dec. 8), 1-5:00 p.m.
Montford Historic District, Asheville
From classic Victorians to eclectic abodes filled with holiday flair, explore the homes of Asheville's beautiful Montford neighborhood. Ten homes are on the self-guided tour this year. See a list of the homes by visiting the Montford Holiday Tour of Homes web site.
Live Music and Performances
Asheville is alive with music every night of the week. See our live music calendar for a full list of performances. Here are some highlights of the live music and theater this weekend:
Appalachian Christmas Carol
Friday and Saturday (Dec. 7-8), 5:30-8 p.m.
Vance Birthplace State Historic Site, Weavervillle
This Christmas season the Vance Birthplace is partnering with the American Myth Center to present one of the greatest Christmas stories ever told, Charles Dickens' A Christmas Carol, but with Zebulon Vance smack dab in the middle. Through the magic of toy and shadow theatre—the ghosts of Christmas past, present, and future will lead Zebulon in an exploration of the life of Venus, an enslaved woman who lives on the Vance property. Visitors will go on an extraordinary and illuminating journey through the entire site.
Enter the Earth 17th Annual Xmas Party
Friday (Dec. 7), 9:30 p.m.
Asheville Music Hall, Downtown Asheville
Get ready to dance all night to the sounds of New Orleans funk, psychedelic ambience, and an instrumental organ trio – all under the same roof! Featuring Slim Wednesday with Jojo Hermann of WSP, Kalu, and the Electric Joint & JBOT.
Evening with Sara Potenza
Friday (Dec. 7), 7 p.m.
Isis Music Hall, West Asheville
Hailing from Nashville, Sara sings the blues and roots rock n roll music. She was a featured contestant on season 8 of the Voice, and Rolling Stone said, "Potenza is to the Blues what Adele is to pop."
Joshua Messick, Hammered Dulcimer Christmas CD Release
Friday (Dec. 7), 8 p.m.
White Horse Black Mountain
Joshua Messick has made his Hammered Dulcimer Christmas shows a not-to-be-missed holiday tradition. In addition to the sparkling tones of the dulcimer Messick's crystalline acoustic arrangements of seasonal favorites include the sounds of Celtic harp, strings, flute and percussion.
Asheville Jazz Orchestra
Saturday (Dec. 8), 8 p.m.
White Horse Black Mountain
The Asheville Jazz Orchestra presents their Home for the Holidays concert. Expect big band sounds mixed with seasonal favorites and arrangements.
Return to Bethlehem
Friday through Sunday (Dec. 7-9), 6:00 p.m. – 9:00 p.m.
Groce United Methodist Church
Return to Bethlehem is the longest running Nativity production in North Carolina. More than 50 volunteer actors, dozens of local musicians, live animals, and many more come together to tell the story of first century Bethlehem under Roman rule, which was the humble backdrop in which the baby Jesus was born.
Nuncrackers: The Nunsense Christmas Musical
Friday through Sunday (Dec. 7-9)
Hendersonville Community Theatre
The Nunsense sisters join with some of Mt. Saint Helens most talented students as they work to produce the first Christmas Special taped in the convent's new basement cable access television studio. With songs including "Twelve Days Prior to Christmas," "Santa Ain't Comin' to Our House," "We Three Kings of Orient Are Us" and "It's Better to Give than to Receive," this show is filled with typical Nunsense humor, your favorite holiday carols, and "Secret Santa" audience participation and an uproarious take on Tchaikovsky's Nutcracker ballet. Show times are 7:30 p.m. on Friday and Saturday, and 2 p.m. on Sunday.
Arts and Crafts
Potters' Holiday Pop-up
Saturday, Dec. 8, 10:00 a.m. – 4:00 p.m.
Club Eleven, Downtown Asheville
Explore the works of 20 ceramicists and find the perfect handmade pottery to put under the tree, or to add to your own collection. This event has been called a "once-in-a-lifetime opportunity for collectors" to purchase from some of the most renown and up and coming artists.
Tour Talent & Treats in Black Mountain
Friday, Dec. 7, 1:00 p.m. – 5:00 p.m.
Tour departs from the Asheville Visitor Center (36 Montford Avenue)
An art tour and hands-on activity combined, you'll visit five artist studios and create 4-6 unique monoprint/mixed media collage cards. You'll also get the opportunity to visit the independent shops of Black Mountain. Transportation is included.
Art and Craft Workshop: Pysanky Ornaments
Sunday, Dec. 9, 2:00 p.m. – 5:30 p.m.
Purple Crayon, Asheville
Learn how to make beautiful, colorful Ukrainian Easter eggs that you can turn into ornaments. This workshop teaches a method of wax-resist dying called batik, and you'll learn how to use a tool called kistka, which helps apply beeswax to the egg. Design your egg using traditional Ukrainian folk patterns, or freestyle it with your own creation.
Doll Making Demonstration
Saturday, Dec. 8, 11:00 a.m. – 4:00 p.m.
Grovewood Village, Asheville
Watch as doll maker Charlie Patricolo creates her signature cloth angel dolls. This free event is open to the public, and finished works will be on display and available to purchase.
***Update: This event has been cancelled.
There's no way Santa could make it down so many chimneys without practice. What better place to prepare for his Christmas deliveries and stay in shape than on one of the world's largest chimneys: Chimney Rock at Chimney Rock State Park. Make your list and bring it to Santa and Mrs. Claus, enjoy live holiday music, hot cocoa and cookies and kids' activities. See our guide to Santa on the Chimney for more information.
Updated May 9, 2019