Things to Do in Asheville This Weekend — December 6 - 8, 2019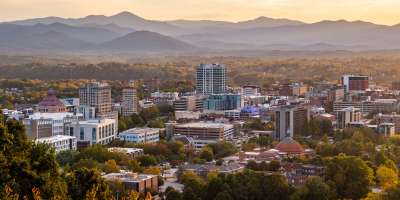 Experience a weekend of fun and festive holiday happenings across Asheville and the Blue Ridge Mountains.
Asheville's holiday traditions are in full swing including Christmas at Biltmore, Winter Wonderland at the Grove Arcade, and the dazzling Winter Lights display at the North Carolina Arboretum. Get the complete list of must-do activities with our guide to holidays in Asheville 2019. Looking for brilliant light displays? Read our story on 8 ways Asheville sparkles for the holidays!
Don't miss your chance to experience this unique and festive time of year! Utilize our easy-to-use search to check room availability and rates at Asheville area accommodations, and be sure to check out the special deals and packages. And, you can check events for any date by using our events calendar search.
Here's a look at what you can enjoy this weekend in and around Asheville:
The Big Crafty
Saturday - Sunday, December 7 - 8, 12:00 p.m. - 6:00 p.m.
US Cellular Center
Voted WNC's favorite art event for the past decade, The Big Crafty returns for a day of hand-to-heart artful craft. Take a tour of the exhibition's creative landscape, with 150 creative vendors and art stars providing craft-infused good times, hugs and high fives.
Dickens in the Village
Friday - Saturday, December 6 - 7, 11:00 a.m. – 8:30 p.m.
Historic Biltmore Village
The beautiful, historic district of Biltmore Village transforms to transport you back in time to the days of Charles Dickens and A Christmas Carol! The Old World Dickens in the Village Festival is an immersive holiday experience featuring performances by strolling carolers, actors and musicians dressed in costume, the Mugs of Merriment Hot Chocolate Competition, and a festive 22-foot tree and street-lighting at sundown on Friday.
Santa on the Chimney
Saturday December 7, 11:00 a.m. – 2:00 p.m.
Chimney Rock State Park
There's no way Santa could make it down so many chimneys without practice. What better place to prepare for his Christmas deliveries and stay in shape than on one of the world's largest chimneys: Chimney Rock at Chimney Rock State Park. Make your list and bring it to Santa and Mrs. Claus, enjoy live holiday music, hot cocoa and cookies and kids' activities. See our guide to Santa on the Chimney for more information. Get there early to enjoy breakfast with the elves from 9:00 a.m. - 11:00 a.m.
Downton Abbey: The Exhibition
Now – April 7, 2020, 9:00 a.m. – 5:00 p.m.
Biltmore
Fans of the popular the global hit television series will love the new exhibit at Biltmore, which offers never-before seen interactive elements that connect you to your favorite characters, as well as the fashions, locations, and historic events of the time period. Showcased in two estate locations, Downton Abbey: The Exhibition pairs seamlessly with the real-life story of the Vanderbilt family. The Exhibition is included with daytime admission, Candlelight Christmas Evenings admission, or an overnight stay that includes daytime admission.
Now - December 31, 2019, 9:00 a.m. – 5:00 p.m.
The Montford Rooftop Bar
Take in gorgeous mountain views, watch the sunset, and indulge in craft Tiki-themed cocktails at a grandiose holiday-themed, tropical oasis.  With kitschy holiday décor, professionally-developed cocktails and the nostalgic energy of the best office party you've ever been to, this Christmas-themed pop-up cocktail bar is sure to get even the grouchiest grinch in the holiday spirit.
Miracle on 34th Street
December 5 – December 20, 2019 7:30 p.m. – 7:30 p.m.
Asheville Community Theatre
Kris Kringle, an old man living in a retirement home, gets a job working as Santa for Macy's where he surprises employees and customers by claiming to be the real Santa Claus. Seen as deluded by Macy's vocational counselor, he's thrown into a court case to determine his mental health and, more importantly, his authenticity. Especially at stake is one little girl's belief in Santa. The whole family will enjoy this funny, poignant and faithful adaptation of the classic 1947 film.
Deck the Trees
December 6, 2019 – January 6, 2020, 10:00 a.m. – 9:00 p.m.
The Monte Vista Hotel
Named for two years by Explore Asheville as one of the top 5 events in the Swannanoa Valley at Christmas, you are invited to come experience 25 Christmas trees that bring joy to the whole community. The public is invited to view the trees and then vote with money for their favorite tree.
Holiday City Comedy Tour
December 1 – December 31, 2019, 3:00 p.m.
LaZOOM Tours
The Holidays have never felt so magical! Get on Asheville's homegrown purple bus tour and experience a sightseeing history tour injected with enough seasonal cheer to make your belly laugh like a bowl full of jelly. Explore downtown Asheville, the South Slope, historic Montford, and the River Arts District. This 90-minute holiday extravaganza only happens in December.
Carolina Christmas Show
Friday – Saturday, December 6 – 7, 7:30 p.m. - 9:45 p.m.
Colonial Theater
Share the joy and magic of the Christmas season with your friends & families at the Carolina Christmas Show, a dazzling production of live music, dance, & comedy! This heartwarming Broadway-style show features the finest performers from Western NC, and special guest artists presenting sacred and secular Christmas favorites, including Santa Claus Is Coming to Town, O Holy Night, Rockin' Around the Christmas Tree, and Go Tell it On the Mountain.
Montford Holiday Tour of Homes
Saturday, December 7, 1:00 p.m. -5:00 p.m.
Montford Historic District
Explore 10 lovingly restored homes and carefully crafted new houses in historic style in historic Montford — Asheville's most historic neighborhood. Located immediately north of downtown, it was developed at the turn of the century for families who could afford its larger lots and tree-lined expanses. The Montford Historic District is Asheville's oldest and largest neighborhood, with over 600 buildings reflecting a variety of late 19th and early 20th century styles, and includes a variety of architectural influences reflecting the cosmopolitan character of Asheville during the turn of the 20th century.
Black Mountain Christmas Parade
Saturday, December 7, 4:00 p.m.
Downtown Black Mountain
Take the family out to Black Mountain for a parade full of small town holiday cheer. The theme this year is Christmas: Then and Now. Before the parade begins, peruse the independent shops and galleries found throughout the walkable downtown area and enjoy the surrounding mountain views.