Things to Do in Asheville This Weekend — December 27 - 29, 2019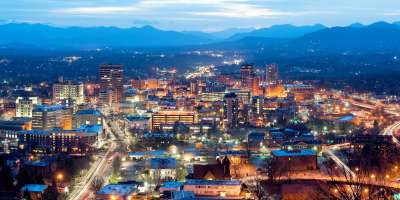 This weekend, Christmas is in the rear view mirror, but there are still opportunities to take part in festive holiday traditions happening around the city.
Ongoing holiday celebrations this week include Christmas at Biltmore, the 2019 National Gingerbread Competition Display at The Omni Grove Park Inn, and the twinkling Winter Lights display at the North Carolina Arboretum. These are the final days to catch these special events.
Looking ahead, New Year's Eve in Asheville is going to be blast. Multiple events are planned including special concerts, dance parties, and champagne toasts at rooftop bars. Here's a list of events where you can ring in 2020.
Planning your trip to Asheville? Utilize our easy-to-use search to check room availability and rates at Asheville area accommodations, and be sure to check out the special deals and packages. And, you can check events for any date by using our events calendar search.
Here's a look at what you can enjoy this weekend in and around Asheville.
The Asheville Gift Exchange
Sunday, December 29, 1:00 – 3:00 p.m.  
Highland Brewing Company
Another year, another turtleneck from Aunt Edna... Cousin Alan got everyone a copy of Big Brother season 3 (again)... Fruitcake, way too much fruitcake... Did you get a lousy gift again this year? Do you need a post-holiday drink? Well, Highland has you covered on both fronts with our Asheville Gift Exchange! This community white elephant gift swap is a chance to trade gifts and holiday horror stories over a few beers.
Jamiroquai Tribute Concert
Friday, December 27, 8:00 p.m.
The Orange Peel
Hailing from Asheville, NC, the Space Cowboys & the Cosmic Girls are the South's premiere Jamiroquai Tribute. An 11-piece collective of musicians from diverse backgrounds form this dance-funk powerhouse. Many band members come, or came from other Asheville groups.
80's Dance Party – Breakin' on Buxton
Friday, December 27, 8:00 p.m. – 1:00 a.m.
Urban Orchard Cider Co. – South Slope
Grab your dancing shoes and head out to Urban Orchard for the final 80's night of the year. Dressing up is highly encouraged. Break dancing is not a requirement for entry, but if you've got the skills, then bring them to the floor!
LaZoom Comedy: Eric Dasilva
Saturday, December 28, 8:30 p.m. – 11:00 p.m.
LaZoom Room
Equal parts foul mouthed drinking buddy and high functioning comic book nerd, Eric DaSilva is best known for headlining a sold out show at the Backstage Fillmore Theater in Miami Beach, performing in Comedy Central's South Beach Comedy Festival, The Laugh Your Asheville Off Comedy Festival, and his one hour comedy album, Adorably Offensive.
Public Tour: Discovering Art
Saturday, December 28, 2:00 p.m. – 3:00 p.m.
Asheville Art Museum
Visit the recently renovated and reopened Asheville Art Museum and discover their special collections currently on exhibit. As part of your admission, take a guided tour led by a museum docent to discuss all of the art on display. The tour takes place on Saturday at 2:00 p.m.
An Evening with Dirty Logic – A Steely Dan Tribute
Sunday, December 29, 7:30 p.m.
Isis Restaurant and Music Hall
Asheville super-group, Dirty Logic brings you the music of Steely Dan. "Playing this music the way that it should be played", the collective delivers a true Dan experience.
Twilight in the Treetops – Holiday Night Climb
Saturday, December 28, 4:30 p.m. – 6:30 p.m.
Adventure Center of Asheville
Watch the world transform from dusk to night while climbing in the trees at Asheville Treetops Adventure Park. Trails will be illuminated to give climbing the obstacles a new perspective. Over 15,000 colored lights, plus colorful lasers sparkling on thousands of leaves, cables, rope, and platforms throughout the park will create a mystical tree climbing experience. There are experiences for all kids age 4 and up.
Ongoing Asheville Events
Downton Abbey: The Exhibition
Now through April 7, 2020, 9:00 a.m. – 5:00 p.m.
Biltmore
Fans of the popular the global hit television series will love the new exhibit at Biltmore, which offers never-before seen interactive elements that connect you to your favorite characters, as well as the fashions, locations, and historic events of the time period. Showcased in two estate locations, Downton Abbey: The Exhibition pairs seamlessly with the real-life story of the Vanderbilt family. The Exhibition is included with daytime admission, Candlelight Christmas Evenings admission, or an overnight stay that includes daytime admission.
Christmas at Biltmore
Now through January 5, 2020 10:00 a.m. – 5:00 p.m.
Biltmore
It's a holiday tradition that dates back more than 120 years. During the two-month-long Christmas at Biltmore celebration, the estate transforms with elegant and stunning decorations that include more than 100 hand-decorated Christmas trees. Among the most beautiful trees is the 35-foot Fraser Fir laden with ornaments and wrapped packages that serves as the centerpiece in the grand Banquet Hall. The Conservatory in the Walled Garden is filled with fresh poinsettias. And, 7,000 globe-shaped ornaments hang from the ceiling of Biltmore Winery, America's most visited winery. A daytime visit to Christmas at Biltmore is included in your admission.
In the evenings, Biltmore glows during Candlelight Christmas Evenings with thousands of twinkling lights and dozens of roaring fireplaces. Step back in time and experience the estate much like the Vanderbilts did during their first Christmas Eve spent at Biltmore in 1895. As you stroll into the estate past luminaries that line the walkway, stop to see the 55-foot Norway spruce sparkling on the front lawn. Candlelight Christmas Evenings do require a reservation and separate admission.
For more information on the daytime and evening celebrations, see our guide to Christmas at Biltmore.  
Winter Lights at the North Carolina Arboretum
Now through January 4, 2020, 6:00 p.m. to 10:00 p.m. (Daily)
North Carolina Arboretum, Asheville
One of Asheville's brightest holiday traditions kicks off this weekend at the North Carolina Arboretum. More than half a million lights will be on display as part of this self-guided walking tour through the nationally recognized gardens. Transportation from downtown and Biltmore Village is available every Thursday through Saturday with a special trolley ticket. Listen to the sounds of your favorite holiday tunes and enjoy a cup of holiday-inspired cocoa, cider or beer.
2019 National Gingerbread House Competition Display
Now through Thursday, January 2, 2020, 3:00 p.m.
Omni Grove Park Inn
Asheville's classic gingerbread house competition returns for its 27th year. Stop by this famed resort to see the parade of handmade edible houses all vying for the top spot in this year's contest. As a means to preserve the overall guest experience. The Omni Grove Park Inn invites guests that are not staying overnight at the resort to view the display after 3:00 pm on Sundays or anytime Monday through Thursday.