Things to Do in Asheville This Weekend -- December 21-23, 2018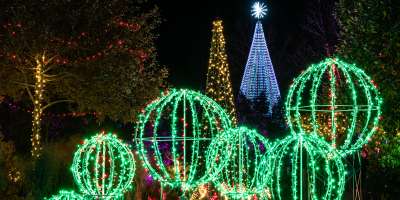 It's the final shopping weekend before Christmas and time is running out to secure those last minute gifts. If you're still on the hunt for those final stocking stuffers, then explore Asheville's many shopping districts you can visit.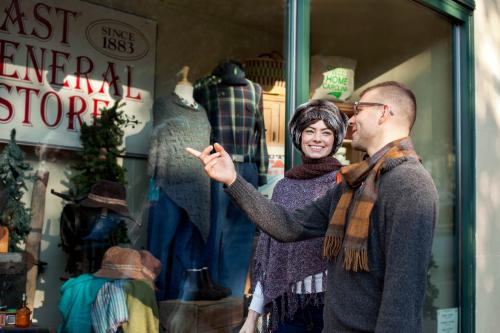 Stroll the streets of Downtown Asheville and West Asheville to find a number of independent bookstores, boutiques, outdoor outfitters, vintage/antique stores, toy stores, and art galleries. Check out Biltmore Village, Biltmore Park and Asheville Outlets for a mix of local shops and your favorite national brands. You can "shop small" at the local, small businesses throughout downtown Black Mountain and Weaverville, or visit the galleries of the River Arts District to find one-of-a-kind hand-made arts and crafts.
Asheville's favorite holiday celebrations continue this week including the twinkling Winter Lights display at the North Carolina Arboretum, the Lake Julian Festival of Lights, the Jingle Bell Trolley Train Ride, Christmas at Biltmore, and the 2018 National Gingerbread Competition Display at The Omni Grove Park Inn.
Asheville offers so many ways to get into the holiday spirit. Learn more about this season's festivities with our roundup of 8 ways Asheville sparkles for the holidays. We also have a list of the top 8 places to see the lights in Asheville to help you plan your weekend festivities.
Don't miss your chance to experience this joyful time of year! Use our easy-to-use search feature to check room availability and rates at Asheville area accommodations, and check events for any date by using our online events calendar search.
Here's a look at what you can enjoy this weekend in and around Asheville.
A Christmas Carol, a Dinner with Dickens
Friday & Saturday, Dec. 21 - 22, 6 p.m. to 8 p.m.
Red Rocker Inn, Black Mountain
It's been called a raucous and fun retelling of the Charles Dickens classic A Christmas Carol. This one-man show is a call to return to family and to bring love and caring for the less fortunate. The production is one-third Masterpiece Theater and two-thirds live interactive Comedic Theater. 
Christmas Tours at Historic Johnson Farm
Friday, Dec. 21, 10:30 a.m. to 2:30 p.m.
Historic Johnson Farm, Hendersonville
Visit a farm and farm house all decked out in holiday decor. Tours of the historic Johnson Farm (in nearby Hendersonville) include a Christmas craft for kids (or the young at heart), hot chocolate and cookies. You can also find special gifts to purchase from the Heritage Weavers and Fiber Artists.
12 Days of Christmas
Friday, Dec. 21, 6:30 p.m. to 9:30 p.m.
Twin Leaf Brewery, Asheville
'Tis the season for holiday celebrations! At Twin Leaf Brewery's annual holiday party you can enjoy an evening of food, beer, and holiday cheer. Themed around the 12 Days of Christmas, this ticketed event will feature 12 stations of holiday fun for guests to enjoy. Ornament decorating, brewery tours, and stocking stuffer grab bags are all part of the fun.
Live Entertainment
The Jason DeCristofaro Duo
Friday, Dec. 21, 6:30 p.m. to 8:30 p.m.
Ginger's Revenge, Asheville
Enjoy holiday jazz tunes by The Jason DeCristofaro duo at Ginger's Revenge, a craft brewery specializing in naturally gluten-free alcoholic ginger beer. Jason DeCristofaro is a multifaceted and active educator, performer and composer based in Asheville. The Ciao Y'all food truck will be on site.
An evening with Wham Bam Bowie Band!
Saturday, Dec. 22, 9:00 p.m.
The Orange Peel, Downtown Asheville
This special tribute to the legendary David Bowie will celebrate not only his colossal classic-rock hits, but will also dig deep into his songbook to present the music that continues to influence generations and create new genres. Discover the hidden gems of Bowie's catalogue performed on stage, where it belongs!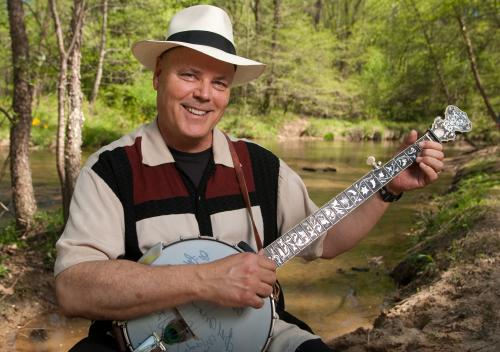 David Holt and Josh Goforth
Saturday, Dec. 22, 8:00 p.m.
White Horse Black Mountain
Four time Grammy-winning recording artist, David Holt, along with gifted young Madison County picker Josh Goforth, will entertain. If you're a fan of the old-time Appalachian sound, then this is a can't-miss show.
Holiday Concerts at Isis Music Hall
Sunday, Dec. 23, 5:30 p.m. & 7:30 p.m.
Isis Restaurant and Music Hall, West Asheville
There are two special holiday performances happening at Isis Music Hall in West Asheville this Sunday. The first show at 5:30 p.m. is Queen Bee and the Honeylovers. They'll kick off the evening with Christmas music in the lounge. Starting at 7:30 p.m. will be the Russ Wilson "Have Yourself a Swinging Little Christmas" show on the main stage.
Arts & Crafts
Live Holiday Glassblowing Demo
Friday - Saturday, Dec. 21-22, 11 a.m. – 2 p.m. & Sunday, Dec. 23, 12:00 p.m. - 2:00 p.m.
Mountain Made Gallery, Downtown Asheville
Since 2010, master scientific glass blower Jason Probstein has presented live glassblowing demonstrations at Mountain Made Gallery. This weekend he returns. Watch him create his unique Christmas ornaments and shop for glass pieces for your tree, or for gifts.

Eat, Drink & Be Merry
Friday - Sunday, Dec. 21 - 23, 10:00 a.m. - 5:30 p.m.
Grovewood Village, Asheville
Enjoy a showcase of artfully curated table settings for festive holiday entertaining. Works will include ceramic tableware, wooden cutting boards, one-of-a-kind serving pieces, drinking vessels and more - all displayed on handcrafted tables throughout the gallery.
2018 Annual Wish List Celebration
Friday - Sunday, Dec. 21 - 23, 10:30 a.m.
American Folk Art & Framing, Downtown Asheville
Each year, in honor of the Holiday Season, American Folk Art (64 Biltmore Avenue) in downtown Asheville creates a festive event they call Wish List Celebration. In addition to representing renowned regional potters, whose work is not only beautiful & functional but quite affordable, American Folk's painters are the South's most beloved and collected living self-taught artists.
Updated February 21, 2019