Things to Do in Asheville This Weekend — December 20 - 22, 2019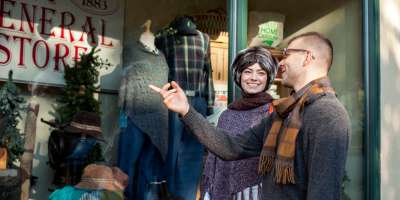 Christmas is around the corner and this is your last weekend to secure those last minute gifts. If you're still on the hunt for those final stocking stuffers, then make a plan to stroll the streets of Downtown Asheville and West Asheville to peruse a number of independent bookstores, boutiques, outdoor outfitters, vintage/antique stores, toy stores, bottle shops, and galleries.
South of Asheville, visit Biltmore Village, Biltmore Park and Asheville Outlets for a mix of local shops and your favorite national brands. You can also "shop small" at the local businesses throughout downtown Black Mountain and Weaverville, or visit the galleries of the River Arts District to find one-of-a-kind hand-made arts and crafts.
Asheville offers so many ways to get into the holiday spirit! Ongoing holiday celebrations this week include the Lake Julian Festival of Lights, Christmas at Biltmore, the 2019 National Gingerbread Competition Display at The Omni Grove Park Inn, and the twinkling Winter Lights display at the North Carolina Arboretum. Looking for more brilliant light displays? Read our story on 8 ways Asheville sparkles for the holidays! And get the complete list of must-do activities with our guide to holidays in Asheville 2019.
Don't miss your chance to experience this joyful time of year! Utilize our easy-to-use search to check room availability and rates at Asheville area accommodations, and be sure to check out the special deals and packages. And, you can check events for any date by using our events calendar search.
Here's a look at what you can enjoy this weekend in and around Asheville
Mingle & Jingle: Holiday Craft Market
Saturday, December 21, 10:00 a.m.  
The Grey Eagle Music Hall and Pub
Peruse the handmade goods, arts, and crafts of Asheville's finest makers at a pop-up shopping event this weekend- just in time for holiday gift giving. Grab a bite and from the Grey Eagle's Taqueria, a drink from the bar, and enjoy some classic holiday tunes!
A Swannanoa Solstice
Sunday, December 22, 2:00 p.m. & 7:00 p.m.
Wortham Center for the Performing Arts
Ring in the holidays at a special holiday tradition in Asheville. The Swannanoa Solstice, now in its 17th year, provides a world-class display of folk including renowned artists Al Petteway, Amy White, Robin Bullock, and GRAMMY award winner, David Holt.
12 Days of Christmas
Friday, December 20, 5:00 p.m. – 9:00 p.m.
Twin Leaf Brewery
Join Twin Leaf Brewery for an evening of food, beer, and holiday cheer! Themed around the "12 Days of Christmas", this annual Christmas celebration will feature 12 stations of holiday fun - including food, brewery tours, grab bag gifts, cakewalks, photos with Santa, and tasty pints of beer.
A Christmas Carol! Dinner with Dickens
Friday - Saturday, December 20 - 21, 6:00 p.m. – 8:30 p.m.
Red Rocker Inn
Enjoy an entertaining and funny, one man retelling of the Charles Dickens classic "A Christmas Carol" during a dinner theatre performance. The Red Rocker Inn will be lavishly decorated in holiday splendor and plan to serve a delicious meal with their famous Christmas desserts. Reservations are required.
18th Annual Make-A-Wish Concert
Saturday, December 21, 6:30 p.m.
The Orange Peel
Attend an annual Christmas Concert to benefit The Make A Wish Foundation. Featuring a collection of Asheville's hottest artists this can't miss show is open to all ages.
Winter Solstice Blacklight Bouldering
Saturday, December 21, 8:00 p.m. – 10:00 p.m.
Climbmax – Downtown Asheville
Celebrate the winter solstice at Climbmax Climbing in downtown Asheville. As the sun goes down the neon and blacklights will come on, illuminating the climbing wall for a unique bouldering experience.
LaZoom Comedy: Jay Light
Friday, December 20, 8:00 p.m. – 10:00 p.m.
LaZoom Room
Catch a show from a comedian praised as "one of the best Roasters in Los Angeles."  Jay Light may look like the clean-cut, naïve boy next door, but as crowds quickly learn, he doesn't shy from discussing his sheltered religious upbringing or the formative lessons learned along his path to sobriety. In addition to making the finals of Comedy Central's Roast Battle II: War of the Words, Jay has appeared on the network's Not Safe with Nikki Glaser and HBO's Project Greenlight.
Ongoing Asheville Events
Downton Abbey: The Exhibition
Now through April 7, 2020, 9:00 a.m. – 5:00 p.m.
Biltmore
Fans of the popular the global hit television series will love the new exhibit at Biltmore, which offers never-before seen interactive elements that connect you to your favorite characters, as well as the fashions, locations, and historic events of the time period. Showcased in two estate locations, Downton Abbey: The Exhibition pairs seamlessly with the real-life story of the Vanderbilt family. The Exhibition is included with daytime admission, Candlelight Christmas Evenings admission, or an overnight stay that includes daytime admission.
Christmas at Biltmore
Now through January 5, 2020, 10:00 a.m. – 5:00 p.m.
Biltmore
It's a holiday tradition that dates back more than 120 years. During the two-month-long Christmas at Biltmore celebration, the estate transforms with elegant and stunning decorations that include more than 100 hand-decorated Christmas trees. Among the most beautiful trees is the 35-foot Fraser Fir laden with ornaments and wrapped packages that serves as the centerpiece in the grand Banquet Hall. The Conservatory in the Walled Garden is filled with fresh poinsettias. And, 7,000 globe-shaped ornaments hang from the ceiling of Biltmore Winery, America's most visited winery. A daytime visit to Christmas at Biltmore is included in your admission.
In the evenings, Biltmore glows during Candlelight Christmas Evenings with thousands of twinkling lights and dozens of roaring fireplaces. Step back in time and experience the estate much like the Vanderbilts did during their first Christmas Eve spent at Biltmore in 1895. As you stroll into the estate past luminaries that line the walkway, stop to see the 55-foot Norway spruce sparkling on the front lawn. Candlelight Christmas Evenings do require a reservation and separate admission.
For more information on the daytime and evening celebrations, see our guide to Christmas at Biltmore.  
2019 National Gingerbread House Competition Display
Now through Thursday, January 2, 2020, 3:00 p.m.
Omni Grove Park Inn
Asheville's classic gingerbread house competition returns for its 27th year. Stop by this famed resort to see the parade of handmade edible houses all vying for the top spot in this year's contest. As a means to preserve the overall guest experience. The Omni Grove Park Inn invites guests that are not staying overnight at the resort to view the display after 3:00 pm on Sundays or anytime Monday through Thursday.
Winter Lights at the North Carolina Arboretum
Now through January 4, 2020, 6:00 p.m. to 10:00 p.m. (Daily)
North Carolina Arboretum, Asheville
One of Asheville's brightest holiday traditions kicks off this weekend at the North Carolina Arboretum. More than half a million lights will be on display as part of this self-guided walking tour through the nationally recognized gardens. Transportation from downtown and Biltmore Village is available every Thursday through Saturday with a special trolley ticket. Listen to the sounds of your favorite holiday tunes and enjoy a cup of holiday-inspired cocoa, cider or beer.