Things to Do in Asheville This Weekend -- December 14-16, 2018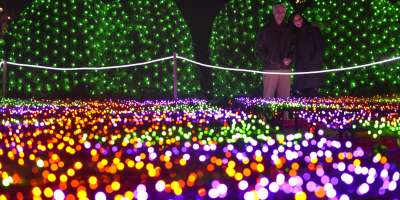 Take advantage of the recent snowfall and hit the slopes for a weekend ski adventure. Wolf Ridge Ski Resort and Cataloochee Ski Area are open for the season and are blowing snow in addition to the fresh power that just fell last week. Cataloochee's night skiing and Tube World begin this Saturday, December 15.
Celebrate the holidays with ongoing traditions taking place around the city, including the Lake Julian Festival of Lights, the Jingle Bell Trolley Train Ride, Christmas at Biltmore, the 2018 National Gingerbread Competition Display at The Omni Grove Park Inn, and the twinkling Winter Lights display at the North Carolina Arboretum.
Asheville offers so many ways to get into the holiday spirit. Learn more about this season's festivities with our roundup of 8 ways Asheville sparkles for the holidays. We also have a list of the top 8 places to see the lights in Asheville to help you plan your weekend festivities.
Don't miss your chance to experience this joyful time of year! Use our easy-to-use search feature to check room availability and rates at Asheville area accommodations, and check events for any date by using our online events calendar search.
Here's a look at what you can enjoy this weekend in and around Asheville
Moscow Ballet's Great Russian Nutcracker
Sunday, Dec. 16, 3 p.m. & 7 p.m. Showings
Thomas Wolfe Auditorium
The famous Moscow Ballet's Great Russian Nutcracker is returning to Asheville on their Dove of Peace Tour. Enjoy world-class artists, hand-painted sets, and traditional holiday music.
3rd Annual Ugly Sweater Crawl
Saturday, Dec. 15, 2 p.m. to 10 p.m.
Wild Wing Cafe
Get that Goodwill sweater, find those tacky holiday pants, and get ready to jingle bell ROCK! Join a group of holiday revelers as they crawl their way to multiples stops around town. This ticketed event comes with a free t-shirt and koozie at registration.  Professional photographers and DJ's will be on site to capture the fun.
8th Annual Deck the Trees
Daily, 10 a.m. to 9 p.m.
The Monte Vista Hotel, Black Mountain
Beautiful and unique hand-decorated Christmas trees in the theme of "There Are Angels Among Us" will bring joy and inspiration to all who visit. The public is invited to view the multitude of adorned trees on display.
CRECH-FEST – Asheville Exhibit of 250+ Nativity Sets From Around the World
Daily, 5 p.m. to 8 p.m.
First Baptist Church
The 4th-annual display of 250+ Nativity sets from 50+ countries around the world. A collaboration by several churches and hosted at First Baptist Church in downtown Asheville (5 Oak Street). The event includes: special guest lecture tours on both the art and the religious use of the Nativity, children's activities, and special musical performances.
Holiday Shopping
Show & Tell Holiday Pop Up Shop
Friday, Dec. 14 – Dec. 16, 10:00 a.m. – 8:00 p.m.
Asheville Masonic Temple
Featuring some of the area's best in handmade and vintage, this pop up has curated goods from over 125 local & indie makers and designers. Shop vintage wares including clothing, jewelry, decor, greeting cards, and more. You're sure to find the perfect gift for everyone on your list!
2nd Annual Holiday popUP – Come SHOP!
Saturday, Dec. 15, 12 p.m. – 4 p.m.
The Mothlight
Shop small from regional vendors, enjoy live music and win raffle prizes. This special holiday pop-up includes handcrafted gifts including body care, jewelry, pottery, home products, edibles and more.
Big Free Christmas and Holiday Tasting
Saturday, Dec. 15, 2 p.m. – 5 p.m.
Table Wine
Visit Table Wine for their annual holiday tasting event featuring 9 festive favorites. This sip and shop event is free, and comes with discounts so you can save money on festive bubbles and top-shelf wines.
Live Entertainment
Smoke on the Mountain: Sanders Family Christmas
Friday - Sunday, Dec. 14-16, 2:30 p.m. & 7:30 p.m. performances
Southern Appalachian Repertory Theatre, Mars Hill
The Sanders Family is back and better than ever. This year come and experience more jokes, more songs, more signing, and more fun! This performance celebrates the holidays with faith, family and old-fashioned fun.
Maria Bamford
Friday, Dec. 14, 7 p.m.
The Orange Peel
Enjoy a night of stand up comedy from Maria Bamford, known for her Netflix comedy series Lady Dynamite and the cult hit web series, The Maria Bamford Show. She also voices several characters for animated shows including BoJack Horseman, Puss in boots, and Legend of Korra.
3rd Annual Very Jerry Xmas
Saturday, Dec. 15, 10 p.m.
Asheville Music Hall
Join some of Asheville's best musicians as they pay homage to the late great Jerry Garcia. Dance and groove to a long evening of late 80s and early 90s songs from the Jerry Garcia Band and Grateful Dead.
Yulefest
Saturday, Dec. 15, 8 p.m.
White Horse Black Mountain
Enjoy seasonal favorites, and yuletide music performed by Émigré, Saro Lynch-Thomason, Laurie Fisher, Connell Sanderson, and more. This celebration of holiday music will feature fiddling, ballads, vocalists, and bagpipes.
Asheville Community Band Holiday Concert
Sunday, Dec. 16, 3:30 p.m. – 5 p.m.
Lipinsky Hall, UNCA
This symphonic winds concert will include family- friendly pieces that are staples of the holidays, such as Sleigh Ride and A Christmas Festival by Leroy Anderson, Most Wonderful Time of the Year, Up On A Housetop, and Chanukah Celebration.
A Christmas Pudding by David Birney
Friday - Sunday, Dec. 14 - 16, 7:30 p.m. (Fri – Sat) & 2 p.m. (Sun)
Black Mountain Center for the Arts
This theatre performance is a Christmas celebration in song, story, and poetry. Enjoy tales by Mark Twain, George Bernard Shaw, Shakespeare, Longfellow, Emily Dickinson, St. Luke and many others, collected with a host of traditional carols and holiday songs.
Arts & Crafts
Live Holiday Glassblowing Demo
Friday - Saturday, Dec. 14-15, 11 a.m. – 2 p.m.
Mountain Made Gallery
Since 2010, master scientific glass blower, Jason, Probstein, has presented live glassblowing demonstrations at Mountain Made Gallery. This weekend her returns. Watch him create his unique Christmas ornaments and shop for glass pieces for your tree, or for gifts.
Art and Craft Workshop: Needle Felted Santa
Saturday, Dec. 15, 10 a.m. – 1 p.m.
Purple Crayon
Treat yourself to a HOLI-DATE with Santa! If you're looking for a fun way to get into the season, and you're interested in—but intimidated by—the idea of needle felting, this workshop is for you! In just a few hours, you'll learn how to needle felt AND walk away with a charming addition to your holiday décor!
Updated February 21, 2019